Abstract
Assessing similarity between data sets with the reduced χ2 test requires the estimation of experimental errors, which, if incorrect, may render statistical comparisons invalid. We report a goodness-of-fit test, Correlation Map (CorMap), for assessing differences between one-dimensional spectra independently of explicit error estimates, using only data point correlations. Using small-angle X-ray scattering data, we demonstrate that CorMap maintains the power of the reduced χ2 test; moreover, CorMap is also applicable to other physical experiments.
Access options
Subscribe to Journal
Get full journal access for 1 year
$59.00
only $4.92 per issue
All prices are NET prices.
VAT will be added later in the checkout.
Tax calculation will be finalised during checkout.
Rent or Buy article
Get time limited or full article access on ReadCube.
from$8.99
All prices are NET prices.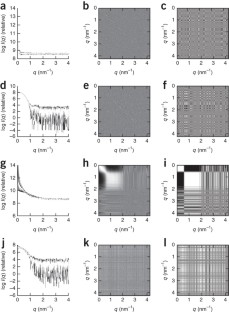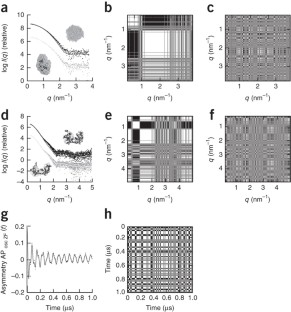 Accession codes
Accessions
Protein Data Bank
References
1

Bevington, P.R. & Robinson, K.D. in Data Reduction and Error Analysis for the Physical Sciences 3rd edn. 36–51 (McGraw-Hill, 2002).

2

Svergun, D.I., Koch, M.H.J., Timmins, P.A. & May, R.P. Small Angle X-Ray and Neutron Scattering from Solutions of Biological Macromolecules (Oxford Univ. Press, 2013).

3

Jacques, D.A., Gus, J.M., Svergun, D.I. & Trewhella, J. Acta Crystallogr. D Biol. Crystallogr. 68, 620–626 (2012).

4

Pearson, K. Philos. Mag. 50, 157–175 (1900).

5

Andrae, R., Schulze-Hartung, T. & Melchior, P. Preprint at http://arxiv.org/abs/1012.3754 (2010).

6

Schilling, M.F. Coll. Math. J. 21, 196–207 (1990).

7

Johnson, V.E. Proc. Natl. Acad. Sci. USA 110, 19313–19317 (2013).

8

Rambo, R.P. & Tainer, J.A. Nature 496, 477–481 (2013).

9

Trewhella, J. et al. Structure 21, 875–881 (2013).

10

Amato, A. et al. Phys. Rev. B Condens. Matter Mater. Phys. 89, 184425 (2014).

11

Petoukhov, M.V. et al. J. Appl. Crystallogr. 45, 342–350 (2012).

12

Franke, D. & Svergun, D.I. J. Appl. Crystallogr. 42, 342–346 (2009).

13

Varga, A. et al. FEBS Lett. 580, 2698–2706 (2006).

14

Round, A. et al. Acta Crystallogr. D Biol. Crystallogr. 71, 67–75 (2015).

15

Gasteiger, E. et al. in The Proteomics Protocols Handbook (ed. Walker, J.M.) 571–607 (Humana Press, 2005).

16

Franke, D., Kikhney, A.G. & Svergun, D.I. Nucl. Inst. Methods Phys. Res. A 689, 52–59 (2012).

17

Svergun, D., Barberato, C. & Koch, M.H.J. J. Appl. Crystallogr. 28, 768–773 (1995).

18

Jeffries, C.M., Graewert, M.A., Svergun, D.I. & Blanchet, C.E. J. Synchrotron Radiat. 22, 273–279 (2015).

19

Clopper, C.J. & Pearson, E.S. Biometrika 26, 404–413 (1934).
Acknowledgements
We thank E. Morenzoni of the Laboratory for Muon-Spin Spectroscopy, Paul Scherrer Institute, for providing the ZF-μSR data, taken at the GPS instrument of the Swiss Muon Source, Villigen, Switzerland. We thank R.P. Rambo for providing the original implementation of the χ2free test for our analysis and H. Mertens and J. Trewhella for many useful discussions. This work was supported by the Bundesministerium für Bildung und Forschung (BMBF) project BIOSCAT, grant 05K12YE1, and by the European Commission, BioStruct-X grant 283570.
Ethics declarations
Competing interests
The authors declare no competing financial interests.
Integrated supplementary information
Supplementary information
Supplementary Figures 1–14 and Supplementary Tables 1 and 2 (PDF 3704 kb)
Dummy atom bead model refinement against lysozyme SAXS data. The left panel displays the progressive improvement of the fit (solid line) for the step-wise DAMMIF bead model refinement of the shape of lysozyme against lysozyme SAXS data (dots). As the fit improves, the correlation matrix (right panel) goes from having large contiguous areas of +1 or -1 correlations (i.e., large patches) to a randomized lattice pattern. The initial and finally-refined lysozyme models are shown in Figure 2 of the main text. (MPG 6868 kb)
About this article
Cite this article
Franke, D., Jeffries, C. & Svergun, D. Correlation Map, a goodness-of-fit test for one-dimensional X-ray scattering spectra. Nat Methods 12, 419–422 (2015). https://doi.org/10.1038/nmeth.3358
Received:

Accepted:

Published:

Issue Date: