Abstract
We report a high-throughput platform for delivering large cargo elements into 100,000 cells in 1 min. Our biophotonic laser-assisted surgery tool (BLAST) generates an array of microcavitation bubbles that explode in response to laser pulsing, forming pores in adjacent cell membranes through which cargo is gently driven by pressurized flow. The platform delivers large items including bacteria, enzymes, antibodies and nanoparticles into diverse cell types with high efficiency and cell viability. We used this platform to explore the intracellular lifestyle of Francisella novicida and discovered that the iglC gene is unexpectedly required for intracellular replication even after phagosome escape into the cell cytosol.
Access options
Subscribe to Journal
Get full journal access for 1 year
$119.00
only $9.92 per issue
All prices are NET prices.
VAT will be added later in the checkout.
Tax calculation will be finalised during checkout.
Rent or Buy article
Get time limited or full article access on ReadCube.
from$8.99
All prices are NET prices.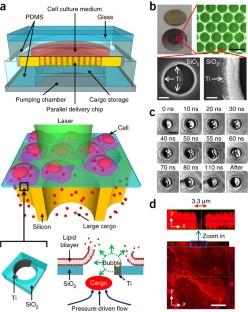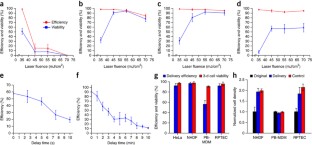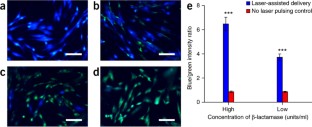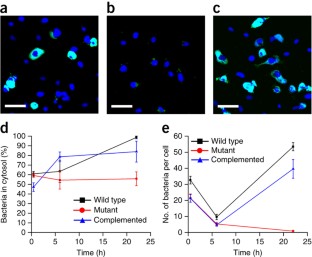 References
1

Rusk, N. Seamless delivery. Nat. Methods 8, 44 (2011).

2

Naldini, L. et al. In vivo gene delivery and stable transduction of nondividing cells by a lentiviral vector. Science 272, 263–267 (1996).

3

Akin, D. et al. Bacteria-mediated delivery of nanoparticles and cargo into cells. Nat. Nanotechnol. 2, 441–449 (2007).

4

Felgner, P.L. et al. Lipofection: a highly efficient, lipid-mediated DNA-transfection procedure. Proc. Natl. Acad. Sci. USA 84, 7413–7417 (1987).

5

De Smedt, S.C., Demeester, J. & Hennink, W.E. Cationic polymer based gene delivery systems. Pharm. Res. 17, 113–126 (2000).

6

Somiari, S. et al. Theory and in vivo application of electroporative gene delivery. Mol. Ther. 2, 178–187 (2000).

7

Guignet, E.G. & Meyer, T. Suspended-drop electroporation for high-throughput delivery of biomolecules into cells. Nat. Methods 5, 393–395 (2008).

8

Boukany, P.E. et al. Nanochannel electroporation delivers precise amounts of biomolecules into living cells. Nat. Nanotechnol. 6, 747–754 (2011).

9

Kim, H.J., Greenleaf, J.F., Kinnick, R.R., Bronk, J.T. & Bolander, M.E. Ultrasound-mediated transfection of mammalian cells. Hum. Gene Ther. 7, 1339–1346 (1996).

10

Mitragotri, S. Healing sound: the use of ultrasound in drug delivery and other therapeutic applications. Nat. Rev. Drug Discov. 4, 255–260 (2005).

11

Tirlapur, U.K. & König, K. Cell biology: targeted transfection by femtosecond laser. Nature 418, 290–291 (2002).

12

Tao, W., Wilkinson, J., Stanbridge, E.J. & Berns, M.W. Direct gene transfer into human cultured cells facilitated by laser micropuncture of the cell membrane. Proc. Natl. Acad. Sci. USA 84, 4180–4184 (1987).

13

Chakravarty, P., Qian, W., El-Sayed, M.A. & Prausnitz, M.R. Delivery of molecules into cells using carbon nanoparticles activated by femtos laser pulses. Nat. Nanotechnol. 5, 607–611 (2010).

14

Sharei, A. et al. A vector-free microfluidic platform for intracellular delivery. Proc. Natl. Acad. Sci. USA 110, 2082–2087 (2013).

15

Shalek, A.K. et al. Vertical silicon nanowires as a universal platform for delivering biomolecules into living cells. Proc. Natl. Acad. Sci. USA 107, 1870–1875 (2010).

16

Capecchi, M.R. High efficiency transformation by direct microinjection of DNA into cultured mammalian cells. Cell 22, 479–488 (1980).

17

Zhang, Y. & Yu, L.-C. Microinjection as a tool of mechanical delivery. Curr. Opin. Biotechnol. 19, 506–510 (2008).

18

Hurtig, J. & Orwar, O. Injection and transport of bacteria in nanotube-vesicle networks. Soft Matter 4, 1515–1520 (2008).

19

Wu, T.-H. et al. Photothermal nanoblade for large cargo delivery into mammalian cells. Anal. Chem. 83, 1321–1327 (2011).

20

Hartland, G.V. Optical studies of dynamics in noble metal nanostructures. Chem. Rev. 111, 3858–3887 (2011).

21

Link, S. & El-Sayed, M.A. Spectral properties and relaxation dynamics of surface plasmon electronic oscillations in gold and silver nanodots and nanorods. J. Phys. Chem. B 103, 8410–8426 (1999).

22

Kotaidis, V., Dahmen, C., von Plessen, G., Springer, F. & Plech, A. Excitation of nanoscale vapor bubbles at the surface of gold nanoparticles in water. J. Chem. Phys. 124, 184702 (2006).

23

Lukianova-Hleb, E. et al. Plasmonic nanobubbles as transient vapor nanobubbles generated around plasmonic nanoparticles. ACS Nano 4, 2109–2123 (2010).

24

Furlani, E.P., Karampelas, I.H. & Xie, Q. Analysis of pulsed laser plasmon-assisted photothermal heating and bubble generation at the nanoscale. Lab Chip 12, 3707–3719 (2012).

25

Yamane, D. et al. Electrical impedance monitoring of photothermal porated mammalian cells. J. Lab. Autom. 19, 50–59 (2014).

26

Marquis, H., Doshi, V. & Portnoy, D.A. The broad-range phospholipase C and a metalloprotease mediate listeriolysin O-independent escape of Listeria monocytogenes from a primary vacuole in human epithelial cells. Infect. Immun. 63, 4531–4534 (1995).

27

Clemens, D.L., Lee, B.-Y. & Horwitz, M.A. Virulent and avirulent strains of Francisella tularensis prevent acidification and maturation of their phagosomes and escape into the cytoplasm in human macrophages. Infect. Immun. 72, 3204–3217 (2004).

28

Nano, F.E. & Schmerk, C. The Francisella pathogenicity island. Ann. NY Acad. Sci. 1105, 122–137 (2007).

29

Barker, J.R. et al. The Francisella tularensis pathogenicity island encodes a secretion system that is required for phagosome escape and virulence. Mol. Microbiol. 74, 1459–1470 (2009).

30

Nano, F.E. et al. A Francisella tularensis pathogenicity island required for intramacrophage growth. J. Bacteriol. 186, 6430–6436 (2004).

31

de Bruin, O.M. et al. The biochemical properties of the Francisella pathogenicity island (FPI)-encoded proteins IglA, IglB, IglC, PdpB and DotU suggest roles in type VI secretion. Microbiology 157, 3483–3491 (2011).

32

Checroun, C., Wehrly, T.D., Fischer, E.R., Hayes, S.F. & Celli, J. Autophagy-mediated reentry of Francisella tularensis into the endocytic compartment after cytoplasmic replication. Proc. Natl. Acad. Sci. USA 103, 14578–14583 (2006).

33

Golovliov, I., Sjöstedt, A., Mokrievich, A. & Pavlov, V. A method for allelic replacement in Francisella tularensis. FEMS Microbiol. Lett. 222, 273–280 (2003).

34

Jones, J.W. et al. Absent in melanoma 2 is required for innate immune recognition of Francisella tularensis. Proc. Natl. Acad. Sci. USA 107, 9771–9776 (2010).
Acknowledgements
This work was supported by a University of California Discovery Biotechnology Award (178517), US National Institutes of Health grants AI065359, GM114188 and EB014456, and by NanoCav, LLC. This work was also funded by US National Science Foundation grant CBET-1404080. The authors thank K. Niazi and S. Rabizadeh for helpful discussions and support, D.A. Portnoy (University of California, Berkeley) for providing the L. monocytogenes strain DP-L2318, D.M. Monack (Stanford University) for the F. novicida ΔFPI strain, K.E. Klose (University of Texas at San Antonio) for the F. novicida U112 strain, F.E. Nano (University of Victoria) for the codon-optimized superfolder gfp and J.S. Hong (University of California, Los Angeles) for the stress gene assay.
Ethics declarations
Competing interests
The authors declare no competing financial interests.
Integrated supplementary information
Supplementary information
Supplementary Figures 1–9, Supplementary Tables 1 and 2 and Supplementary Note (PDF 2099 kb)
About this article
Cite this article
Wu, YC., Wu, TH., Clemens, D. et al. Massively parallel delivery of large cargo into mammalian cells with light pulses. Nat Methods 12, 439–444 (2015). https://doi.org/10.1038/nmeth.3357
Received:

Accepted:

Published:

Issue Date: