Abstract
Neutrophil granulocyte biology is a central issue of immunological research, but the lack of animal models that allow for neutrophil-selective genetic manipulation has delayed progress. By modulating the neutrophil-specific locus Ly6G with a knock-in allele expressing Cre recombinase and the fluorescent protein tdTomato, we generated a mouse model termed Catchup that exhibits strong neutrophil specificity. Transgene activity was found only in very few eosinophils and basophils and was undetectable in bone marrow precursors, including granulomonocytic progenitors (GMPs). Cre-mediated reporter-gene activation allowed for intravital two-photon microscopy of neutrophils without adoptive transfer. Homozygous animals were Ly6G deficient but showed normal leukocyte cellularity in all measured organs. Ly6G-deficient neutrophils were functionally normal in vitro and in multiple models of sterile or infectious inflammation in vivo. However, Cre-mediated deletion of FcγRIV in neutrophils reduced the cells' recruitment to immune-complex-mediated peritonitis, suggesting a cell-intrinsic role for activating Fc receptors in neutrophil trafficking.
Access options
Subscribe to Journal
Get full journal access for 1 year
$242.00
only $20.17 per issue
All prices are NET prices.
VAT will be added later in the checkout.
Rent or Buy article
Get time limited or full article access on ReadCube.
from$8.99
All prices are NET prices.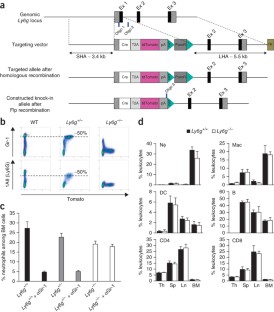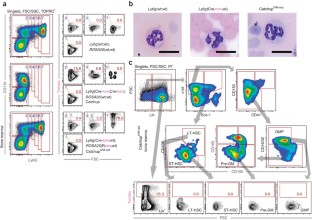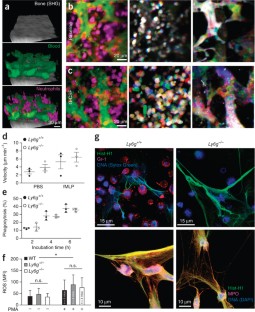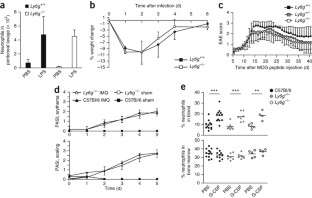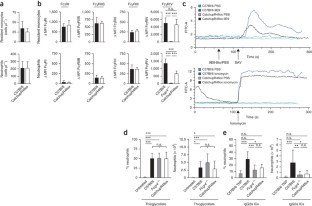 References
1

Gunzer, M. Traps and hyper inflammation—new ways that neutrophils promote or hinder survival. Br. J. Haematol. 164, 189–199 (2014).

2

Köhler, A. et al. G-CSF mediated thrombopoietin release triggers neutrophil motility and mobilization from bone marrow via induction of Cxcr2 ligands. Blood 117, 4349–4357 (2011).

3

Sundd, P. et al. 'Slings' enable neutrophil rolling at high shear. Nature 488, 399–403 (2012).

4

De Filippo, K. et al. Mast cell and macrophage chemokines CXCL1/CXCL2 control the early stage of neutrophil recruitment during tissue inflammation. Blood 121, 4930–4937 (2013).

5

Lämmermann, T. et al. Neutrophil swarms require LTB4 and integrins at sites of cell death in vivo. Nature 498, 371–375 (2013).

6

Nimmerjahn, F., Bruhns, P., Horiuchi, K. & Ravetch, J.V. FcgammaRIV: a novel FcR with distinct IgG subclass specificity. Immunity 23, 41–51 (2005).

7

Kasperkiewicz, M. et al. Genetic identification and functional validation of FcgammaRIV as key molecule in autoantibody-induced tissue injury. J. Pathol. 228, 8–19 (2012).

8

Jakus, Z., Nemeth, T., Verbeek, J.S. & Mocsai, A. Critical but overlapping role of FcgammaRIII and FcgammaRIV in activation of murine neutrophils by immobilized immune complexes. J. Immunol. 180, 618–629 (2008).

9

Wojtasiak, M. et al. Depletion of Gr-1+, but not Ly6G+, immune cells exacerbates virus replication and disease in an intranasal model of herpes simplex virus type 1 infection. J. Gen. Virol. 91, 2158–2166 (2010).

10

Stegemann, S. et al. Increased susceptibility for superinfection with Streptococcus pneumoniae during influenza virus infection is not caused by TLR7-mediated lymphopenia. PLoS One 4, e4840 (2009).

11

Wang, J.X. et al. Ly6G ligation blocks recruitment of neutrophils via a beta2-integrin-dependent mechanism. Blood 120, 1489–1498 (2012).

12

Yipp, B.G. & Kubes, P. Antibodies against neutrophil LY6G do not inhibit leukocyte recruitment in mice in vivo. Blood 121, 241–242 (2013).

13

Clausen, B.E., Burkhardt, C., Reith, W., Renkawitz, R. & Forster, I. Conditional gene targeting in macrophages and granulocytes using LysMcre mice. Transgenic Res. 8, 265–277 (1999).

14

Faust, N., Varas, F., Kelly, L.M., Heck, S. & Graf, T. Insertion of enhanced green fluorescent protein into the lysozyme gene creates mice with green fluorescent granulocytes and macrophages. Blood 96, 719–726 (2000).

15

Passegué, E., Wagner, E.F. & Weissman, I.L. JunB deficiency leads to a myeloproliferative disorder arising from hematopoietic stem cells. Cell 119, 431–443 (2004).

16

Shaner, N.C. et al. Improved monomeric red, orange and yellow fluorescent proteins derived from Discosoma sp. red fluorescent protein. Nat. Biotechnol. 22, 1567–1572 (2004).

17

Becher, B. et al. High-dimensional analysis of the murine myeloid cell system. Nat. Immunol. 15, 1181–1189 (2014).

18

Szymczak, A.L. et al. Correction of multi-gene deficiency in vivo using a single 'self-cleaving' 2A peptide-based retroviral vector. Nat. Biotechnol. 22, 589–594 (2004).

19

Behnsen, J. et al. Environmental dimensionality controls the interaction of phagocytes with the pathogenic fungi Aspergillus fumigatus and Candida albicans. PLoS Pathog. 3, e13 (2007).

20

Madisen, L. et al. A robust and high-throughput Cre reporting and characterization system for the whole mouse brain. Nat. Neurosci. 13, 133–140 (2010).

21

Elliott, E.R. et al. Deletion of Syk in neutrophils prevents immune complex arthritis. J. Immunol. 187, 4319–4330 (2011).

22

Abram, C.L., Roberge, G.L., Hu, Y. & Lowell, C.A. Comparative analysis of the efficiency and specificity of myeloid-Cre deleting strains using ROSA-EYFP reporter mice. J. Immunol. Methods 408, 89–100 (2014).

23

King, K.Y. & Goodell, M.A. Inflammatory modulation of HSCs: viewing the HSC as a foundation for the immune response. Nat. Rev. Immunol. 11, 685–692 (2011).

24

Hasenberg, M. et al. Rapid immunomagnetic negative enrichment of neutrophil granulocytes from murine bone marrow for functional studies in vitro and in vivo. PLoS One 6, e17314 (2011).

25

Drevets, D.A. & Campbell, P.A. Roles of complement and complement receptor type 3 in phagocytosis of Listeria monocytogenes by inflammatory mouse peritoneal macrophages. Infect. Immun. 59, 2645–2652 (1991).

26

Hasenberg, M., Stegemann-Koniszewski, S. & Gunzer, M. Cellular immune reactions in the lung. Immunol. Rev. 251, 189–214 (2013).

27

Christy, A.L., Walker, M.E., Hessner, M.J. & Brown, M.A. Mast cell activation and neutrophil recruitment promotes early and robust inflammation in the meninges in EAE. J. Autoimmun. 42, 50–61 (2013).

28

El Malki, K. et al. An alternative pathway of imiquimod-induced psoriasis-like skin inflammation in the absence of interleukin-17 receptor a signaling. J. Invest. Dermatol. 133, 441–451 (2013).

29

Seeling, M. et al. Inflammatory monocytes and Fcgamma receptor IV on osteoclasts are critical for bone destruction during inflammatory arthritis in mice. Proc. Natl. Acad. Sci. USA 110, 10729–10734 (2013).

30

Sachs, U.J. et al. The neutrophil-specific antigen CD177 is a counter-receptor for platelet endothelial cell adhesion molecule-1 (CD31). J. Biol. Chem. 282, 23603–23612 (2007).

31

Ribechini, E., Leenen, P.J. & Lutz, M.B. Gr-1 antibody induces STAT signaling, macrophage marker expression and abrogation of myeloid-derived suppressor cell activity in BM cells. Eur. J. Immunol. 39, 3538–3551 (2009).

32

Bruns, S. et al. Production of extracellular traps against Aspergillus fumigatus in vitro and in infected lung tissue is dependent on invading neutrophils and influenced by hydrophobin RodA. PLoS Pathog. 6, e1000873 (2010).

33

Neumann, J. et al. Very-late-antigen-4 (VLA-4)-mediated brain invasion by neutrophils leads to interactions with microglia, increased ischemic injury and impaired behavior in experimental stroke. Acta Neuropathol. 129, 259–277 (2015).

34

Kim, J.V., Kang, S.S., Dustin, M.L. & McGavern, D.B. Myelomonocytic cell recruitment causes fatal CNS vascular injury during acute viral meningitis. Nature 457, 191–195 (2009).

35

Srinivas, S. et al. Cre reporter strains produced by targeted insertion of EYFP and ECFP into the ROSA26 locus. BMC Dev. Biol. 1, 4 (2001).

36

Ahn, G.O. et al. Transcriptional activation of hypoxia-inducible factor-1 (HIF-1) in myeloid cells promotes angiogenesis through VEGF and S100A8. Proc. Natl. Acad. Sci. USA 111, 2698–2703 (2014).

37

Uhm, T.G., Kim, B.S. & Chung, I.Y. Eosinophil development, regulation of eosinophil-specific genes, and role of eosinophils in the pathogenesis of asthma. Allergy Asthma Immunol. Res. 4, 68–79 (2012).

38

Yang, W. et al. Ptpn11 deletion in a novel progenitor causes metachondromatosis by inducing hedgehog signalling. Nature 499, 491–495 (2013).

39

Kleiman, A. et al. Glucocorticoid receptor dimerization is required for survival in septic shock via suppression of interleukin-1 in macrophages. FASEB J. 26, 722–729 (2012).

40

Thompson, A.A. et al. Hypoxia-inducible factor 2α regulates key neutrophil functions in humans, mice, and zebrafish. Blood 123, 366–376 (2014).

41

Sprüssel, A. et al. Lysine-specific demethylase 1 restricts hematopoietic progenitor proliferation and is essential for terminal differentiation. Leukemia 26, 2039–2051 (2012).

42

Heib, V. et al. Mast cells are crucial for early inflammation, migration of Langerhans cells, and CTL responses following topical application of TLR7 ligand in mice. Blood 110, 946–953 (2007).
Acknowledgements
We thank C. Kurts (University of Bonn, Germany) for helpful discussions and Imaging Center Essen (IMCES; http://imces.uk-essen.de) for help with imaging. This work was supported by the German Research Foundation (DFG; "Immunobone" to M.G. (GU769/4-1, GU769/4-2), A.W. and F.N.; SFB854 to M.G. and B.S.), the European Union (EU HEALTH-2013-INNOVATION-1, MATHIAS to M.G.) and the Mercator Research Center Ruhr (to M.G.).
Ethics declarations
Competing interests
The authors declare no competing financial interests.
Integrated supplementary information
Supplementary information
About this article
Cite this article
Hasenberg, A., Hasenberg, M., Männ, L. et al. Catchup: a mouse model for imaging-based tracking and modulation of neutrophil granulocytes. Nat Methods 12, 445–452 (2015). https://doi.org/10.1038/nmeth.3322
Received:

Accepted:

Published:

Issue Date: