Abstract
Speed, single-base sensitivity and long read lengths make nanopores a promising technology for high-throughput sequencing. We evaluated and optimized the performance of the MinION nanopore sequencer using M13 genomic DNA and used expectation maximization to obtain robust maximum-likelihood estimates for insertion, deletion and substitution error rates (4.9%, 7.8% and 5.1%, respectively). Over 99% of high-quality 2D MinION reads mapped to the reference at a mean identity of 85%. We present a single-nucleotide-variant detection tool that uses maximum-likelihood parameter estimates and marginalization over many possible read alignments to achieve precision and recall of up to 99%. By pairing our high-confidence alignment strategy with long MinION reads, we resolved the copy number for a cancer-testis gene family (CT47) within an unresolved region of human chromosome Xq24.
Relevant articles
Open Access articles citing this article.
Evan Udine

,

Angita Jain

&

Marka van Blitterswijk

Molecular Neurodegeneration Open Access 13 January 2023

Peng Zeng

,

Zunzhe Tian

…

Jing Cai

Chinese Medicine Open Access 09 August 2022

Hideki Mutai

,

Yukihide Momozawa

…

Tatsuo Matsunaga

Orphanet Journal of Rare Diseases Open Access 05 March 2022
Access options
Subscribe to Journal
Get full journal access for 1 year
$99.00
only $8.25 per issue
All prices are NET prices.
VAT will be added later in the checkout.
Tax calculation will be finalised during checkout.
Buy article
Get time limited or full article access on ReadCube.
$32.00
All prices are NET prices.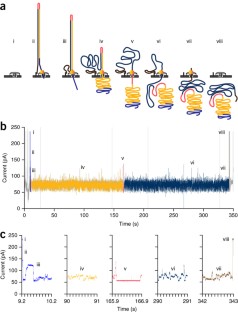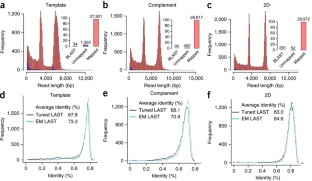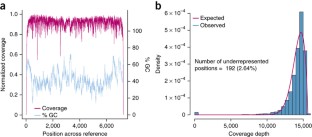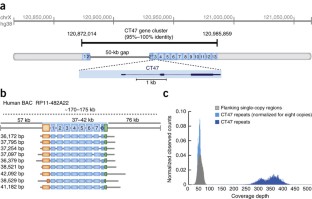 References
Chaisson, M.J. & Tesler, G. Mapping single molecule sequencing reads using basic local alignment with successive refinement (BLASR): application and theory. BMC Bioinformatics 13, 238 (2012).

Li, H. Aligning sequence reads, clone sequences and assembly contigs with BWA-MEM. Preprint at http://arxiv.org/pdf/1303.3997.pdf (2013).

Frith, M.C., Wan, R. & Horton, P. Incorporating sequence quality data into alignment improves DNA read mapping. Nucleic Acids Res. 38, e100 (2010).

Harris, R.S. Improved Pairwise Alignment of Genomic DNA. PhD thesis, Pennsylvania State Univ. (2007).

Benson, D.A. et al. GenBank. Nucleic Acids Res. 41, D36–D42 (2013).

Altschul, S.F., Gish, W., Miller, W., Myers, E.W. & Lipman, D.J. Basic local alignment search tool. J. Mol. Biol. 215, 403–410 (1990).

Do, C.B. & Batzoglou, S. What is the expectation maximization algorithm? Nat. Biotechnol. 26, 897–899 (2008).

Paten, B., Herrero, J., Beal, K., Fitzgerald, S. & Birney, E. Enredo and Pecan: genome-wide mammalian consistency-based multiple alignment with paralogs. Genome Res. 18, 1814–1828 (2008).

Schwartz, A.S. & Pachter, L. Multiple alignment by sequence annealing. Bioinformatics 23, e24–e29 (2007).

Quick, J., Quinlan, A. & Loman, N. A reference bacterial genome dataset generated on the MinION portable single-molecule nanopore sequencer. Gigascience 3, 22 (2014).

Ashton, P.M. et al. MinION nanopore sequencing identifies the position and structure of a bacterial antibiotic resistance island. Nat. Biotechnol. doi:10.1038/nbt.3103 (8 December 2014).

Davey, J.W. et al. Genome-wide genetic marker discovery and genotyping using next-generation sequencing. Nat. Rev. Genet. 12, 499–510 (2011).

Bourlat, S.J. et al. Genomics in marine monitoring: new opportunities for assessing marine health status. Mar. Pollut. Bull. 74, 19–31 (2013).

Stucki, D. & Gagneux, S. Single nucleotide polymorphisms in Mycobacterium tuberculosis and the need for a curated database. Tuberculosis (Edinb.) 93, 30–39 (2013).

Holmes, I. & Bruno, W.J. Evolutionary HMMs: a Bayesian approach to multiple alignment. Bioinformatics 17, 803–820 (2001).

Chen, Y.T., Iseli, C. & Venditti, C. Identification of a new cancer/testis gene family, CT47, among expressed multicopy genes on the human X chromosome. Genes Chromosomes Cancer 45, 392–400 (2006).

Treangen, T.J. & Salzberg, S.L. Repetitive DNA and next-generation sequencing: computational challenges and solutions. Nat. Rev. Genet. 13, 36–46 (2012).

Tremblay, D.C., Alexander, G., Moseley, S. & Chadwick, B.P. Expression, tandem repeat copy number variation and stability of four macrosatellite arrays in the human genome. BMC Genomics 11, 632 (2010).

Brahmachary, M. et al. Digital genotyping of macrosatellites and multicopy genes reveals novel biological functions associated with copy number variation of large tandem repeats. PLoS Genet. 10, e1004418 (2014).

Mikheyev, A.S. & Tin, M.M. A first look at the Oxford Nanopore MinION sequencer. Mol. Ecol. Resour. 14, 1097–1102 (2014).

Schreiber, J. et al. Error rates for nanopore discrimination among cytosine, methylcytosine, and hydroxymethylcytosine along individual DNA strands. Proc. Natl. Acad. Sci. USA 110, 18910–18915 (2013).

Laszlo, A.H. et al. Detection and mapping of 5-methylcytosine and 5-hydroxymethylcytosine with nanopore MspA. Proc. Natl. Acad. Sci. USA 110, 18904–18909 (2013).

Wescoe, Z.L., Schreiber, J. & Akeson, M. Nanopores discriminate among five C5-cytosine variants in DNA. J. Am. Chem. Soc. 136, 16582–16587 (2014).

Cherf, G.M. et al. Automated forward and reverse ratcheting of DNA in a nanopore at 5-Å precision. Nat. Biotechnol. 30, 344–348 (2012).

Lieberman, K.R., Dahl, J.M., Mai, A.H., Akeson, M. & Wang, H. Dynamics of the translocation step measured in individual DNA polymerase complexes. J. Am. Chem. Soc. 134, 18816–18823 (2012).

Schibel, A.E. et al. Nanopore detection of 8-oxo-7,8-dihydro-2′-deoxyguanosine in immobilized single-stranded DNA via adduct formation to the DNA damage site. J. Am. Chem. Soc. 132, 17992–17995 (2010).

Li, H. Aligning sequence reads, clone sequences and assembly contigs with BWA-MEM https://github.com/lh3/bwa/blob/master/NEWS.md/#release-079-19-may-2014 (2014).

Frith, M.C., Hamada, M. & Horton, P. Parameters for accurate genome alignment. BMC Bioinformatics 11, 80 (2010).

Durbin, R., Eddy, S.R., Krogh, A. & Mitchison, G. Biological Sequence Analysis: Probabilistic Models of Proteins and Nucleic Acids. (The Press Syndicate of The University of Cambridge, 1998).

Paten, B. et al. Cactus: algorithms for genome multiple sequence alignment. Genome Res. 21, 1512–1528 (2011).

Eddy, S.R. Profile hidden Markov models. Bioinformatics 14, 755–763 (1998).

Quinlan, A.R. & Hall, I.M. BEDTools: a flexible suite of utilities for comparing genomic features. Bioinformatics 26, 841–842 (2010).
Acknowledgements
Research reported in this publication was supported by the National Human Genome Research Institute of the US National Institutes of Health under award numbers HG006321 (M.A.), HG007827 (M.A.) and U54HG007990 (B.P.). The authors thank Oxford Nanopore Technologies for their gift to the UCSC Nanopore Group. The authors also thank D. Deamer for support, reading of the manuscript and helpful discussion. The authors gratefully acknowledge D. Haussler and J. Kent for their support.
Ethics declarations
Competing interests
M.A. is a consultant to Oxford Nanopore Technologies.
Integrated supplementary information
Supplementary information
About this article
Cite this article
Jain, M., Fiddes, I., Miga, K. et al. Improved data analysis for the MinION nanopore sequencer. Nat Methods 12, 351–356 (2015). https://doi.org/10.1038/nmeth.3290
Received:

Accepted:

Published:

Issue Date:

DOI: https://doi.org/10.1038/nmeth.3290