Abstract
We have developed a versatile new class of genetically encoded fluorescent biosensor based on reversible exchange of the heterodimeric partners of green and red dimerization-dependent fluorescent proteins. We demonstrate the use of this strategy to construct both intermolecular and intramolecular ratiometric biosensors for qualitative imaging of caspase activity, Ca2+ concentration dynamics and other second-messenger signaling activities.
Access options
Subscribe to Journal
Get full journal access for 1 year
$259.00
only $21.58 per issue
All prices are NET prices.
VAT will be added later in the checkout.
Rent or Buy article
Get time limited or full article access on ReadCube.
from$8.99
All prices are NET prices.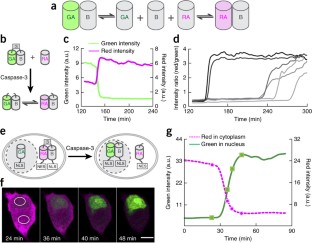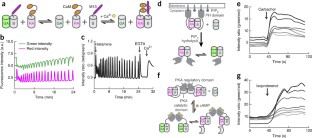 References
1

Miyawaki, A. et al. Nature 388, 882–887 (1997).

2

Xu, X. et al. Nucleic Acids Res. 26, 2034–2035 (1998).

3

Hu, C.D., Chinenov, Y. & Kerppola, T.K. Mol. Cell 9, 789–798 (2002).

4

Nagai, T., Sawano, A., Park, E.S. & Miyawaki, A. Proc. Natl. Acad. Sci. USA 98, 3197–3202 (2001).

5

Nakai, J., Ohkura, M. & Imoto, K. Nat. Biotechnol. 19, 137–141 (2001).

6

Alford, S.C., Abdelfattah, A.S., Ding, Y. & Campbell, R.E. Chem. Biol. 19, 353–360 (2012).

7

Alford, S.C., Ding, Y., Simmen, T. & Campbell, R.E. ACS Synth. Biol. 1, 569–575 (2012).

8

Wen, W., Meinkotht, J.L., Tsien, R.Y. & Taylor, S.S. Cell 82, 463–473 (1995).

9

Kalderon, D., Roberts, B.L., Richardson, W.D. & Smith, A.E. Cell 39, 499–509 (1984).

10

Simon, D.J. et al. J. Neurosci. 32, 17540–17553 (2012).

11

Komatsu, N. et al. Mol. Biol. Cell 22, 4647–4656 (2011).

12

Miyawaki, A. & Tsien, R.Y. Methods Enzymol. 327, 472–500 (2000).

13

Bergsbaken, T., Fink, S.L. & Cookson, B.T. Nat. Rev. Microbiol. 7, 99–109 (2009).

14

Zhang, Y., Tounekti, O., Akerman, B., Goodyer, C.G. & LeBlanc, A. J. Neurosci. 21, RC176 (2001).

15

Botelho, R.J. et al. J. Cell Biol. 151, 1353–1368 (2000).

16

Cui, J. et al. J. Neurosci. 31, 16227–16240 (2011).

17

LeBlanc, A. J. Neurosci. 15, 7837–7846 (1995).
Acknowledgements
We thank the University of Alberta Molecular Biology Service Unit, C.W. Cairo and R. Derda for technical assistance, and T. Meyer (Stanford) for the PLCδ-encoding gene. Funding support was provided by Canada Research Chairs (R.E.C.), the Alberta Glycomics Centre (R.E.C.), the Canadian Institutes of Health Research (NHG 99085 and MOP 123514 to R.E.C. and MOP 119425 to D.M.), the Natural Sciences and Engineering Research Council of Canada (Discovery grant to R.E.C. and a CGSD3 Scholarship to S.C.A.), Alberta Ingenuity PhD Scholarships (S.C.A. and Y.S.), a National Science Foundation of China Major Research Grant (91132718 to Y.Z.), the Beijing Natural Science Foundation (7142085 to Y.Z.), US National Institutes of Health DP1 CA174423 (to J.Z.) and 5R44NS082222 (to A.M.Q. and T.E.H.), and US National Science Foundation Small Business Innovation Research (SBIR) 1248138 and Montana SBIR matching funds #13-50 RCSBIR-003 (A.M.Q.).
Ethics declarations
Competing interests
R.E.C., in partnership with the Alberta Glycomics Centre and the University of Alberta, has filed Canadian and US patent applications that describe the research in this manuscript. P.H.T., A.M.Q. and T.E.H. are employed by Montana Molecular, a for-profit company that develops genetically encoded fluorescent protein sensors. This does not alter the authors' adherence to all of the Nature Methods policies on sharing data and materials presented in this manuscript.
Integrated supplementary information
Supplementary information
About this article
Cite this article
Ding, Y., Li, J., Enterina, J. et al. Ratiometric biosensors based on dimerization-dependent fluorescent protein exchange. Nat Methods 12, 195–198 (2015). https://doi.org/10.1038/nmeth.3261
Received:

Accepted:

Published:

Issue Date: