Abstract
We introduce a nanoscale experimental platform that enables kinetic and equilibrium measurements of a wide range of molecular interactions using a gel electrophoresis readout. Programmable, self-assembled DNA nanoswitches serve both as templates for positioning molecules and as sensitive, quantitative reporters of molecular association and dissociation. We demonstrated this low-cost, versatile, 'lab-on-a-molecule' system by characterizing ten different interactions, including a complex four-body interaction with five discernible states.
This is a preview of subscription content
Access options
Subscribe to Journal
Get full journal access for 1 year
$119.00
only $9.92 per issue
All prices are NET prices.
VAT will be added later in the checkout.
Tax calculation will be finalised during checkout.
Rent or Buy article
Get time limited or full article access on ReadCube.
from$8.99
All prices are NET prices.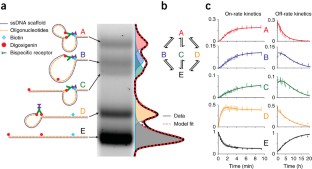 References
1

Thorne, H.V. Virology 29, 234–239 (1966).

2

Bishop, D.H.L., Claybrook, J.R. & Spiegelman, S. J. Mol. Biol. 26, 373–387 (1967).

3

Smithies, O. Biochem. J. 61, 629–641 (1955).

4

Hellman, L.M. & Fried, M.G. Nat. Protoc. 2, 1849–1861 (2007).

5

Halvorsen, K., Schaak, D. & Wong, W.P. Nanotechnology 22, 494005 (2011).

6

Saccà, B. & Niemeyer, C.M. Angew. Chem. Int. Ed. Engl. 51, 58–66 (2012).

7

Seeman, N.C. Annu. Rev. Biochem. 79, 65–87 (2010).

8

Aaij, C. & Borst, P. Biochim. Biophys. Acta 269, 192–200 (1972).

9

Levy, M. & Ellington, A.D. Chem. Biol. 15, 979–989 (2008).

10

Prabhu, N.V. & Sharp, K.A. Annu. Rev. Phys. Chem. 56, 521–548 (2005).

11

Qureshi, M.H., Yeung, J.C., Wu, S.C. & Wong, S.L. J. Biol. Chem. 276, 46422–46428 (2001).

12

Klumb, L.A., Chu, V. & Stayton, P.S. Biochemistry 37, 7657–7663 (1998).

13

Chivers, C.E. et al. Nat. Methods 7, 391–393 (2010).

14

Florin, E.L., Moy, V.T. & Gaub, H.E. Science 264, 415–417 (1994).

15

Chen, I., Dorr, B.M. & Liu, D.R. Proc. Natl. Acad. Sci. USA 108, 11399–11404 (2011).

16

Koussa, M.A., Sotomayor, M. & Wong, W.P. Methods 67, 134–141 (2014).

17

Strunz, T., Oroszlan, K., Schäfer, R. & Güntherodt, H.J. Proc. Natl. Acad. Sci. USA 96, 11277–11282 (1999).
Acknowledgements
The authors gratefully acknowledge D. Corey, G. Yellen, R. Wilson, J. Holt, H. Ploegh, G. Wong, A. Badran, Z. Tsun, A. Golden and members of the Wong and Corey Labs for critical discussions and T. Kao for her early work on the project. Funding for this project was provided by US National Institutes of Health R01 DC02281 to D. Corey; M.A.K. was supported by National Science Foundation USA GRFP 2012147612; W.P.W. was supported by Boston Children's Hospital startup funds and Takeda New Frontier Science.
Ethics declarations
Competing interests
Patent applications have been filed for various aspects of this work by K.H., M.A.K. and W.P.W.
Integrated supplementary information
Supplementary information
About this article
Cite this article
Koussa, M., Halvorsen, K., Ward, A. et al. DNA nanoswitches: a quantitative platform for gel-based biomolecular interaction analysis. Nat Methods 12, 123–126 (2015). https://doi.org/10.1038/nmeth.3209
Received:

Accepted:

Published:

Issue Date: