Abstract
Fluorescent Ca2+ reporters are widely used as readouts of neuronal activities. Here we designed R-CaMP2, a high-affinity red genetically encoded calcium indicator (GECI) with a Hill coefficient near 1. Use of the calmodulin-binding sequence of CaMKK-α and CaMKK-β in lieu of an M13 sequence resulted in threefold faster rise and decay times of Ca2+ transients than R-CaMP1.07. These features allowed resolving single action potentials (APs) and recording fast AP trains up to 20–40 Hz in cortical slices. Somatic and synaptic activities of a cortical neuronal ensemble in vivo were imaged with similar efficacy as with previously reported sensitive green GECIs. Combining green and red GECIs, we successfully achieved dual-color monitoring of neuronal activities of distinct cell types, both in the mouse cortex and in freely moving Caenorhabditis elegans. Dual imaging using R-CaMP2 and green GECIs provides a powerful means to interrogate orthogonal and hierarchical neuronal ensembles in vivo.
Relevant articles
Open Access articles citing this article.
Ayumu Inutsuka

,

Sho Maejima

…

Tatsushi Onaka

Communications Biology Open Access 16 September 2022

Diming Zhang

,

Emily Redington

&

Yiyang Gong

Communications Biology Open Access 29 July 2021
Access options
Subscribe to Journal
Get full journal access for 1 year
$99.00
only $8.25 per issue
All prices are NET prices.
VAT will be added later in the checkout.
Tax calculation will be finalised during checkout.
Buy article
Get time limited or full article access on ReadCube.
$32.00
All prices are NET prices.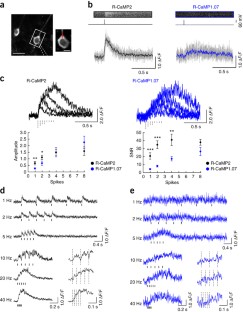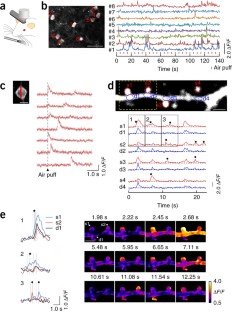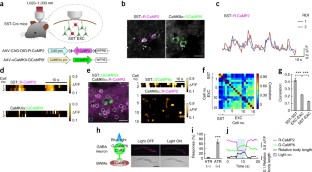 References
O'Connor, D.H., Huber, D. & Svoboda, K. Reverse engineering the mouse brain. Nature 461, 923–929 (2009).

Ziv, Y. et al. Long-term dynamics of CA1 hippocampal place codes. Nat. Neurosci. 16, 264–266 (2013).

Miyawaki, A. et al. Fluorescent indicators for Ca2+ based on green fluorescent proteins and calmodulin. Nature 388, 882–887 (1997).

Nagai, T., Yamada, S., Tominaga, T., Ichikawa, M. & Miyawaki, A. Expanded dynamic range of fluorescent indicators for Ca2+ by circularly permuted yellow. Proc. Natl. Acad. Sci. USA 101, 10554–10559 (2004).

Nagai, T., Sawano, A., Park, E.S. & Miyawaki, A. Circularly permuted green fluorescent proteins engineered to sense Ca2+. Proc. Natl. Acad. Sci. USA 98, 3197–3202 (2001).

Baird, G.S., Zacharias, D.A. & Tsien, R.Y. Circular permutation and receptor insertion within green fluorescent proteins. Proc. Natl. Acad. Sci. USA 96, 11241–11246 (1999).

Nakai, J., Ohkura, M. & Imoto, K. A high signal-to-noise Ca2+ probe composed of a single green fluorescent protein. Nat. Biotechnol. 19, 137–141 (2001).

Zhao, Y. et al. An expanded palette of genetically encoded Ca2+ indicators. Science 333, 1888–1891 (2011).

Wang, Q., Shui, B., Kotlikoff, M.I. & Sondermann, H. Structural basis for calcium sensing by GCaMP2. Structure 16, 1817–1827 (2008).

Akerboom, J. et al. Crystal structures of the GCaMP calcium sensor reveal the mechanism of fluorescence signal change and aid rational design. J. Biol. Chem. 284, 6455–6464 (2009).

Akerboom, J. et al. Optimization of a GCaMP calcium indicator for neural activity imaging. J. Neurosci. 32, 13819–13840 (2012).

Sun, X.R. et al. Fast GCaMPs for improved tracking of neuronal activity. Nat. Commun. 4, 2170 (2013).

Chen, T.-W. et al. Ultrasensitive fluorescent proteins for imaging neuronal activity. Nature 499, 295–300 (2013).

Wardill, T.J. et al. A neuron-based screening platform for optimizing genetically-encoded calcium indicators. PLoS ONE 8, e77728 (2013).

Ohkura, M. et al. Genetically encoded green fluorescent Ca2+ indicators with improved detectability for neuronal Ca2+ signals. PLoS ONE 7, e51286 (2012).

Ohkura, M., Sasaki, T., Kobayashi, C., Ikegaya, Y. & Nakai, J. An improved genetically encoded red fluorescent Ca2+ indicator for detecting optically evoked action potentials. PLoS ONE 7, e39933 (2012).

Wu, J. et al. Improved orange and red Ca2+ indicators and photophysical considerations for optogenetic applications. ACS Chem. Neurosci. 4, 963–972 (2013).

Akerboom, J. et al. Genetically encoded calcium indicators for multi-color neural activity imaging and combination with optogenetics. Front. Mol. Neurosci. 6, 2 (2013).

Bito, H., Deisseroth, K. & Tsien, R.W. CREB phosphorylation and dephosphorylation: a Ca2+- and stimulus duration-dependent switch for hippocampal gene expression. Cell 87, 1203–1214 (1996).

Deisseroth, K., Bito, H. & Tsien, R.W. Signaling from synapse to nucleus: postsynaptic CREB phosphorylation during multiple forms of hippocampal synaptic plasticity. Neuron 16, 89–101 (1996).

Takemoto-Kimura, S. et al. Regulation of dendritogenesis via a lipid-raft-associated Ca2+/calmodulin-dependent protein kinase CLICK-III/CaMKIγ. Neuron 54, 755–770 (2007).

Truong, K. et al. FRET-based in vivo Ca2+ imaging by a new calmodulin-GFP fusion molecule. Nat. Struct. Biol. 8, 1069–1073 (2001).

Osawa, M. et al. A novel target recognition revealed by calmodulin in complex with kinase kinase. Nat. Struct. Biol. 6, 819–824 (1999).

Hendel, T. et al. Fluorescence changes of genetic calcium indicators and OGB-1 correlated with neural activity and calcium in vivo and in vitro. J. Neurosci. 28, 7399–7411 (2008).

Fujii, H. et al. Nonlinear decoding and asymmetric representation of neuronal input information by CaMKIIα and calcineurin. Cell Reports 3, 978–987 (2013).

Ageta-Ishihara, N. et al. Control of cortical axon elongation by a GABA-driven Ca2+/calmodulin-dependent protein kinase cascade. J. Neurosci. 29, 13720–13729 (2009).

O'Connor, D.H., Peron, S.P., Huber, D. & Svoboda, K. Neural activity in barrel cortex underlying vibrissa-based object localization in mice. Neuron 67, 1048–1061 (2010).

Petersen, C.C.H. & Crochet, S. Synaptic computation and sensory processing in neocortical layer 2/3. Neuron 78, 28–48 (2013).

Tada, M., Takeuchi, A., Hashizume, M., Kitamura, K. & Kano, M. A highly sensitive fluorescent indicator dye for calcium imaging of neural activity in vitro and in vivo. Eur. J. Neurosci. 39, 1720–1728 (2014).

Taniguchi, H. et al. A resource of Cre driver lines for genetic targeting of GABAergic neurons in cerebral cortex. Neuron 71, 995–1013 (2011).

Gibson, J.R., Beierlein, M. & Connors, B.W. Two networks of electrically coupled inhibitory neurons in neocortex. Nature 402, 75–79 (1999).

Matsushita, M. & Narin, A.C. Characterization of the mechanism of regulation of Ca2+/ calmodulin-dependent protein kinase I by calmodulin and by Ca2+/calmodulin-dependent protein kinase kinase. J. Biol. Chem. 273, 21473–21481 (1998).

Callaway, E.M. Transneuronal circuit tracing with neurotropic viruses. Curr. Opin. Neurobiol. 18, 617–623 (2008).

Luo, L., Callaway, E.M. & Svoboda, K. Genetic dissection of neural circuits. Neuron 57, 634–660 (2008).

Pivetta, C., Esposito, M.S., Sigrist, M. & Arber, S. Motor-circuit communication matrix from spinal cord to brainstem neurons revealed by developmental origin. Cell 156, 537–548 (2014).

Kawashima, T. et al. Functional labeling of neurons and their projections using the synthetic activity-dependent promoter E-SARE. Nat. Methods 10, 889–895 (2013).

Kawashima, T., Okuno, H. & Bito, H. A new era for functional labeling of neurons: activity-dependent promoters have come of age. Front. Neural Circuits 8, 37 (2014).

Barth, A.L. Visualizing circuits and systems using transgenic reporters of neural activity. Curr. Opin. Neurobiol. 17, 567–571 (2007).

Xu, C. & Webb, W.W. Measurement of two-photon excitation cross sections of molecular fluorophores with data from 690 to 1050 nm. J. Opt. Soc. Am. B 13, 481–491 (1996).

Margrie, T.W. et al. Targeted whole-cell recordings in the mammalian brain in vivo. Neuron 39, 911–918 (2003).

Gengyo-Ando, K., Yoshina, S., Inoue, H. & Mitani, S. An efficient transgenic system by TA cloning vectors and RNAi for C. elegans. Biochem. Biophys. Res. Commun. 349, 1345–1350 (2006).

Brenner, S. The genetics of Caenorhabditis elegans. Genetics 77, 71–94 (1974).

Kawano, T. et al. An imbalancing act: gap junctions reduce the backward motor circuit activity to bias C. elegans for forward locomotion. Neuron 72, 572–586 (2011).
Acknowledgements
We thank D. Kim (Howard Hughes Medical Institute Janelia Farm Research Campus) for kindly providing access to GCaMP6f and GCaMP6s before publication (through Addgene); R. Campbell (University of Alberta) and T. Nagai (Osaka University) for R-GECO1 (through Addgene); A. Gottschalk (Frankfurt Institute for Molecular Life Sciences) and S. Ramanathan (Harvard University) for access to Psra-6::ChR2(H134R)::mCherry plasmid; N. Yamaguchi (Medical Scientist Training Program of the Faculty of Medicine, the University of Tokyo and Department of Neurochemistry, the University of Tokyo Graduate School of Medicine) for access to Tet-on vectors before publication; T. Takahashi and Y. Kita for access to fluorescence measurement stations at the Life Sciences Core Facility, Graduate School of Medicine, the University of Tokyo. We thank all of the members of H.B.'s laboratory for support and discussion. We are particularly indebted to Y. Kondo, Y. Dobashi, R. Gyobu and T. Kinbara for assistance, as well as Y. Kishida, J. Tsujimoto and D. Shuto for animal care. This work was supported in part by grants from Core Research for Evolutional Science and Technology Japan Science and Technology Agency (CREST-JST) (to H.B.), the Strategic International Research Cooperative Program Japan-Mexico (SICPME-JST) (to H.B.), Precursory Research for Embryonic Science and Technology (PRESTO)-JST (to S.T.-K. and K.K.), grants-in-aid KAKENHI from the Japanese Ministry of Education, Culture, Sports, Science and Technology (MEXT) and Japan Society for the Promotion of Science (JSPS) (to H.F., S.T.-K., M.O., K.G.-A., M.K., J.N., K.K. and H.B.), a Comprehensive Brain Science Network (CBSN) grant from MEXT (to H.B.), a Strategic Research Program for Brain Sciences (to M.K.) and grants from the Tokyo Society of Medical Sciences (to H.F.) and the Uehara Foundation (to H.B.). M.I., S.H. and S.K. were supported in part by JSPS fellowships.
Ethics declarations
Competing interests
H.B. is a scientific consultant for Chugai Pharmaceuticals Co., Ltd. M.I., A.T., M.O., J.N. and H.B. have filed a patent related to R-CaMP2.
Integrated supplementary information
Supplementary information
About this article
Cite this article
Inoue, M., Takeuchi, A., Horigane, Si. et al. Rational design of a high-affinity, fast, red calcium indicator R-CaMP2. Nat Methods 12, 64–70 (2015). https://doi.org/10.1038/nmeth.3185
Received:

Accepted:

Published:

Issue Date:

DOI: https://doi.org/10.1038/nmeth.3185