Abstract
Cancer stem cells (CSCs) are thought to drive tumor growth, metastasis and chemoresistance. Although surface markers such as CD133 and CD44 have been successfully used to isolate CSCs, their expression is not exclusively linked to the CSC phenotype and is prone to environmental alteration. We identified cells with an autofluorescent subcellular compartment that exclusively showed CSC features across different human tumor types. Primary tumor–derived autofluorescent cells did not overlap with side-population (SP) cells, were enriched in sphere culture and during chemotherapy, strongly expressed pluripotency-associated genes, were highly metastatic and showed long-term in vivo tumorigenicity, even at the single-cell level. Autofluorescence was due to riboflavin accumulation in membrane-bounded cytoplasmic structures bearing ATP-dependent ABCG2 transporters. In summary, we identified and characterized an intrinsic autofluorescent phenotype in CSCs of diverse epithelial cancers and used this marker to isolate and characterize these cells.
Access options
Subscribe to Journal
Get full journal access for 1 year
$259.00
only $21.58 per issue
All prices are NET prices.
VAT will be added later in the checkout.
Rent or Buy article
Get time limited or full article access on ReadCube.
from$8.99
All prices are NET prices.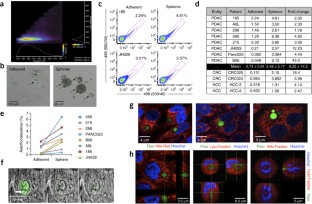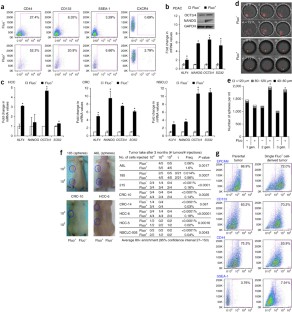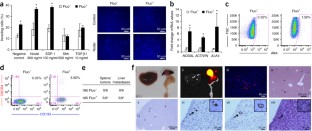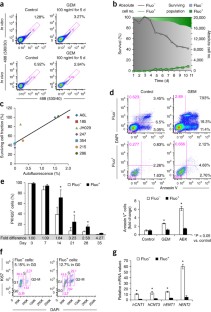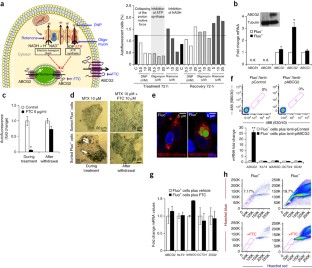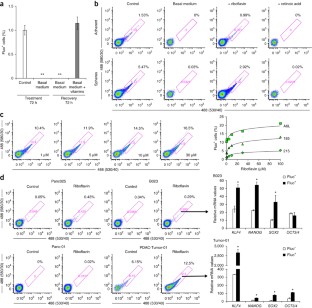 References
1

Clarke, M.F. et al. Cancer stem cells—perspectives on current status and future directions: AACR Workshop on cancer stem cells. Cancer Res. 66, 9339–9344 (2006).

2

Campbell, L.L. & Polyak, K. Breast tumor heterogeneity: cancer stem cells or clonal evolution? Cell Cycle 6, 2332–2338 (2007).

3

Balic, A., Dorado, J., Alonso-Gómez, M. & Heeschen, C. Stem cells as the root of pancreatic ductal adenocarcinoma. Exp. Cell Res. 318, 691–704 (2012).

4

Hermann, P.C., Bhaskar, S., Cioffi, M. & Heeschen, C. Cancer stem cells in solid tumors. Semin. Cancer Biol. 20, 77–84 (2010).

5

Al-Hajj, M., Wicha, M.S., Benito-Hernandez, A., Morrison, S. & Clarke, M.F. Prospective identification of tumorigenic breast cancer cells. Proc. Natl. Acad. Sci. USA 100, 3983–3988 (2003).

6

Gallmeier, E. et al. Inhibition of ataxia telangiectasia- and Rad3-related function abrogates the in vitro and in vivo tumorigenicity of human colon cancer cells through depletion of the CD133+ tumor-initiating cell fraction. Stem Cells 29, 418–429 (2011).

7

Wicha, M.S., Liu, S. & Dontu, G. Cancer stem cells: an old idea—a paradigm shift. Cancer Res. 66, 1883–1890 (2006).

8

Beier, D. et al. CD133+ and CD133− glioblastoma-derived cancer stem cells show differential growth characteristics and molecular profiles. Cancer Res. 67, 4010–4015 (2007).

9

Joo, K.M. et al. Clinical and biological implications of CD133-positive and CD133-negative cells in glioblastomas. Lab. Invest. 88, 808–815 (2008).

10

Ogden, A.T. et al. Identification of A2B5+CD133− tumor-initiating cells in adult human gliomas. Neurosurgery 62, 505–514 (2008).

11

Wang, J. et al. CD133 negative glioma cells form tumors in nude rats and give rise to CD133 positive cells. Int. J. Cancer 122, 761–768 (2008).

12

Hermann, P.C. et al. Distinct populations of cancer stem cells determine tumor growth and metastatic activity in human pancreatic cancer. Cell Stem Cell 1, 313–323 (2007).

13

Zhang, S.N., Huang, F.T., Huang, Y.J., Zhong, W. & Yu, Z. Characterization of a cancer stem cell-like side population derived from human pancreatic adenocarcinoma cells. Tumori 96, 985–992 (2010).

14

Zhou, J. et al. Persistence of side population cells with high drug efflux capacity in pancreatic cancer. World J. Gastroenterol. 14, 925–930 (2008).

15

Kabashima, A. et al. Side population of pancreatic cancer cells predominates in TGF-β-mediated epithelial to mesenchymal transition and invasion. Int. J. Cancer 124, 2771–2779 (2009).

16

Broadley, K.W. et al. Side population is not necessary or sufficient for a cancer stem cell phenotype in glioblastoma multiforme. Stem Cells 29, 452–461 (2011).

17

Burkert, J., Otto, W.R. & Wright, N.A. Side populations of gastrointestinal cancers are not enriched in stem cells. J. Pathol. 214, 564–573 (2008).

18

Clément, V. et al. Retraction: Marker-independent identification of glioma-initiating cells. Nat. Methods 10, 1035 (2013).

19

Lonardo, E. et al. Nodal/Activin signaling drives self-renewal and tumorigenicity of pancreatic cancer stem cells and provides a target for combined drug therapy. Cell Stem Cell 9, 433–446 (2011).

20

Iliopoulos, D., Hirsch, H.A., Wang, G. & Struhl, K. Inducible formation of breast cancer stem cells and their dynamic equilibrium with non-stem cancer cells via IL6 secretion. Proc. Natl. Acad. Sci. USA 108, 1397–1402 (2011).

21

Hermann, P.C. & Heeschen, C. Metastatic cancer stem cells—quo vadis? Clin. Chem. 59, 1268–1269 (2013).

22

Hermann, P.C. et al. Multimodal treatment eliminates cancer stem cells and leads to long-term survival in primary human pancreatic cancer tissue xenografts. PLoS ONE 8, e66371 (2013).

23

Cicalese, A. et al. The tumor suppressor p53 regulates polarity of self-renewing divisions in mammary stem cells. Cell 138, 1083–1095 (2009).

24

Santini, D. et al. Prognostic role of human equilibrative transporter 1 (hENT1) in patients with resected gastric cancer. J. Cell. Physiol. 223, 384–388 (2010).

25

Rabindran, S.K., Ross, D.D., Doyle, L.A., Yang, W. & Greenberger, L.M. Fumitremorgin C reverses multidrug resistance in cells transfected with the breast cancer resistance protein. Cancer Res. 60, 47–50 (2000).

26

Bell, D.H. Characterization of the fluorescence of the antitumor agent, mitoxantrone. Biochim. Biophys. Acta 949, 132–137 (1988).

27

White, E. Deconvoluting the context-dependent role for autophagy in cancer. Nat. Rev. Cancer 12, 401–410 (2012).

28

van Herwaarden, A.E. et al. Multidrug transporter ABCG2/breast cancer resistance protein secretes riboflavin (vitamin B2) into milk. Mol. Cell. Biol. 27, 1247–1253 (2007).

29

Jonker, J.W. et al. The breast cancer resistance protein protects against a major chlorophyll-derived dietary phototoxin and protoporphyria. Proc. Natl. Acad. Sci. USA 99, 15649–15654 (2002).

30

van Herwaarden, A.E. & Schinkel, A.H. The function of breast cancer resistance protein in epithelial barriers, stem cells and milk secretion of drugs and xenotoxins. Trends Pharmacol. Sci. 27, 10–16 (2006).

31

Ifergan, I., Goler-Baron, V. & Assaraf, Y.G. Riboflavin concentration within ABCG2-rich extracellular vesicles is a novel marker for multidrug resistance in malignant cells. Biochem. Biophys. Res. Commun. 380, 5–10 (2009).

32

Mueller, M.T. et al. Combined targeted treatment to eliminate tumorigenic cancer stem cells in human pancreatic cancer. Gastroenterology 137, 1102–1113 (2009).

33

Qin, D., Xia, Y. & Whitesides, G.M. Soft lithography for micro- and nanoscale patterning. Nat. Protoc. 5, 491–502 (2010).

34

Sainz, B. Jr. et al. Identification of the Niemann-Pick C1-like 1 cholesterol absorption receptor as a new hepatitis C virus entry factor. Nat. Med. 18, 281–285 (2012).

35

Sainz, B. Jr., Barretto, N. & Uprichard, S.L. Hepatitis C virus infection in phenotypically distinct Huh7 cell lines. PLoS ONE 4, e6561 (2009).

36

Greenwood, M. & Yule, G.U. On the statistical interpretation of some bacteriological methods employed in water analysis. J. Hyg. (Lond.) 16, 36–54 (1917).

37

Taswell, C. Limiting dilution assays for the determination of immunocompetent cell frequencies. I. Data analysis. J. Immunol. 126, 1614–1619 (1981).
Acknowledgements
We thank A. González-Neira and L. Moreno from the CNIO Human Genotyping-CEGEN Unit for performing the TaqMan OpenArray SNAP analysis, and S.M. Trabulo and M. Tatari for their excellent in vivo technical assistance. The research was supported by the ERC Advanced Investigator Grant (Pa-CSC 233460), the European Community's Seventh Framework Programme (FP7/2007-2013) under grant agreement no. 256974 (EPC-TM-NET) and no. 602783 (CAM-PaC), the Associazione Italiana Ricerca Cancro (AIRC grant no. 12182 to A.S.), the Italian Cancer Genome Project Ministry of University and Research (FIRB RBAP10AHJB to A.S.), the FIMP-Italian Ministry of Health (CUP_J33G13000210001), the Subdirección General de Evaluación y Fomento de la Investigación, Fondo de Investigación Sanitaria (PS09/02129 & PI12/02643) and the Programa Nacional de Internacionalización de la I+D, Subprogramma: FCCI 2009 (PLE2009-0105; both Ministerio de Economía y Competitividad (es), Spain). M.C. was supported by the La Caixa Predoctoral Fellowship Program.
Ethics declarations
Competing interests
The authors declare no competing financial interests.
Integrated supplementary information
Supplementary information
Supplementary Figures 1-–11 and Supplementary Tables 1 and 2 (PDF 4511 kb)
About this article
Cite this article
Miranda-Lorenzo, I., Dorado, J., Lonardo, E. et al. Intracellular autofluorescence: a biomarker for epithelial cancer stem cells. Nat Methods 11, 1161–1169 (2014). https://doi.org/10.1038/nmeth.3112
Received:

Accepted:

Published:

Issue Date: