Abstract
RNA-protein complexes play pivotal roles in many central biological processes. Although methods based on high-throughput sequencing have advanced our ability to identify the specific RNAs bound by a particular protein, there is a need for precise and systematic ways to identify RNA interaction sites on proteins. We have developed an experimental and computational workflow combining photo-induced cross-linking, high-resolution mass spectrometry and automated analysis of the resulting mass spectra for the identification of cross-linked peptides, cross-linking sites and the cross-linked RNA oligonucleotide moieties of such RNA-binding proteins. The workflow can be applied to any RNA-protein complex of interest or to whole proteomes. We applied the approach to human and yeast mRNA-protein complexes in vitro and in vivo, demonstrating its powerful utility by identifying 257 cross-linking sites on 124 distinct RNA-binding proteins. The open-source software pipeline developed for this purpose, RNPxl, is available as part of the OpenMS project.
Access options
Subscribe to Journal
Get full journal access for 1 year
$259.00
only $21.58 per issue
All prices are NET prices.
VAT will be added later in the checkout.
Rent or Buy article
Get time limited or full article access on ReadCube.
from$8.99
All prices are NET prices.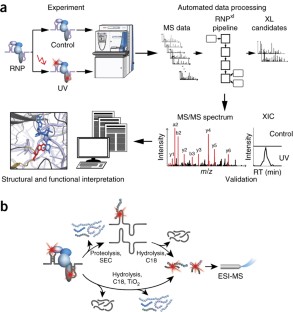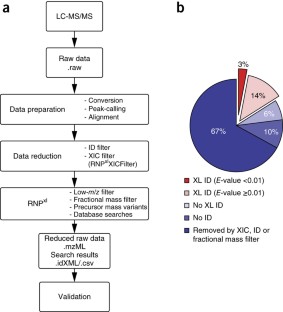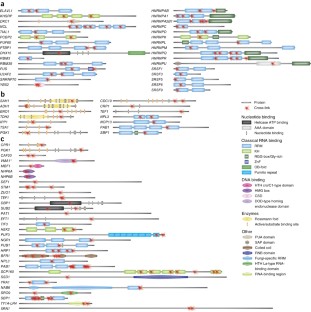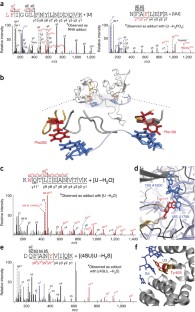 References
1

Glisovic, T., Bachorik, J.L., Yong, J. & Dreyfuss, G. RNA-binding proteins and post-transcriptional gene regulation. FEBS Lett. 582, 1977–1986 (2008).

2

Matera, A.G., Terns, R.M. & Terns, M.P. Non-coding RNAs: lessons from the small nuclear and small nucleolar RNAs. Nat. Rev. Mol. Cell Biol. 8, 209–220 (2007).

3

Yates, L.A., Norbury, C.J. & Gilbert, R.J. The long and short of microRNA. Cell 153, 516–519 (2013).

4

van der Feltz, C., Anthony, K., Brilot, A. & Pomeranz Krummel, D.A. Architecture of the spliceosome. Biochemistry 51, 3321–3333 (2012).

5

Sabin, L.R., Delás, M.J. & Hannon, G.J. Dogma derailed: the many influences of RNA on the genome. Mol. Cell 49, 783–794 (2013).

6

Mercer, T.R. & Mattick, J.S. Structure and function of long noncoding RNAs in epigenetic regulation. Nat. Struct. Mol. Biol. 20, 300–307 (2013).

7

Castello, A. et al. Insights into RNA biology from an atlas of mammalian mRNA-binding proteins. Cell 149, 1393–1406 (2012).

8

Baltz, A.G. et al. The mRNA-bound proteome and its global occupancy profile on protein-coding transcripts. Mol. Cell 46, 674–690 (2012).

9

Mitchell, S.F., Jain, S., She, M. & Parker, R. Global analysis of yeast mRNPs. Nat. Struct. Mol. Biol. 20, 127–133 (2013).

10

Klass, D.M. et al. Quantitative proteomic analysis reveals concurrent RNA-protein interactions and identifies new RNA-binding proteins in Saccharomyces cerevisiae. Genome Res. 23, 1028–1038 (2013).

11

Hafner, M. et al. Transcriptome-wide identification of RNA-binding protein and microRNA target sites by PAR-CLIP. Cell 141, 129–141 (2010).

12

Kohlbacher, O. et al. TOPP—the OpenMS proteomics pipeline. Bioinformatics 23, e191–e197 (2007).

13

Sturm, M. et al. OpenMS—an open-source software framework for mass spectrometry. BMC Bioinformatics 9, 163 (2008).

14

Geer, L.Y. et al. Open mass spectrometry search algorithm. J. Proteome Res. 3, 958–964 (2004).

15

Kramer, K. et al. Mass-spectrometric analysis of proteins cross-linked to 4-thio-uracil- and 5-bromo-uracil-substituted RNA. Int. J. Mass Spectrom. 304, 184–194 (2011).

16

Perkins, D.N., Pappin, D.J., Creasy, D.M. & Cottrell, J.S. Probability-based protein identification by searching sequence databases using mass spectrometry data. Electrophoresis 20, 3551–3567 (1999).

17

Pourshahian, S. & Limbach, P.A. Application of fractional mass for the identification of peptide-oligonucleotide cross-links by mass spectrometry. J. Mass Spectrom. 43, 1081–1088 (2008).

18

UniProt Consortium. Reorganizing the protein space at the Universal Protein Resource (UniProt). Nucleic Acids Res. 40, D71–D75 (2012).

19

Hentze, M.W. Enzymes as RNA-binding proteins: a role for (di)nucleotide-binding domains? Trends Biochem. Sci. 19, 101–103 (1994).

20

Mackereth, C.D. et al. Multi-domain conformational selection underlies pre-mRNA splicing regulation by U2AF. Nature 475, 408–411 (2011).

21

Ben-Shem, A. et al. The structure of the eukaryotic ribosome at 3.0 Å resolution. Science 334, 1524–1529 (2011).

22

Zhu, D., Stumpf, C.R., Krahn, J.M., Wickens, M. & Hall, T.M. A 5′ cytosine binding pocket in Puf3p specifies regulation of mitochondrial mRNAs. Proc. Natl. Acad. Sci. USA 106, 20192–20197 (2009).

23

Urlaub, H., Thiede, B., Müller, E.C., Brimacombe, R. & Wittmann-Liebold, B. Identification and sequence analysis of contact sites between ribosomal proteins and rRNA in Escherichia coli 30 S subunits by a new approach using matrix-assisted laser desorption/ionization-mass spectrometry combined with N-terminal microsequencing. J. Biol. Chem. 272, 14547–14555 (1997).

24

Kühn-Hölsken, E., Dybkov, O., Sander, B., Lührmann, R. & Urlaub, H. Improved identification of enriched peptide RNA cross-links from ribonucleoprotein particles (RNPs) by mass spectrometry. Nucleic Acids Res. 35, e95 (2007).

25

Luo, X. et al. Structural and functional analysis of the E. coli NusB-S10 transcription antitermination complex. Mol. Cell 32, 791–802 (2008).

26

Kühn-Hölsken, E. et al. Mapping the binding site of snurportin 1 on native U1 snRNP by cross-linking and mass spectrometry. Nucleic Acids Res. 38, 5581–5593 (2010).

27

Mozaffari-Jovin, S. et al. The Prp8 RNase H-like domain inhibits Brr2-mediated U4/U6 snRNA unwinding by blocking Brr2 loading onto the U4 snRNA. Genes Dev. 26, 2422–2434 (2012).

28

Ghalei, H., Hsiao, H.H., Urlaub, H., Wahl, M.C. & Watkins, N.J. A novel Nop5-sRNA interaction that is required for efficient archaeal box C/D sRNP formation. RNA 16, 2341–2348 (2010).

29

Müller, M. et al. A cytoplasmic complex mediates specific mRNA recognition and localization in yeast. PLoS Biol. 9, e1000611 (2011).

30

Schmidt, C., Kramer, K. & Urlaub, H. Investigation of protein-RNA interactions by mass spectrometry—techniques and applications. J. Proteomics 75, 3478–3494 (2012).

31

Allain, F.H. et al. Solution structure of the HMG protein NHP6A and its interaction with DNA reveals the structural determinants for non-sequence-specific binding. EMBO J. 18, 2563–2579 (1999).

32

Werner, E., Wende, W., Pingoud, A. & Heinemann, U. High resolution crystal structure of domain I of the Saccharomyces cerevisiae homing endonuclease PI-SceI. Nucleic Acids Res. 30, 3962–3971 (2002).

33

Leidig, C. et al. Structural characterization of a eukaryotic chaperone—the ribosome-associated complex. Nat. Struct. Mol. Biol. 20, 23–28 (2013).

34

Schmitzová, J. et al. Crystal structure of Cwc2 reveals a novel architecture of a multipartite RNA-binding protein. EMBO J. 31, 2222–2234 (2012).

35

Urlaub, H., Raker, V.A., Kostka, S. & Lührmann, R. Sm protein-Sm site RNA interactions within the inner ring of the spliceosomal snRNP core structure. EMBO J. 20, 187–196 (2001).

36

Bessonov, S., Anokhina, M., Will, C., Urlaub, H. & Lührmann, R. Isolation of an active step I spliceosome and composition of its RNP core. Nature 452, 846–850 (2008).

37

Deckert, J. et al. Protein composition and electron microscopy structure of affinity-purified human spliceosomal B complexes isolated under physiological conditions. Mol. Cell. Biol. 26, 5528–5543 (2006).

38

Dignam, J.D., Lebovitz, R.M. & Roeder, R.G. Accurate transcription initiation by RNA polymerase II in a soluble extract from isolated mammalian nuclei. Nucleic Acids Res. 11, 1475–1489 (1983).

39

Rigaut, G. et al. A generic protein purification method for protein complex characterization and proteome exploration. Nat. Biotechnol. 17, 1030–1032 (1999).

40

Creamer, T.J. et al. Transcriptome-wide binding sites for components of the Saccharomyces cerevisiae non-poly(A) termination pathway: Nrd1, Nab3, and Sen1. PLoS Genet. 7, e1002329 (2011).

41

Castello, A. et al. System-wide identification of RNA-binding proteins by interactome capture. Nat. Protoc. 8, 491–500 (2013).

42

Martens, L. et al. mzML—a community standard for mass spectrometry data. Mol. Cell. Proteomics 10, R110.000133 (2011).

43

Chambers, M.C. et al. A cross-platform toolkit for mass spectrometry and proteomics. Nat. Biotechnol. 30, 918–920 (2012).

44

Lange, E. et al. A geometric approach for the alignment of liquid chromatography-mass spectrometry data. Bioinformatics 23, i273–i281 (2007).

45

Cox, J. & Mann, M. MaxQuant enables high peptide identification rates, individualized p.p.b.-range mass accuracies and proteome-wide protein quantification. Nat. Biotechnol. 26, 1367–1372 (2008).

46

Sturm, M. & Kohlbacher, O. TOPPView: an open-source viewer for mass spectrometry data. J. Proteome Res. 8, 3760–3763 (2009).

47

Michalski, A., Neuhauser, N., Cox, J. & Mann, M. A systematic investigation into the nature of tryptic HCD spectra. J. Proteome Res. 11, 5479–5491 (2012).

48

Olsen, J.V. et al. Parts per million mass accuracy on an Orbitrap mass spectrometer via lock mass injection into a C-trap. Mol. Cell. Proteomics 4, 2010–2021 (2005).

49

Vizcaíno, J.A. et al. The PRoteomics IDEntifications (PRIDE) database and associated tools: status in 2013. Nucleic Acids Res. 41, D1063–D1069 (2013).
Acknowledgements
We dedicate this article to the memory of our colleague and friend Andreas Bertsch. The authors thank M. Raabe, U. Pleßmann and T. Conrad for technical assistance, U. Zaman for providing unpublished data, R. Hofele for helpful discussions, R. Lührmann for support and providing infrastructure, S. Klinge for help with the yeast ribosome structure in PyMol, and S. Aiche and C. Bielow for discussions on workflow implementation. This work was supported by a German Research Foundation (DFG) grant to H.U. (SFB860, INST 186/859-1), a Higher Education Commission, Pakistan (HEC)/German Academic Exchange Service (DAAD) stipend to S.Q., funding from the European Research Council (ERC) under the Union's Seventh Framework Programme (FP7/2007-2013)/ERC-2011-ADG_20110310 to M.W.H. and a Marie Curie Fellowship (FP7/2007-2013)/MC-IEF-301031 to B.M.B.
Ethics declarations
Competing interests
The authors declare no competing financial interests.
Integrated supplementary information
Supplementary information
About this article
Cite this article
Kramer, K., Sachsenberg, T., Beckmann, B. et al. Photo-cross-linking and high-resolution mass spectrometry for assignment of RNA-binding sites in RNA-binding proteins. Nat Methods 11, 1064–1070 (2014). https://doi.org/10.1038/nmeth.3092
Received:

Accepted:

Published:

Issue Date: