Access options
Subscribe to Journal
Get full journal access for 1 year
$59.00
only $4.92 per issue
All prices are NET prices.
VAT will be added later in the checkout.
Tax calculation will be finalised during checkout.
Rent or Buy article
Get time limited or full article access on ReadCube.
from$8.99
All prices are NET prices.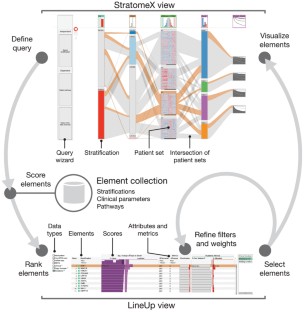 References
1

Verhaak, R. et al. Cancer Cell 17, 98–110 (2010).

2

Hofree, M., Shen, J. P., Carter, H., Gross, A. & Ideker, T. Nat. Methods 10, 1108–1115 (2013).

3

Lex, A. et al. Computer Graphics Forum 31, 1175–1184 (2012).

4

Schroeder, M.P., Gonzalez-Perez, A. & Lopez-Bigas, N. Genome Med. 5, 9 (2013)

5

Gratzl, S., Lex, A., Gehlenborg, N., Pfister, H.P. & Streit, M. IEEE Trans. Visualization Computer Graphics 19, 2277–2286 (2013).

6

The Cancer Genome Atlas Research Network. Nature 499, 43–49 (2013).
Acknowledgements
This work was supported by US National Institutes of Health (U24 CA144025, U24 CA143845 and K99 HG007583), the Austrian Science Fund (J 3437-N15, P 22902), and the Air Force Research Laboratory and Defense Advanced Research Projects Agency grant FA8750-12-C-0300.
Ethics declarations
Competing interests
The authors declare no competing financial interests.
Supplementary information
About this article
Cite this article
Streit, M., Lex, A., Gratzl, S. et al. Guided visual exploration of genomic stratifications in cancer. Nat Methods 11, 884–885 (2014). https://doi.org/10.1038/nmeth.3088