Abstract
The comprehensive reconstruction of cell lineages in complex multicellular organisms is a central goal of developmental biology. We present an open-source computational framework for the segmentation and tracking of cell nuclei with high accuracy and speed. We demonstrate its (i) generality by reconstructing cell lineages in four-dimensional, terabyte-sized image data sets of fruit fly, zebrafish and mouse embryos acquired with three types of fluorescence microscopes, (ii) scalability by analyzing advanced stages of development with up to 20,000 cells per time point at 26,000 cells min−1 on a single computer workstation and (iii) ease of use by adjusting only two parameters across all data sets and providing visualization and editing tools for efficient data curation. Our approach achieves on average 97.0% linkage accuracy across all species and imaging modalities. Using our system, we performed the first cell lineage reconstruction of early Drosophila melanogaster nervous system development, revealing neuroblast dynamics throughout an entire embryo.
Access options
Subscribe to this journal
Receive 12 print issues and online access
$259.00 per year
only $21.58 per issue
Rent or buy this article
Prices vary by article type
from$1.95
to$39.95
Prices may be subject to local taxes which are calculated during checkout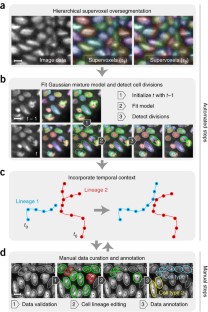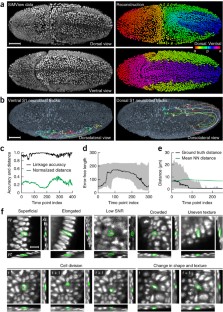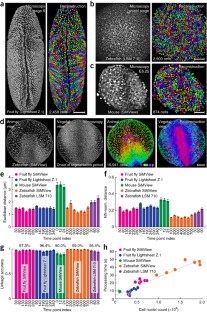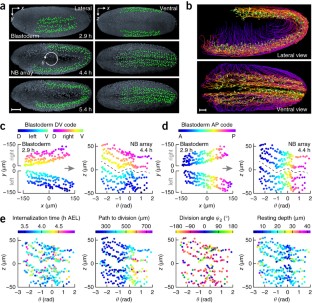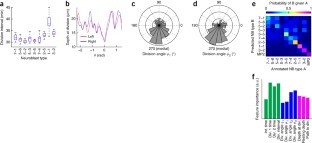 Similar content being viewed by others
References
Megason, S.G. & Fraser, S.E. Imaging in systems biology. Cell 130, 784–795 (2007).

Khairy, K. & Keller, P.J. Reconstructing embryonic development. Genesis 49, 488–513 (2011).

Keller, P.J., Schmidt, A.D., Wittbrodt, J. & Stelzer, E.H.K. Reconstruction of zebrafish early embryonic development by scanned light sheet microscopy. Science 322, 1065–1069 (2008).

McMahon, A., Supatto, W., Fraser, S.E. & Stathopoulos, A. Dynamic analyses of Drosophila gastrulation provide insights into collective cell migration. Science 322, 1546–1550 (2008).

Fernandez, R. et al. Imaging plant growth in 4D: robust tissue reconstruction and lineaging at cell resolution. Nat. Methods 7, 547–553 (2010).

Bosveld, F. et al. Mechanical control of morphogenesis by Fat/Dachsous/Four-jointed planar cell polarity pathway. Science 336, 724–727 (2012).

Lemon, W.C. & Keller, P.J. Live imaging of nervous system development and function using light-sheet microscopy. Mol. Reprod. Dev. 10.1002/mrd.22258 (2014).

Murray, J.I. et al. Automated analysis of embryonic gene expression with cellular resolution in C. elegans. Nat. Methods 5, 703–709 (2008).

Liu, X. et al. Analysis of cell fate from single-cell gene expression profiles in C. elegans. Cell 139, 623–633 (2009).

Held, M. et al. CellCognition: time-resolved phenotype annotation in high-throughput live cell imaging. Nat. Methods 7, 747–754 (2010).

Amat, F. & Keller, P.J. Towards comprehensive cell lineage reconstructions in complex organisms using light-sheet microscopy. Dev. Growth Differ. 55, 563–578 (2013).

Trichas, G. et al. Multi-cellular rosettes in the mouse visceral endoderm facilitate the ordered migration of anterior visceral endoderm cells. PLoS Biol. 10, e1001256 (2012).

Xiong, F. et al. Specified neural progenitors sort to form sharp domains after noisy Shh signaling. Cell 153, 550–561 (2013).

Keller, P.J. Imaging morphogenesis: technological advances and biological insights. Science 340, 1234168 (2013).

Bao, Z. et al. Automated cell lineage tracing in Caenorhabditis elegans. Proc. Natl. Acad. Sci. USA 103, 2707–2712 (2006).

Tomer, R., Khairy, K., Amat, F. & Keller, P.J. Quantitative high-speed imaging of entire developing embryos with simultaneous multiview light-sheet microscopy. Nat. Methods 9, 755–763 (2012).

Swoger, J., Muzzopappa, M., Lopez-Schier, H. & Sharpe, J. 4D retrospective lineage tracing using SPIM for zebrafish organogenesis studies. J. Biophotonics 4, 122–134 (2011).

Giurumescu, C.A. et al. Quantitative semi-automated analysis of morphogenesis with single-cell resolution in complex embryos. Development 139, 4271–4279 (2012).

Olivier, N. et al. Cell lineage reconstruction of early zebrafish embryos using label-free nonlinear microscopy. Science 329, 967–971 (2010).

Kausler, B.X. et al. A discrete chain graph model for 3D+t cell tracking with high misdetection robustness. ECCV 144–157 (2012).

Li, K. et al. Cell population tracking and lineage construction with spatiotemporal context. Med. Image Anal. 12, 546–566 (2008).

Smal, I. et al. Multiple object tracking in molecular bioimaging by Rao-Blackwellized marginal particle filtering. Med. Image Anal. 12, 764–777 (2008).

Jaqaman, K. et al. Robust single-particle tracking in live-cell time-lapse sequences. Nat. Methods 5, 695–702 (2008).

Amat, F., Myers, E.W. & Keller, P.J. Fast and robust optical flow for time-lapse microscopy using super-voxels. Bioinformatics 29, 373–380 (2013).

Skraba, P., Ovsjanikov, M., Chazal, F. & Guibas, L. Persistence-based segmentation of deformable shapes. Proc. CVPR 45–52 (2010).

Vincent, L. & Soille, P. Watersheds in digital spaces: an efficient algorithm based on immersion simulations. IEEE Trans. Pattern Anal. Mach. Intell. 13, 583–598 (1991).

Otsu, N. A threshold selection method from gray-level histograms. IEEE Trans. Syst. Man Cybern. 9, 62–66 (1979).

Bishop, C.M. Pattern Recognition and Machine Learning (Springer, 2007).

Dasgupta, S. & Schulman, L.J. A two-round variant of EM for Gaussian mixtures. Proc. UCAI 152–159 (2000).

Milan, A., Schindler, K. & Roth, S. Challenges of ground truth evaluation of multi-target tracking. Proc. CVPR 735–742 (2013).

Saalfeld, S., Cardona, A., Hartenstein, V. & Tomančák, P. CATMAID: collaborative annotation toolkit for massive amounts of image data. Bioinformatics 25, 1984–1986 (2009).

Cardona, A. Collaborative annotation toolkit for massive amounts of image data. CATMAID GitHub Repository https://github.com/acardona/CATMAID (2014).

Hartenstein, V. & Camposortega, J.A. Early neurogenesis in wild-type Drosophila melanogaster. Rouxs Arch. Dev. Biol. 193, 308–325 (1984).

Doe, C.Q. Molecular markers for identified neuroblasts and ganglion mother cells in the Drosophila central nervous system. Development 116, 855–863 (1992).

Hartenstein, V., Younossi-Hartenstein, A. & Lekven, A. Delamination and division in the Drosophila neurectoderm: spatiotemporal pattern, cytoskeletal dynamics, and common control by neurogenic and segment polarity genes. Dev. Biol. 165, 480–499 (1994).

Broadus, J., et al. New neuroblast markers and the origin of the aCC/pCC neurons in the Drosophila central nervous system. Mech. Dev. 53, 393–402 (1995).

Wang, F., Dumstrei, K., Haag, T. & Hartenstein, V. The role of DE-cadherin during cellularization, germ layer formation and early neurogenesis in the Drosophila embryo. Dev. Biol. 270, 350–363 (2004).

Technau, G.M., Berger, C. & Urbach, R. Generation of cell diversity and segmental pattern in the embryonic central nervous system of Drosophila. Dev. Dyn. 235, 861–869 (2006).

Siegrist, S.E. & Doe, C.Q. Extrinsic cues orient the cell division axis in Drosophila embryonic neuroblasts. Development 133, 529–536 (2006).

Bowman, S.K., Neumuller, R.A., Novatchkova, M., Du, Q. & Knoblich, J.A. The Drosophila NuMA homolog Mud regulates spindle orientation in asymmetric cell division. Dev. Cell 10, 731–742 (2006).

Trichas, G., Begbie, J. & Srinivas, S. Use of the viral 2A peptide for bicistronic expression in transgenic mice. BMC Biol. 6, 40 (2008).

Kuhn, H.W. The Hungarian method for the assignment problem. Nav. Res. Log. Quart. 2, 83–97 (1955).
Acknowledgements
We thank A. Cardona and the participants of the Janelia CATMAID hackathon for help with modifying the open source code of CATMAID; R. Chhetri and A. Pavlopoulos for invaluable contributions to ground truth annotations of the microscopy data sets; the Ilastik development team for help using Ilastik; M. Schroeder, H. Lacin, J. Truman and T. Lee for helpful discussion about the Drosophila nervous system; S. Srinivas and T. Watanabe (University of Oxford) for their generous help in exploring imaging assays for mouse embryonic development, helpful discussions about mouse embryo culturing and providing the CAG-TAG1 transgenic mouse strain; A. Denisin for her outstanding help developing SiMView live imaging assays; C. Akitake (Carl Zeiss) for her generous help executing the Lightsheet Z.1 experiments; S. Olenych and O. Selchow (Carl Zeiss) for supporting the Lightsheet Z.1 experiments; and C.-P. Heisenberg (Institute of Science and Technology Austria) for kindly providing the Tg(β-actin:H2B-mCherry) and Tg(β-actin:H2B-eGFP) zebrafish lines. This work was supported by the Howard Hughes Medical Institute.
Ethics declarations
Competing interests
The authors declare no competing financial interests.
Integrated supplementary information
Supplementary information
About this article
Cite this article
Amat, F., Lemon, W., Mossing, D. et al. Fast, accurate reconstruction of cell lineages from large-scale fluorescence microscopy data. Nat Methods 11, 951–958 (2014). https://doi.org/10.1038/nmeth.3036
Received:

Accepted:

Published:

Issue Date:

DOI: https://doi.org/10.1038/nmeth.3036