Abstract
Mutagenesis provides insight into proteins, but only recently have assays that couple genotype to phenotype been used to assess the activities of as many as 1 million mutant versions of a protein in a single experiment. This approach—'deep mutational scanning'—yields large-scale data sets that can reveal intrinsic protein properties, protein behavior within cells and the consequences of human genetic variation. Deep mutational scanning is transforming the study of proteins, but many challenges must be tackled for it to fulfill its promise.
Your institute does not have access to this article
Relevant articles
Open Access articles citing this article.
Philipp Koch

,

Steven Schmitt

…

Martin Held

BMC Biology Open Access 16 May 2022

Ammar Tareen

,

Mahdi Kooshkbaghi

…

Justin B. Kinney

Genome Biology Open Access 15 April 2022

Remkes A. Scheele

,

Laurens H. Lindenburg

…

Florian Hollfelder

Nature Communications Open Access 11 February 2022
Access options
Subscribe to Journal
Get full journal access for 1 year
$119.00
only $9.92 per issue
All prices are NET prices.
VAT will be added later in the checkout.
Tax calculation will be finalised during checkout.
Buy article
Get time limited or full article access on ReadCube.
$32.00
All prices are NET prices.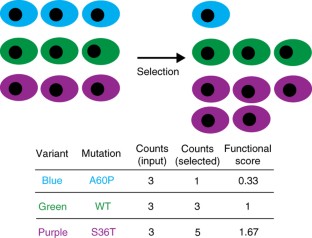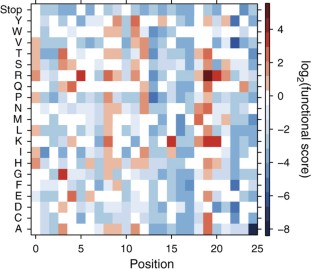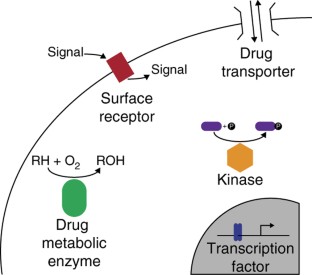 References
Freeman, A.M., Mole, B.M., Silversmith, R.E. & Bourret, R.B. Action at a distance: amino acid substitutions that affect binding of the phosphorylated CheY response regulator and catalysis of dephosphorylation can be far from the CheZ phosphatase active site. J. Bacteriol. 193, 4709–4718 (2011).

Jonson, P.H. & Petersen, S.B. A critical view on conservative mutations. Protein Eng. 14, 397–402 (2001).

Gilbert, G.E., Novakovic, V.A., Kaufman, R.J., Miao, H. & Pipe, S.W. Conservative mutations in the C2 domains of factor VIII and factor V alter phospholipid binding and cofactor activity. Blood 120, 1923–1932 (2012).

Zhang, W., Dourado, D.F.A.R., Fernandes, P.A., Ramos, M.J. & Mannervik, B. Multidimensional epistasis and fitness landscapes in enzyme evolution. Biochem. J. 445, 39–46 (2012).

Natarajan, C. et al. Epistasis among adaptive mutations in deer mouse hemoglobin. Science 340, 1324–1327 (2013).

Fowler, D.M., Stephany, J.J. & Fields, S. Measuring the activity of protein variants on a large-scale using deep mutational scanning. Nat. Protoc. doi:10.1038/nprot.2014.153 (in the press).

Wang, X., Minasov, G. & Shoichet, B.K. Evolution of an antibiotic resistance enzyme constrained by stability and activity trade-offs. J. Mol. Biol. 320, 85–95 (2002).

Bloom, J.D. & Arnold, F.H. In the light of directed evolution: pathways of adaptive protein evolution. Proc. Natl. Acad. Sci. USA 106, 9995–10000 (2009).

Bershtein, S., Segal, M., Bekerman, R., Tokuriki, N. & Tawfik, D.S. Robustness-epistasis link shapes the fitness landscape of a randomly drifting protein. Nature 444, 929–932 (2006).

Potapov, V., Cohen, M. & Schreiber, G. Assessing computational methods for predicting protein stability upon mutation: good on average but not in the details. Protein Eng. Des. Sel. 22, 553–560 (2009).

Magliery, T.J., Lavinder, J.J. & Sullivan, B.J. Protein stability by number: high-throughput and statistical approaches to one of protein science's most difficult problems. Curr. Opin. Chem. Biol. 15, 443–451 (2011).

Foit, L. et al. Optimizing protein stability in vivo. Mol. Cell 36, 861–871 (2009).

Araya, C.L. et al. A fundamental protein property, thermodynamic stability, revealed solely from large-scale measurements of protein function. Proc. Natl. Acad. Sci. USA 109, 16858–16863 (2012).

Starita, L.M. et al. Activity-enhancing mutations in an E3 ubiquitin ligase identified by high-throughput mutagenesis. Proc. Natl. Acad. Sci. USA 110, E1263–E1272 (2013).

Lander, G.C., Saibil, H.R. & Nogales, E. Go hybrid: EM, crystallography, and beyond. Curr. Opin. Struct. Biol. 22, 627–635 (2012).

Adkar, B.V. et al. Protein model discrimination using mutational sensitivity derived from deep sequencing. Structure 20, 371–381 (2012).

Melamed, D., Young, D.L., Gamble, C.E., Miller, C.R. & Fields, S. Deep mutational scanning of an RRM domain of the Saccharomyces cerevisiae poly(A)-binding protein. RNA 19, 1537–1551 (2013).

Aydin, Z., Singh, A., Bilmes, J. & Noble, W.S. Learning sparse models for a dynamic Bayesian network classifier of protein secondary structure. BMC Bioinformatics 12, 154 (2011).

Chen, K. & Kurgan, L. Computational prediction of secondary and supersecondary structures. Methods Mol. Biol. 932, 63–86 (2013).

Kim, D.E., DiMaio, F., Yu-Ruei Wang, R., Song, Y. & Baker, D. One contact for every twelve residues allows robust and accurate topology-level protein structure modeling. Proteins 82, 208–218 (2014).

Marks, D.S., Hopf, T.A. & Sander, C. Protein structure prediction from sequence variation. Nat. Biotechnol. 30, 1072–1080 (2012).

Creager, A.N.H. Hershey heaven. Nat. Struct. Biol. 8, 18–19 (2001).

Kim, I., Miller, C.R., Young, D.L. & Fields, S. High-throughput analysis of in vivo protein stability. Mol. Cell. Proteomics 12, 3370–3378 (2013).

Morell, M., de Groot, N.S., Vendrell, J., Avilés, F.X. & Ventura, S. Linking amyloid protein aggregation and yeast survival. Mol. Biosyst. 7, 1121–1128 (2011).

Dean, A.M. & Thornton, J.W. Mechanistic approaches to the study of evolution: the functional synthesis. Nat. Rev. Genet. 8, 675–688 (2007).

Hinkley, T. et al. A systems analysis of mutational effects in HIV-1 protease and reverse transcriptase. Nat. Genet. 43, 487–489 (2011).

Dickinson, B.C., Leconte, A.M., Allen, B., Esvelt, K.M. & Liu, D.R. Experimental interrogation of the path dependence and stochasticity of protein evolution using phage-assisted continuous evolution. Proc. Natl. Acad. Sci. USA 110, 9007–9012 (2013).

Koga, N. et al. Principles for designing ideal protein structures. Nature 491, 222–227 (2012).

Whitehead, T.A. et al. Optimization of affinity, specificity and function of designed influenza inhibitors using deep sequencing. Nat. Biotechnol. 30, 543–548 (2012).

Moretti, R. et al. Community-wide evaluation of methods for predicting the effect of mutations on protein-protein interactions. Proteins 81, 1980–1987 (2013).

Tennessen, J.A. et al. Evolution and functional impact of rare coding variation from deep sequencing of human exomes. Science 337, 64–69 (2012).

Brocchieri, L. & Karlin, S. Protein length in eukaryotic and prokaryotic proteomes. Nucleic Acids Res. 33, 3390–3400 (2005).

Millot, G.A. et al. A guide for functional analysis of BRCA1 variants of uncertain significance. Hum. Mutat. 33, 1526–1537 (2012).

Gnad, F., Baucom, A., Mukhyala, K., Manning, G. & Zhang, Z. Assessment of computational methods for predicting the effects of missense mutations in human cancers. BMC Genomics 14, S7 (2013).

Gray, V.E., Kukurba, K.R. & Kumar, S. Performance of computational tools in evaluating the functional impact of laboratory-induced amino acid mutations. Bioinformatics 28, 2093–2096 (2012).

Fujino, Y. et al. Robust in vitro affinity maturation strategy based on interface-focused high-throughput mutational scanning. Biochem. Biophys. Res. Commun. 428, 395–400 (2012).

Fowler, D.M. et al. High-resolution mapping of protein sequence-function relationships. Nat. Methods 7, 741–746 (2010).

Gold, M.G. et al. Molecular basis of AKAP specificity for PKA regulatory subunits. Mol. Cell 24, 383–395 (2006).

Ernst, A. et al. Coevolution of PDZ domain-ligand interactions analyzed by high-throughput phage display and deep sequencing. Mol. Biosyst. 6, 1782–1790 (2010).

McLaughlin, R.N., Poelwijk, F.J., Raman, A., Gosal, W.S. & Ranganathan, R. The spatial architecture of protein function and adaptation. Nature 491, 138–142 (2012).

Schlinkmann, K.M. et al. Critical features for biosynthesis, stability, and functionality of a G protein–coupled receptor uncovered by all-versus-all mutations. Proc. Natl. Acad. Sci. USA 109, 9810–9815 (2012).

Procko, E. et al. Computational design of a protein-based enzyme inhibitor. J. Mol. Biol. 425, 3563–3575 (2013).

Tinberg, C.E. et al. Computational design of ligand-binding proteins with high affinity and selectivity. Nature 501, 212–216 (2013).

Traxlmayr, M.W. et al. Construction of a stability landscape of the CH3 domain of human IgG1 by combining directed evolution with high throughput sequencing. J. Mol. Biol. 423, 397–412 (2012).

Jiang, L., Mishra, P., Hietpas, R.T., Zeldovich, K.B. & Bolon, D.N.A. Latent effects of Hsp90 mutants revealed at reduced expression levels. PLoS Genet. 9, e1003600 (2013).

Hietpas, R.T., Jensen, J.D. & Bolon, D.N.A. Experimental illumination of a fitness landscape. Proc. Natl. Acad. Sci. USA 108, 7896–7901 (2011).

Roscoe, B.P., Thayer, K.M., Zeldovich, K.B., Fushman, D. & Bolon, D.N.A. Analyses of the effects of all ubiquitin point mutants on yeast growth rate. J. Mol. Biol. 425, 1363–1377 (2013).

Wu, N.C. et al. Systematic identification of H274Y compensatory mutations in influenza A virus neuraminidase by high-throughput screening. J. Virol. 87, 1193–1199 (2013).

Forsyth, C.M. et al. Deep mutational scanning of an antibody against epidermal growth factor receptor using mammalian cell display and massively parallel pyrosequencing. MAbs 5, 523–532 (2013).

Wagenaar, T.R. et al. Resistance to vemurafenib resulting from a novel mutation in the BRAFV600E kinase domain. Pigment Cell Melanoma Res. 27, 124–133 (2014).

Araya, C.L. & Fowler, D.M. Deep mutational scanning: assessing protein function on a massive scale. Trends Biotechnol. 29, 435–442 (2011).

Fowler, D.M., Araya, C.L., Gerard, W. & Fields, S. Enrich: software for analysis of protein function by enrichment and depletion of variants. Bioinformatics 27, 3430–3431 (2011).
Acknowledgements
We thank A. Merz, M. Hochstrasser, C. Queitsch, A. Gitler, J. Bloom, E. Marcotte, E. Phizicky and M. Wickens for helpful discussions and comments. This work was supported by P41 GM103533 (to S.F.) and F32 GM084699 (to D.M.F.) from the US National Institute of General Medical Sciences. S.F. is supported by the Howard Hughes Medical Institute.
Ethics declarations
Competing interests
The authors declare no competing financial interests.
About this article
Cite this article
Fowler, D., Fields, S. Deep mutational scanning: a new style of protein science. Nat Methods 11, 801–807 (2014). https://doi.org/10.1038/nmeth.3027
Received:

Accepted:

Published:

Issue Date:

DOI: https://doi.org/10.1038/nmeth.3027