This is a preview of subscription content
Access options
Subscribe to Journal
Get full journal access for 1 year
$119.00
only $9.92 per issue
All prices are NET prices.
VAT will be added later in the checkout.
Tax calculation will be finalised during checkout.
Rent or Buy article
Get time limited or full article access on ReadCube.
from$8.99
All prices are NET prices.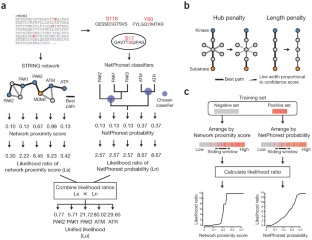 References
1

Seet, B.T., Dikic, I., Zhou, M.M. & Pawson, T. Nat. Rev. Mol. Cell Biol. 7, 473–483 (2006).

2

Lim, W.A. & Pawson, T. Cell 142, 661–667 (2010).

3

Davis, M.I. et al. Nat. Biotechnol. 29, 1046–1051 (2011).

4

Anastassiadis, T., Deacon, S.W., Devarajan, K., Ma, H. & Peterson, J.R. Nat. Biotechnol. 29, 1039–1045 (2011).

5

Dinkel, H. et al. Nucleic Acids Res. 39, D261–D267 (2011).

6

Linding, R. et al. Cell 129, 1415–1426 (2007).

7

Janes, K.A. et al. Science 310, 1646–1653 (2005).

8

Yaffe, M.B. Sci. Signal. 6, pe13 (2013).

9

Miller, M.L. et al. Sci. Signal. 1, ra2 (2008).

10

Gough, N.R. Sci. Signal. 6, eg3 (2013).
Acknowledgements
We would like to thank members of R.L.'s laboratory for useful input on the manuscript, and A. Pasculescu for input on the data collection. This work was supported by the Lundbeck Foundation, the Human Frontier Science Program (HFSP), the Danish Council for Independent Research (FSS) and the European Research Council (ERC).
Ethics declarations
Competing interests
The authors declare no competing financial interests.
Supplementary information
Supplementary Figures 1 and 2, and Supplementary Note (PDF 757 kb)
Benchmark of the NetworKIN method (XLS 44 kb)
Dataset for training NetPhorest and NetworKIN (XLS 3640 kb)
About this article
Cite this article
Horn, H., Schoof, E., Kim, J. et al. KinomeXplorer: an integrated platform for kinome biology studies. Nat Methods 11, 603–604 (2014). https://doi.org/10.1038/nmeth.2968