Abstract
High-speed, large-scale three-dimensional (3D) imaging of neuronal activity poses a major challenge in neuroscience. Here we demonstrate simultaneous functional imaging of neuronal activity at single-neuron resolution in an entire Caenorhabditis elegans and in larval zebrafish brain. Our technique captures the dynamics of spiking neurons in volumes of ∼700 μm × 700 μm × 200 μm at 20 Hz. Its simplicity makes it an attractive tool for high-speed volumetric calcium imaging.
Access options
Subscribe to Journal
Get full journal access for 1 year
$259.00
only $21.58 per issue
All prices are NET prices.
VAT will be added later in the checkout.
Rent or Buy article
Get time limited or full article access on ReadCube.
from$8.99
All prices are NET prices.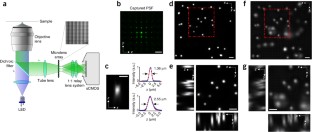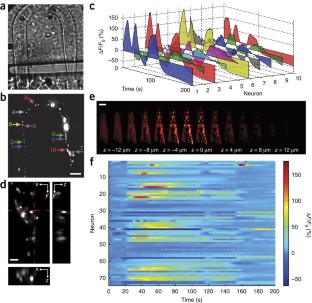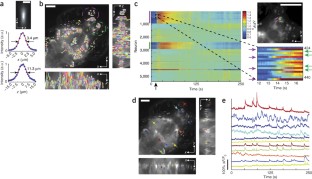 References
1

Alivisatos, A.P. et al. Neuron 74, 970–974 (2012).

2

Marblestone, A.H. et al. Front. Comput. Neurosci. 7, 137 (2013).

3

Stosiek, C., Garaschuk, O., Holthoff, K. & Konnerth, A. Proc. Natl. Acad. Sci. USA 100, 7319–7324 (2003).

4

Chen, T.-W. et al. Nature 499, 295–300 (2013).

5

Schrödel, T., Prevedel, R., Aumayr, K., Zimmer, M. & Vaziri, A. Nat. Methods 10, 1013–1020 (2013).

6

Ahrens, M.B., Orger, M.B., Robson, D.N., Li, J.M. & Keller, P.J. Nat. Methods 10, 413–420 (2013).

7

Panier, T. et al. Front. Neural Circuits 7, 65 (2013).

8

Duemani Reddy, G., Kelleher, K., Fink, R. & Saggau, P. Nat. Neurosci. 11, 713–720 (2008).

9

Grewe, B.F., Langer, D., Kasper, H., Kampa, B.M. & Helmchen, F. Nat. Methods 7, 399–405 (2010).

10

Cheng, A., Gonçalves, J.T., Golshani, P., Arisaka, K. & Portera-Cailliau, C. Nat. Methods 8, 139–142 (2011).

11

Abrahamsson, S. et al. Nat. Methods 10, 60–63 (2013).

12

Levoy, M., Ng, R., Adams, A., Footer, M. & Horowitz, M. ACM Trans. Graph. 25, 924–934 (2006).

13

Levoy, M., Zhang, Z. & McDowall, I. J. Microsc. 235, 144–162 (2009).

14

Quirin, S., Peterka, D.S. & Yuste, R. Opt. Express 21, 16007–16021 (2013).

15

Agard, D.A. Annu. Rev. Biophys. Bioeng. 13, 191–219 (1984).

16

Broxton, M. et al. Opt. Express 21, 25418–25439 (2013).

17

Faumont, S. et al. PLoS ONE 6, e24666 (2011).

18

Kawano, T. et al. Neuron 72, 572–586 (2011).

19

Chalfie, M. et al. J. Neurosci. 5, 956–964 (1985).

20

Mukamel, E.A., Nimmerjahn, A. & Schnitzer, M.J. Neuron 63, 747–760 (2009).

21

Friedrich, R.W. & Korsching, S.I. Neuron 18, 737–752 (1997).

22

Renninger, S.L. & Orger, M.B. Methods 62, 255–267 (2013).

23

Jetti, S.K., Vendrell-Llopis, N. & Yaksi, E. Curr. Biol. 24, 434–439 (2014).

24

Akerboom, J. et al. Front. Mol. Neurosci. 6, 2 (2013).

25

Ntziachristos, V. Nat. Methods 7, 603–614 (2010).

26

Cold Spring Harbor Laboratory. Hermaphrodite Handbook. WormAtlas (ed. Herndon, L.A.) http://www.wormatlas.org/hermaphrodite/hermaphroditehomepage.htm (2014; accessed 20 March 2014).

27

Kak, A.C. & Slaney, M. Principles of Computerized Tomographic Imaging (Society of Industrial and Applied Mathematics, 2001).

28

Gu, M. Advanced Optical Imaging Theory (Springer, 1999).
Acknowledgements
We thank T. Müller, P. Pasierbek, P. Forai, H. Kaplan, M. Molodtsov, K. Tessmar-Raible, F. Schlumm and Olympus Inc. for technical support and loan of equipment, as well as H. Baier (Max Planck Institute of Neurobiology) and M. Orger (Champalimaud) for sharing zebrafish lines. We thank L. Page for providing early funding for the project and D. Dalrymple for helping catalyze connections. The computational results presented have been achieved in part using the Vienna Scientific Cluster (VSC). This work was supported by the VIPS Program of the Austrian Federal Ministry of Science and Research and the City of Vienna as well as the European Commission (Marie Curie, FP7-PEOPLE-2011-IIF) (R.P.); a Samsung Scholarship (Y.-G.Y.); a US National Science Foundation (NSF) Graduate Fellowship (N.P.); the Allen Institute for Brain Science, the MIT Media Lab, the MIT McGovern Institute, US National Institutes of Health (NIH) 1R01EY023173, the MIT Synthetic Intelligence Project, the Institution of Engineering and Technology (IET) Harvey Prize, NSF CBET 1053233, the New York Stem Cell Foundation–Robertson Award, NSF CBET 1344219, NIH 1DP1NS087724, Google, the NSF Center for Brains, Minds and Machines at MIT, and Jeremy and Joyce Wertheimer (E.S.B.); the Vienna Science and Technology Fund (WWTF) project VRG10-11, Human Frontiers Science Program Project RGP0041/2012, Research Platform Quantum Phenomena and Nanoscale Biological Systems (QuNaBioS) (A.V.); and the European Community's Seventh Framework Programme/ERC no. 281869 (M.Z. and T.S.). The Institute of Molecular Pathology is funded by Boehringer Ingelheim.
Ethics declarations
Competing interests
The authors declare no competing financial interests.
Supplementary information
About this article
Cite this article
Prevedel, R., Yoon, YG., Hoffmann, M. et al. Simultaneous whole-animal 3D imaging of neuronal activity using light-field microscopy. Nat Methods 11, 727–730 (2014). https://doi.org/10.1038/nmeth.2964
Received:

Accepted:

Published:

Issue Date: