Abstract
Methods for visualizing protein or nucleic acid motifs have traditionally relied upon residue frequencies to graphically scale character heights. We describe the pLogo, a motif visualization in which residue heights are scaled relative to their statistical significance. A pLogo generation tool is publicly available at http://plogo.uconn.edu/ and supports real-time conditional probability calculations and visualizations.
Relevant articles
Open Access articles citing this article.
Ying Liang

,

Yanan Wu

…

Jianjun Tang

BMC Bioinformatics Open Access 29 June 2022

Melissa Bradbury

,

Eva Borràs

…

Anna Santamaria

Scientific Reports Open Access 15 March 2022

Jana Zecha

,

Wassim Gabriel

…

Bernhard Kuster

Nature Communications Open Access 10 January 2022
Access options
Subscribe to Journal
Get full journal access for 1 year
$99.00
only $8.25 per issue
All prices are NET prices.
VAT will be added later in the checkout.
Tax calculation will be finalised during checkout.
Buy article
Get time limited or full article access on ReadCube.
$32.00
All prices are NET prices.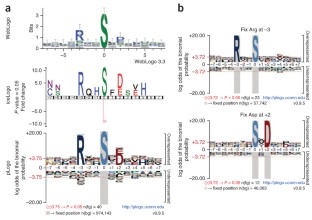 References
Portales-Casamar, E. et al. Nucleic Acids Res. 38, D105–D110 (2010).

Catterall, J.F. et al. Nature 275, 510–513 (1978).

Munro, S. & Pelham, H.R. Cell 48, 899–907 (1987).

Miller, M.L. et al. Sci. Signal. 1, ra2 (2008).

Dahiya, A., Gavin, M.R., Luo, R.X. & Dean, D.C. Mol. Cell Biol. 20, 6799–6805 (2000).

Saraste, M., Sibbald, P.R. & Wittinghofer, A. Trends Biochem. Sci. 15, 430–434 (1990).

Schneider, T.D. & Stephens, R.M. Nucleic Acids Res. 18, 6097–6100 (1990).

Vacic, V., Iakoucheva, L.M. & Radivojac, P. Bioinformatics 22, 1536–1537 (2006).

Colaert, N., Helsens, K., Martens, L., Vandekerckhove, J. & Gevaert, K. Nat. Methods 6, 786–787 (2009).

Workman, C.T. et al. Nucleic Acids Res. 33, W389–W392 (2005).

Schwartz, D. & Gygi, S.P. Nat. Biotechnol. 23, 1391–1398 (2005).

Prisic, S. et al. Proc. Natl. Acad. Sci. USA 107, 7521–7526 (2010).

Chiang, C.W. et al. Genetics 180, 2277–2293 (2008).

Chou, M.F. et al. PLoS ONE 7, e52747 (2012).

Crooks, G.E., Hon, G., Chandonia, J.M. & Brenner, S.E. Genome Res. 14, 1188–1190 (2004).

Hornbeck, P.V. et al. Nucleic Acids Res. 40, D261–D270 (2012).

Feinmesser, R.L., Wicks, S.J., Taverner, C.J. & Chantry, A. J. Biol. Chem. 274, 16168–16173 (1999).

Press, W.H., Teukolsky, S.A., Vetterling, W.T. & Flannery, B.P. Numerical Recipes: The Art of Scientific Computing 3rd edn. (Cambridge University Press, 2007).

The UniProt Consortium. Nucleic Acids Res. 41, D43–D47 (2013).

Forrester, M.T. et al. Nat. Biotechnol. 27, 557–559 (2009).

Doulias, P.T. et al. Proc. Natl. Acad. Sci. USA 107, 16958–16963 (2010).

Chen, Y.J., Ku, W.C., Lin, P.Y., Chou, H.C. & Khoo, K.H. J. Proteome Res. 9, 6417–6439 (2010).

Lu, C.T. et al. Nucleic Acids Res. 41, D295–D305 (2013).

Mahrus, S. et al. Cell 134, 866–876 (2008).

Lüthi, A.U. & Martin, S.J. Cell Death Differ. 14, 641–650 (2007).

Igarashi, Y. et al. Nucleic Acids Res. 35, D546–D549 (2007).

Linheiro, R.S. & Bergman, C.M. Nucleic Acids Res. 36, 6199–6208 (2008).
Acknowledgements
The authors wish to thank J. Lubner for his assistance in beta-testing the pLogo Web tool. Additionally, we thank the University of Connecticut Bioinformatics Facility for hosting the pLogo website and maintaining the server on which it runs. This study was funded in part by grants from the University of Connecticut Research Foundation (D.S.) and a Genomes to Life grant from the US Department of Energy (G.M.C.).
Ethics declarations
Competing interests
The authors declare no competing financial interests.
Supplementary information
About this article
Cite this article
O'Shea, J., Chou, M., Quader, S. et al. pLogo: a probabilistic approach to visualizing sequence motifs. Nat Methods 10, 1211–1212 (2013). https://doi.org/10.1038/nmeth.2646
Received:

Accepted:

Published:

Issue Date:

DOI: https://doi.org/10.1038/nmeth.2646