Abstract
Single-cell RNA-seq can yield valuable insights about the variability within a population of seemingly homogeneous cells. We developed a quantitative statistical method to distinguish true biological variability from the high levels of technical noise in single-cell experiments. Our approach quantifies the statistical significance of observed cell-to-cell variability in expression strength on a gene-by-gene basis. We validate our approach using two independent data sets from Arabidopsis thaliana and Mus musculus.
Access options
Subscribe to Journal
Get full journal access for 1 year
$119.00
only $9.92 per issue
All prices are NET prices.
VAT will be added later in the checkout.
Tax calculation will be finalised during checkout.
Rent or Buy article
Get time limited or full article access on ReadCube.
from$8.99
All prices are NET prices.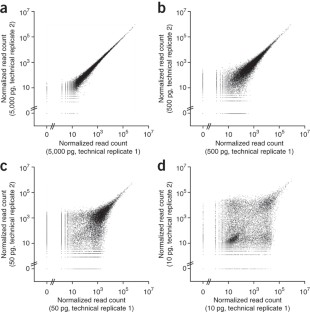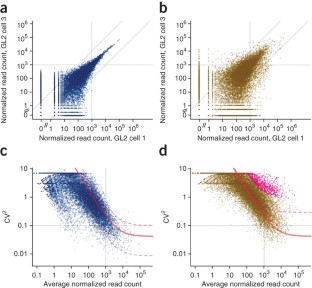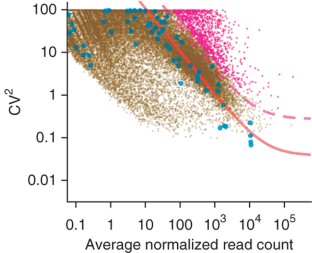 Accession codes
Primary accessions
ArrayExpress
References
1

Hashimshony, T., Wagner, F., Sher, N. & Yanai, I. Cell Rep. 2, 666–673 (2012).

2

Islam, S. et al. Genome Res. 21, 1160–1167 (2011).

3

Ramsköld, D. et al. Nat. Biotechnol. 30, 777–782 (2012).

4

Tang, F. et al. Nat. Protoc. 5, 516–535 (2010).

5

Tang, F. et al. Nat. Methods 6, 377–382 (2009).

6

Chambers, I. et al. Nature 450, 1230–1234 (2007).

7

Reynolds, N. et al. Cell Stem Cell 10, 583–594 (2012).

8

Chang, H.H., Hemberg, M., Barahona, M., Ingber, D.E. & Huang, S. Nature 453, 544–547 (2008).

9

Toyooka, Y., Shimosato, D., Murakami, K., Takahashi, K. & Niwa, H. Development 135, 909–918 (2008).

10

Shalek, A.K. et al. Nature 498, 236–240 (2013).

11

Marioni, J.C., Mason, C.E., Mane, S.M., Stephens, M. & Gilad, Y. Genome Res. 18, 1509–1517 (2008).

12

Brady, S.M. et al. Science 318, 801–806 (2007).

13

Jiang, L. et al. Genome Res. 21, 1543–1551 (2011).

14

Benjamini, Y. & Hochberg, Y. Stat. Soc. Series B Stat. Methodol. 57, 289–300 (1995).

15

Clough, S.J. & Bent, A.F. Plant J. 16, 735–743 (1998).

16

Birnbaum, K. et al. Nat. Methods 2, 615–619 (2005).

17

Wu, T.D. & Nacu, S. Bioinformatics 26, 873–881 (2010).

18

Irizarry, R.A. et al. Biostatistics 4, 249–264 (2003).

19

Anders, S. & Huber, W. Genome Biol. 11, R106 (2010).

20

Alexa, A., Rahnenfuhrer, J. & Lengauer, T. Bioinformatics 22, 1600–1607 (2006).
Acknowledgements
We thank E. Furlong and W. Huber for helpful discussions. We also acknowledge K. Birnbaum (New York University) for kindly providing pWOX5::GFP and pGl2::GFP seed. S.A. acknowledges partial funding from the European Union (FP7-Health, project Radiant); M.G.H. acknowledges the Australian Research Council for present funding. The EMBL Genomics Core Facility provided technical support for this work. We acknowledge A. Surani for the use of the C1 Single-Cell Auto Prep System in his lab and B. Jones for performing the experiment. We also acknowledge A. McKenzie (Medical Research Council Laboratory of Molecular Biology) for the Il13-GFP reporter mice and the Sanger-EBI Single Cell Centre for technical support. We acknowledge the support of European Research Council Starting Grant no. 260507, ThSWITCH.
Ethics declarations
Competing interests
The authors declare no competing financial interests.
Supplementary information
About this article
Cite this article
Brennecke, P., Anders, S., Kim, J. et al. Accounting for technical noise in single-cell RNA-seq experiments. Nat Methods 10, 1093–1095 (2013). https://doi.org/10.1038/nmeth.2645
Received:

Accepted:

Published:

Issue Date: