Abstract
We describe an algorithm for phasing protein crystal X-ray diffraction data that identifies, retrieves, refines and exploits general tertiary structural information from small fragments available in the Protein Data Bank. The algorithm successfully phased, through unspecific molecular replacement combined with density modification, all-helical, mixed alpha-beta, and all-beta protein structures. The method is available as a software implementation: Borges.
Access options
Subscribe to Journal
Get full journal access for 1 year
$119.00
only $9.92 per issue
All prices are NET prices.
VAT will be added later in the checkout.
Tax calculation will be finalised during checkout.
Rent or Buy article
Get time limited or full article access on ReadCube.
from$8.99
All prices are NET prices.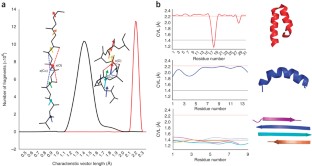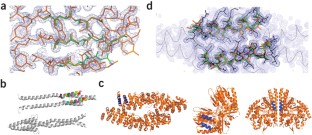 References
1

Bernstein, F.C. et al. J. Mol. Biol. 112, 535–542 (1977).

2

Qian, B. et al. Nature 450, 259–264 (2007).

3

Huber, R. Acta Crystallogr. 19, 353–356 (1965).

4

Rossmann, M.G. The Molecular Replacement Method (Gordon and Breach, 1972).

5

DiMaio, F. et al. Nature 473, 540–543 (2011).

6

Rodríguez, D.D. et al. Nat. Methods 6, 651–653 (2009).

7

McCoy, A.J. et al. J. Appl. Crystallogr. 40, 658–674 (2007).

8

Sheldrick, G.M. Acta Crystallogr. D66, 479–485 (2010).

9

Tannenbaum, T., Wright, D., Miller, K. & Livny, M. in Beowulf Cluster Computing with Linux (ed. Sterling, T.) Ch. 14, 307–350 (The MIT Press, 2002).

10

Burla, M.C., Carrozzini, B., Cascarano, G.L., Giacovazzo, C. & Polidori, G. J. Appl. Crystallogr. 44, 1143–1151 (2011).

11

Miller, R. et al. Science 259, 1430–1433 (1993).

12

Joosten, R.P. et al. Nucleic Acids Res. 39, D411–D419 (2011).

13

Oldfield, T.J. Acta Crystallogr. D57, 1421–1427 (2001).

14

Cowtan, K. Acta Crystallogr. D68, 328–335 (2012).

15

Nicholls, R.A., Long, F. & Murshudov, G.N. Acta Crystallogr. D Biol. Crystallogr. 68, 404–417 (2012).

16

Linder, J.U. & Schultz, J.E. Methods Enzymol. 471, 115–123 (2010).

17

Brünger, A.T. Methods Enzymol. 276, 558–580 (1997).

18

Grosse-Kunstleve, R.W. & Adams, P.D. Acta Crystallogr. D57, 1390–1396 (2001).

19

Sampietro, J. et al. Mol. Cell 24, 293–300 (2006).

20

Hopcroft, J. & Tarjan, R. Commun. ACM 16, 372–378 (1973).

21

Kabsch, W. Acta Crystallogr. D Biol. Crystallogr. 66, 125–132 (2010).
Acknowledgements
This work was supported by the Spanish Ministerio de Ciencia e Innovación-Ministerio de Economia y Competitividad, Centro de Desarrollo Tecnológico Industrial and Consejo Superior de Investigaciones Científicas (grants BIO2009-10576; IDC-2010-1173; BFU2012-35367; BFU2012-32847; predoctoral grants to D.D.R., I.D.M. and I.M.d.I.; JdC to K.M.; RyC to R.M.B.); Generalitat de Catalunya (2009SGR-1036); VW-Stiftung Niedersachsenprofessur to G.M.S. We also acknowledge beam time on the Swiss Light Source beamline X10SA and computing time at the FCSCL. We thank M. Hulko, A. Ursinus, K. Bär, J. Martin and A.N. Lupas at the Max Planck Institute for Developmental Biology, Tübingen, for permission to use the diffraction data of AF1503 from A. fulgidus.
Ethics declarations
Competing interests
The authors declare no competing financial interests.
Supplementary information
Supplementary Figures 1 and 2, Supplementary Tables 1 and 2, Supplementary Results and Supplementary Notes 1 and 2 (PDF 6443 kb)
About this article
Cite this article
Sammito, M., Millán, C., Rodríguez, D. et al. Exploiting tertiary structure through local folds for crystallographic phasing. Nat Methods 10, 1099–1101 (2013). https://doi.org/10.1038/nmeth.2644
Received:

Accepted:

Published:

Issue Date:
Further reading
Theodoros Goulas

,

Danuta Mizgalska

,

Irene Garcia-Ferrer

,

Tomasz Kantyka

,

Tibisay Guevara

,

Borys Szmigielski

,

Aneta Sroka

,

Claudia Millán

,

Isabel Usón

,

Florian Veillard

,

Barbara Potempa

,

Piotr Mydel

,

Maria Solà

,

Jan Potempa

&

F. Xavier Gomis-Rüth

Scientific Reports (2015)

Massimo Sammito

,

Claudia Millán

,

Dayté D Rodríguez

,

Iñaki M de Ilarduya

,

Kathrin Meindl

,

Ivan De Marino

,

Giovanna Petrillo

,

Rubén M Buey

,

José M de Pereda

,

Kornelius Zeth

,

George M Sheldrick

&

Isabel Usón

Nature Methods (2014)