Abstract
Short guide RNAs (gRNAs) can direct catalytically inactive CRISPR-associated 9 nuclease (dCas9) to repress endogenous genes in bacteria and human cells. Here we show that single or multiple gRNAs can direct dCas9 fused to a VP64 transcriptional activation domain to increase expression of endogenous human genes. This proof-of-principle work shows that clustered regularly interspaced short palindromic repeat (CRISPR)-Cas systems can target heterologous effector domains to endogenous sites in human cells.
This is a preview of subscription content
Access options
Subscribe to Journal
Get full journal access for 1 year
$119.00
only $9.92 per issue
All prices are NET prices.
VAT will be added later in the checkout.
Tax calculation will be finalised during checkout.
Buy article
Get time limited or full article access on ReadCube.
$32.00
All prices are NET prices.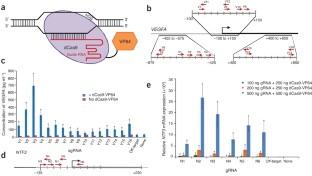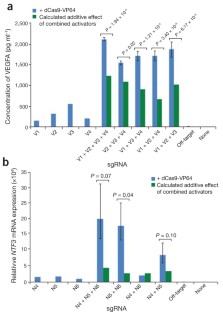 References
Wiedenheft, B., Sternberg, S.H. & Doudna, J.A. Nature 482, 331–338 (2012).

Cong, L. et al. Science 339, 819–823 (2013).

Hwang, W.Y. et al. Nat. Biotechnol. 31, 227–229 (2013).

Jinek, M. et al. Science 337, 816–821 (2012).

Mali, P. et al. Science 339, 823–826 (2013).

Shen, B. et al. Cell Res. 23, 720–723 (2013).

Ding, Q. et al. Cell Stem Cell 12, 393–394 (2013).

Qi, L.S. et al. Cell 152, 1173–1183 (2013).

Bikard, D. et al. Nucleic Acids Res. (doi:10.1093/nar/gkt520) (12 June 2013).

Gilbert, L.A. et al. Cell (doi:10.1016/j.cell.2013.06.044) (9 July 2013).

Beerli, R.R., Segal, D.J., Dreier, B. & Barbas, C.F. Proc. Natl. Acad. Sci. USA 95, 14628–14633 (1998).

Maeder, M.L. et al. Nat. Methods 10, 243–245 (2013).

Perez-Pinera, P. et al. Nat. Methods 10, 239–242 (2013).

Liu, P.-Q. et al. J. Biol. Chem. 276, 11323–11334 (2001).

Fu, Y. et al. Nat. Biotechnol. (doi:10.1038/nbt.2623) (23 June 2013).

Reyon, D. et al. Nat. Biotechnol. 30, 460–465 (2012).
Acknowledgements
This work was supported by a US National Institutes of Health (NIH) Director's Pioneer Award DP1 GM105378, NIH R01 NS073124, NIH P50 HG005550, Defense Advanced Research Projects Agency (DARPA) W911NF-11-2-0056, and the Jim and Ann Orr Massachusetts General Hospital Research Scholar Award. We thank J.D. Sander (Massachusetts General Hospital) for providing plasmid pJDS246 and for helpful discussions.
Ethics declarations
Competing interests
M.L.M. and J.K.J. are inventors on patent applications (61/838,148 and 61/799,647) describing the dCas9-VP64 fusion protein and its use to activate gene expression. J.K.J. has a financial interest in Transposagen Biopharmaceuticals. J.K.J.'s interests were reviewed and are managed by Massachusetts General Hospital and Partners HealthCare in accordance with their conflict of interest policies.
Supplementary information
Supplementary Figures 1–6, and Supplementary Tables 1 and 2 (PDF 290 kb)
About this article
Cite this article
Maeder, M., Linder, S., Cascio, V. et al. CRISPR RNA–guided activation of endogenous human genes. Nat Methods 10, 977–979 (2013). https://doi.org/10.1038/nmeth.2598
Received:

Accepted:

Published:

Issue Date:

DOI: https://doi.org/10.1038/nmeth.2598