Abstract
Animal models with genetic modifications under temporal and/or spatial control are invaluable to functional genomics and medical research. Here we report the generation of tissue-specific knockout rats via microinjection of zinc-finger nucleases (ZFNs) into fertilized eggs. We generated rats with loxP-flanked (floxed) alleles and a tyrosine hydroxylase promoter–driven cre allele and demonstrated Cre-dependent gene disruption in vivo. Pronuclear microinjection of ZFNs, shown by our data to be an efficient and rapid method for creating conditional knockout rats, should also be applicable in other species.
Access options
Subscribe to Journal
Get full journal access for 1 year
$242.00
only $20.17 per issue
All prices are NET prices.
VAT will be added later in the checkout.
Rent or Buy article
Get time limited or full article access on ReadCube.
from$8.99
All prices are NET prices.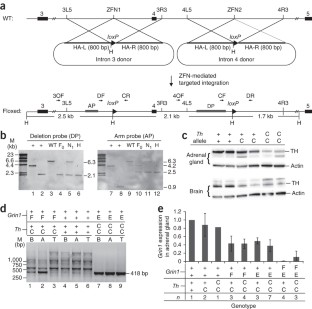 Accession codes
Accessions
NCBI Reference Sequence
References
1

Geurts, A.M. et al. Science 325, 433 (2009).

2

Cui, X. et al. Nat. Biotechnol. 29, 64–67 (2011).

3

Tesson, L. et al. Nat. Biotechnol. 29, 695–696 (2011).

4

Gu, H., Marth, J.D., Orban, P.C., Mossmann, H. & Rajewsky, K. Science 265, 103–106 (1994).

5

Chen, F. et al. Nat. Methods 8, 753–755 (2011).

6

McCoy, A., Besch-Williford, C.L., Franklin, C.L., Weinstein, E.J. & Cui, X. Dis. Model. Mech. 6, 269–278 (2013).

7

Taniguchi, H. et al. Neuron 71, 995–1013 (2011).

8

Forrest, D. et al. Neuron 13, 325–338 (1994).

9

Zhou, Q.Y., Quaife, C.J. & Palmiter, R.D. Nature 374, 640–643 (1995).

10

Chinta, S.J. & Andersen, J.K. Int. J. Biochem. Cell Biol. 37, 942–946 (2005).

11

Witten, I.B. et al. Neuron 72, 721–733 (2011).

12

Bai, G. & Hoffman, P.W. in Biology of the NMDA Receptor (ed. Van Dongen, A.M.) Ch. 5 (CRC Press, 2009).

13

Weber, T., Schönig, K., Tews, B. & Bartsch, D. PLoS ONE 6, e28283 (2011).

14

Sato, Y. et al. Biochem. Biophys. Res. Commun. 319, 1197–1202 (2004).

15

Rabbitts, T.H. Nature 372, 143–149 (1994).

16

Zheng, B. et al. Nat. Genet. 22, 375–378 (1999).

17

Glaser, S., Anastassiadis, K. & Stewart, A.F. Nat. Genet. 37, 1187–1193 (2005).
Acknowledgements
We thank A. Lambowitz for critical advice, F. Urnov, D. Carroll and G. Davis for valuable comments on the manuscript, J. Huang (Cold Spring Harbor Lab) for providing IRES-cre sequence, K. Watsek for animal husbandry, L. Little for technical assistance and G. Zhao for suggestions.
Ethics declarations
Competing interests
All authors are full-time employees of SAGE Labs, Inc., which sells genetically engineered rats and provides custom model creation services.
Supplementary information
Supplementary Figures 1–10, Supplementary Tables 1–5 and Supplementary Note (PDF 1425 kb)
About this article
Cite this article
Brown, A., Fisher, D., Kouranova, E. et al. Whole-rat conditional gene knockout via genome editing. Nat Methods 10, 638–640 (2013) doi:10.1038/nmeth.2516
Received

Accepted

Published

Issue Date