Abstract
The measurement of lifespan pervades aging research. Because lifespan results from complex interactions between genetic, environmental and stochastic factors, it varies widely even among isogenic individuals. The actions of molecular mechanisms on lifespan are therefore visible only through their statistical effects on populations. Indeed, survival assays in Caenorhabditis elegans have provided critical insights into evolutionarily conserved determinants of aging. To enable the rapid acquisition of survival curves at an arbitrary statistical resolution, we developed a scalable imaging and analysis platform to observe nematodes over multiple weeks across square meters of agar surface at 8-μm resolution. The automated method generates a permanent visual record of individual deaths from which survival curves are constructed and validated, producing data consistent with results from the manual method of survival curve acquisition for several mutants in both standard and stressful environments. Our approach permits rapid, detailed reverse-genetic and chemical screens for effects on survival and enables quantitative investigations into the statistical structure of aging.
Relevant articles
Open Access articles citing this article.
Cédric Debès

,

Antonios Papadakis

…

Andreas Beyer

Nature Open Access 12 April 2023

Enrique Ortega-Forte

,

Samanta Hernández-García

…

Fernando Gandía-Herrero

Cellular and Molecular Life Sciences Open Access 06 September 2022

Ida L. Barlow

,

Luigi Feriani

…

André E. X. Brown

Communications Biology Open Access 23 March 2022
Access options
Subscribe to this journal
Receive 12 print issues and online access
$209.00 per year
only $17.42 per issue
Rent or buy this article
Get just this article for as long as you need it
$39.95
Prices may be subject to local taxes which are calculated during checkout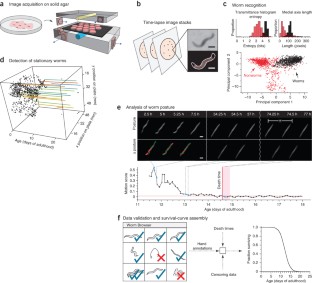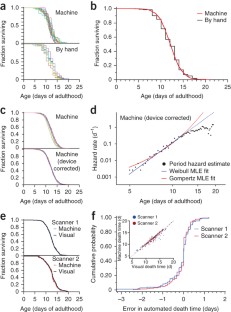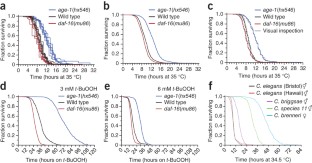 References
Kirkwood, T.B. et al. What accounts for the wide variation in life span of genetically identical organisms reared in a constant environment? Mech. Ageing Dev. 126, 439–443 (2005).

Friedman, D.B. & Johnson, T.E. A mutation in the age-1 gene in Caenorhabditis elegans lengthens life and reduces hermaphrodite fertility. Genetics 118, 75–86 (1988).

Kenyon, C., Chang, J., Gensch, E., Rudner, A. & Tabtiang, R. A C. elegans mutant that lives twice as long as wild type. Nature 366, 461–464 (1993).

Kimura, K.D., Tissenbaum, H.A., Liu, Y. & Ruvkun, G. daf-2, an insulin receptor-like gene that regulates longevity and diapause in Caenorhabditis elegans. Science 277, 942–946 (1997).

Kenyon, C.J. The genetics of ageing. Nature 464, 504–512 (2010).

Sutphin, G.L. & Kaeberlein, M. Measuring Caenorhabditis elegans life span on solid media. J. Vis. Exp. 12, pii: 1152 (2009).

Wilkinson, D.S., Taylor, R.C. & Dillin, A. Analysis of aging in Caenorhabditis elegans. Methods Cell Biol. 107, 353–381 (2012).

Curtsinger, J.W., Fukui, H.H., Townsend, D.R. & Vaupel, J.W. Demography of genotypes: failure of the limited life-span paradigm in Drosophila melanogaster. Science 258, 461–463 (1992).

Carey, J.R., Liedo, P. & Vaupel, J.W. Mortality dynamics of density in the Mediterranean fruit fly. Exp. Gerontol. 30, 605–629 (1995).

Vaupel, J.W. et al. Biodemographic trajectories of longevity. Science 280, 855–860 (1998).

Vanfleteren, J.R., De Vreese, A. & Braeckman, B.P. Two-parameter logistic and Weibull equations provide better fits to survival data from isogenic populations of Caenorhabditis elegans in axenic culture than does the Gompertz model. J. Gerontol. A Biol. Sci. Med. Sci. 53, B393–B408 (1998).

Johnson, T.E., Wu, D., Tedesco, P., Dames, S. & Vaupel, J.W. Age-specific demographic profiles of longevity mutants in Caenorhabditis elegans show segmental effects. J. Gerontol. A Biol. Sci. Med. Sci. 56, B331–B339 (2001).

Mair, W., Goymer, P., Pletcher, S.D. & Partridge, L. Demography of dietary restriction and death in Drosophila. Science 301, 1731–1733 (2003).

Baeriswyl, S. et al. Modulation of aging profiles in isogenic populations of Caenorhabditis elegans by bacteria causing different extrinsic mortality rates. Biogerontology 11, 53–65 (2010).

Wu, D., Rea, S.L., Cypser, J.R. & Johnson, T.E. Mortality shifts in Caenorhabditis elegans: remembrance of conditions past. Aging Cell 8, 666–675 (2009).

Lithgow, G.J., White, T.M., Melov, S. & Johnson, T.E. Thermotolerance and extended life-span conferred by single-gene mutations and induced by thermal stress. Proc. Natl. Acad. Sci. USA 92, 7540–7544 (1995).

Klass, M.R. Aging in the nematode Caenorhabditis elegans: major biological and environmental factors influencing life span. Mech. Ageing Dev. 6, 413–429 (1977).

Herndon, L.A. et al. Stochastic and genetic factors influence tissue-specific decline in ageing C. elegans. Nature 419, 808–814 (2002).

Huang, C., Xiong, C. & Kornfeld, K. Measurements of age-related changes of physiological processes that predict lifespan of Caenorhabditis elegans. Proc. Natl. Acad. Sci. USA 101, 8084–8089 (2004).

Müller, H.G. & Wang, J.L. Hazard rate estimation under random censoring with varying kernels and bandwidths. Biometrics 50, 61–76 (1994).

Vaupel, J.W., Manton, K.G. & Stallard, E. The impact of heterogeneity in individual frailty on the dynamics of mortality. Demography 16, 439–454 (1979).

Weitz, J.S. & Fraser, H.B. Explaining mortality rate plateaus. Proc. Natl. Acad. Sci. USA 98, 15383–15386 (2001).

Mathew, M.D., Mathew, N.D. & Ebert, P.R. WormScan: a technique for high-throughput phenotypic analysis of Caenorhabditis elegans. PLoS ONE 7, e33483 (2012).

Dillin, A., Crawford, D.K. & Kenyon, C. Timing requirements for insulin/IGF-1 signaling in C. elegans. Science 298, 830–834 (2002).

Larsen, P.L., Albert, P.S. & Riddle, D.L. Genes that regulate both development and longevity in Caenorhabditis elegans. Genetics 139, 1567–1583 (1995).

Ailion, M., Inoue, T., Weaver, C.I., Holdcraft, R.W. & Thomas, J.H. Neurosecretory control of aging in Caenorhabditis elegans. Proc. Natl. Acad. Sci. USA 96, 7394–7397 (1999).

Haskins, K.A., Russell, J.F., Gaddis, N., Dressman, H.K. & Aballay, A. Unfolded protein response genes regulated by CED-1 are required for Caenorhabditis elegans innate immunity. Dev. Cell 15, 87–97 (2008).

Tullet, J.M. et al. Direct inhibition of the longevity-promoting factor SKN-1 by insulin-like signaling in C. elegans. Cell 132, 1025–1038 (2008).

Kiontke, K.C. et al. A phylogeny and molecular barcodes for Caenorhabditis, with numerous new species from rotting fruits. BMC Evol. Biol. 11, 339 (2011).

Amrit, F.R., Boehnisch, C.M. & May, R.C. Phenotypic covariance of longevity, immunity and stress resistance in the Caenorhabditis nematodes. PLoS ONE 5, e9978 (2010).

Stiernagle, T. Maintenance of C. elegans. in WormBook http://dx.doi.org/10.1895/wormbook.1.101.1 (2006).

Dong, J.X., Krzyzak, A. & Suen, C.Y. Fast SVM training algorithm with decomposition on very large data sets. IEEE Trans. Pattern Anal. Mach. Intell. 27, 603–618 (2005).

Sall, J., Lehman, A., Stephens, M. & Creighton, L. JMP Start Statistics: A Guide to Statistics and Data Analysis using JMP 5th edn. (SAS Institute, Cary, North Carolina, 2012).

R Development Core Team. R: A Language and Environment for Statistical Computing (R Foundation for Statistical Computing, Vienna, 2006).

Buckley, J. & James, I. Linear regression with censored data. Biometrika 66, 429–436 (1979).
Acknowledgements
We thank J. Alcedo (Wayne State University) for providing the hsf-1 and glp-1 mutant strains, X. Manière (Université Paris Descartes) for providing the NEC937 strain, B. Ward and D. Marks for critical reading of our manuscript and C. Romero, D. Marks and the members of the Fontana lab for helpful discussions and encouragement throughout this project. We thank T. Kolokotrones, E. Smith and L.J. Wei for discussions and statistical advice and M. Miranda, our departmental IT specialist, for patiently meeting our needs for data storage. Some nematode strains used in this work were provided by the Caenorhabditis Genetics Center, which is funded by the National Center for Research Resources. This work was funded by the US National Institutes of Health through grants R03 AG032481, R03 AG032481-S1 and R01 AG034994.
Ethics declarations
Competing interests
The authors declare no competing financial interests.
Supplementary information
About this article
Cite this article
Stroustrup, N., Ulmschneider, B., Nash, Z. et al. The Caenorhabditis elegans Lifespan Machine. Nat Methods 10, 665–670 (2013). https://doi.org/10.1038/nmeth.2475
Received:

Accepted:

Published:

Issue Date:

DOI: https://doi.org/10.1038/nmeth.2475