Abstract
We report an optogenetic method based on Arabidopsis thaliana cryptochrome 2 for rapid and reversible protein oligomerization in response to blue light. We demonstrated its utility by photoactivating the β-catenin pathway, achieving a transcriptional response higher than that obtained with the natural ligand Wnt3a. We also demonstrated the modularity of this approach by photoactivating RhoA with high spatiotemporal resolution, thereby suggesting a previously unknown mode of activation for this Rho GTPase.
Access options
Subscribe to Journal
Get full journal access for 1 year
$259.00
only $21.58 per issue
All prices are NET prices.
VAT will be added later in the checkout.
Rent or Buy article
Get time limited or full article access on ReadCube.
from$8.99
All prices are NET prices.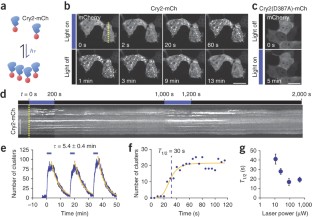 Accession codes
Accessions
NCBI Reference Sequence
References
1

Dehmelt, L. & Bastiaens, P.I.H. Nat. Rev. Mol. Cell Biol. 11, 440–452 (2010).

2

Mammen, M., Choi, S.-K. & Whitesides, G.M. Angew. Chem. Int. Edn Engl. 37, 2754–2794 (1998).

3

Spencer, D.M., Wandless, T.J., Schreiber, S.L. & Crabtree, G.R. Science 262, 1019–1024 (1993).

4

Möglich, A. & Moffat, K. Photochem. Photobiol. Sci. 9, 1286–1300 (2010).

5

Kennedy, M.J. et al. Nat. Methods 7, 973–975 (2010).

6

Levskaya, A., Weiner, O.D., Lim, W.A. & Voigt, C.A. Nature 461, 997–1001 (2009).

7

Strickland, D. et al. Nat. Methods 9, 379–384 (2012).

8

Yazawa, M., Sadaghiani, A.M., Hsueh, B. & Dolmetsch, R.E. Nat. Biotechnol. 27, 941–945 (2009).

9

Shimizu-Sato, S., Huq, E., Tepperman, J.M. & Quail, P.H. Nat. Biotechnol. 20, 1041–1044 (2002).

10

Wang, X., Chen, X. & Yang, Y. Nat. Methods 9, 266–269 (2012).

11

Más, P., Devlin, P.F., Panda, S. & Kay, S.A. Nature 408, 207–211 (2000).

12

Liu, H. et al. Science 322, 1535–1539 (2008).

13

Hollander, M. & Wolfe, D.A. Nonparametric Statistical Methods 2nd edn. (Wiley, New York, 1999).

14

Bilić, J. et al. Science 316, 1619–1622 (2007).

15

Metcalfe, C., Mendoza-Topaz, C., Mieszczanek, J. & Bienz, M. J. Cell Sci. 123, 1588–1599 (2010).

16

Fuerer, C. & Nusse, R. PLoS ONE 5, e9370 (2010).

17

Jaffe, A.B. & Hall, A. Annu. Rev. Cell Dev. Biol. 21, 247–269 (2005).

18

Zhang, B., Gao, Y., Moon, S.Y., Zhang, Y. & Zheng, Y. J. Biol. Chem. 276, 8958–8967 (2001).

19

Parsons, J.T., Horwitz, A.R. & Schwartz, M.A. Nat. Rev. Mol. Cell Biol. 11, 633–643 (2010).

20

Wu, Y.I. et al. Nature 461, 104–108 (2009).

21

Ridley, A.J. & Hall, A. Cell 70, 389–399 (1992).

22

Quan, J. & Tian, J. PLoS ONE 4, e6441 (2009).

23

Peltier, J. & Schaffer, D.V. in Protocols for Adult Stem Cells Vol. 621 (eds. Conboy, I.M., Schaffer, D.V., Barcellos-Hoff, M.H. & Li, S.) Ch. 7, 103–116 (Humana, 2010).

24

Gage, F.H. et al. Proc. Natl. Acad. Sci. USA 92, 11879–11883 (1995).
Acknowledgements
We thank S. Kumar for technical discussions and use of equipment and reagents, and J. McKay and S. Rammensee for experimental advice and assistance. We received the CRY2PHR-mCherry construct as a gift from C. Tucker (Duke University), constitutively active variants of Rac1, RhoA and Cdc42 as gifts from G.S. Martin (UC Berkeley), the full-length LRP6 construct as a gift from X. He (Harvard University) and CA-β-catenin as a gift from A. Asthagiri (Northeastern University). We would also like to thank M. Niewiadomska-Bugaj (Western Michigan University) for statistical analysis, A. Keung (UC Berkeley) for retroviral constructs encoding the Rho GTPases and A. Fritz (UC Berkeley) for retroviral constructs encoding CA-β-catenin and CA-GSK-3β. This work was supported by the US Department of Energy, Office of Basic Energy Sciences, Division of Materials Sciences and Engineering, under Award nos. DE-SC0001216 and DE-SC0001874.
Ethics declarations
Competing interests
The authors declare no competing financial interests.
Supplementary information
About this article
Cite this article
Bugaj, L., Choksi, A., Mesuda, C. et al. Optogenetic protein clustering and signaling activation in mammalian cells. Nat Methods 10, 249–252 (2013). https://doi.org/10.1038/nmeth.2360
Received:

Accepted:

Published:

Issue Date: