This is a preview of subscription content
Access options
Subscribe to Journal
Get full journal access for 1 year
$119.00
only $9.92 per issue
All prices are NET prices.
VAT will be added later in the checkout.
Tax calculation will be finalised during checkout.
Buy article
Get time limited or full article access on ReadCube.
$32.00
All prices are NET prices.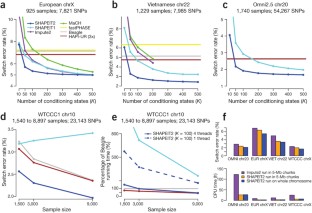 References
Howie, B. et al. Nat. Genet. 44, 955–959 (2012).

Delaneau, O., Marchini, J. & Zagury, J.F. Nat. Methods 9, 179–181 (2012).

Howie, B.N., Marchini, J. & Stephens, M. G3 1, 457–470 (2011).

Williams, A.L. et al. Am. J. Hum. Genet. 91, 238–251 (2012).

Browning, S.R. & Browning, B.L. Am. J. Hum. Genet. 81, 1084–1097 (2007).

Li, Y. et al. Genet. Epidemiol. 34, 816–834 (2010).

Scheet, P. & Stephens, M. Am. J. Hum. Genet. 78, 629–644 (2006).
Acknowledgements
J.M. and O.D. acknowledge support from the Medical Research Council (G0801823). O.D. acknowledges support from Peptinov SAS (France). Thanks to B. Howie, C. Churchhouse and J. O'Connell for comments on this paper and to A. Cox (Illumina Cambridge Ltd) for providing the high-coverage trio sequence data set. The Vietnamese cohort was provided by A. Alcais (Institut National de la Santé de la Recherche Médicale, Paris, France) and E. Schurr (McGill Centre for the Study of Host Resistance, Montreal, Canada). This study uses data from the Wellcome Trust Case Control Consortium.
Ethics declarations
Competing interests
The authors declare no competing financial interests.
Supplementary information
Supplementary Table 1, Supplementary Figures 1–7, Supplementary Methods and Supplementary Notes 1 and 2 (PDF 7498 kb)
SHAPEIT2 software (ZIP 1281 kb)
About this article
Cite this article
Delaneau, O., Zagury, JF. & Marchini, J. Improved whole-chromosome phasing for disease and population genetic studies. Nat Methods 10, 5–6 (2013). https://doi.org/10.1038/nmeth.2307
Published:

Issue Date:

DOI: https://doi.org/10.1038/nmeth.2307