Abstract
We here establish a mouse cancer model called Multi-Hit that allows for the evaluation of oncogene cooperativities in tumor development. The model is based on the stochastic expression of oncogene combinations ('hits') that are mediated by Cre in a given tissue. Cells with cooperating hits are positively selected and give rise to tumors. We used this approach to evaluate the requirement of Ras downstream effector pathways in tumorigenesis.
Access options
Subscribe to Journal
Get full journal access for 1 year
$242.00
only $20.17 per issue
All prices are NET prices.
VAT will be added later in the checkout.
Rent or Buy article
Get time limited or full article access on ReadCube.
from$8.99
All prices are NET prices.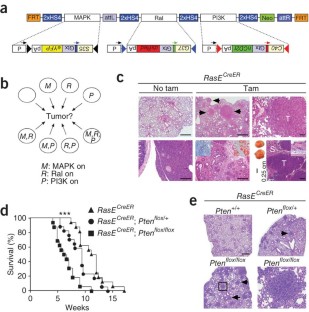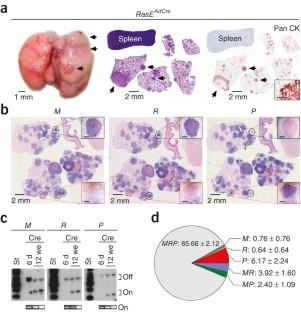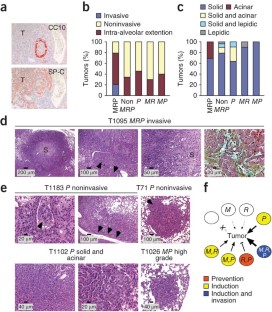 References
1

Hanahan, D. & Weinberg, R.A. Cell 144, 646–674 (2011).

2

Downward, J. Nat. Rev. Cancer 3, 11–22 (2003).

3

Malumbres, M. & Barbacid, M. Nat. Rev. Cancer 3, 459–465 (2003).

4

Giehl, K. Biol. Chem. 386, 193–205 (2005).

5

Repasky, G.A., Chenette, E.J. & Der, C.J. Trends Cell Biol. 14, 639–647 (2004).

6

Khosravi-Far, R. et al. Mol. Cell. Biol. 16, 3923–3933 (1996).

7

Blaas, L. et al. Biotechniques 43, 659–660, 662, 664 (2007).

8

Zhang, Y., Buchholz, F., Muyrers, J.P. & Stewart, A.F. Nat. Genet. 20, 123–128 (1998).

9

Rangarajan, A., Hong, S.J., Gifford, A. & Weinberg, R.A. Cancer Cell 6, 171–183 (2004).

10

DuPage, M., Dooley, A.L. & Jacks, T. Nat. Protoc. 4, 1064–1072 (2009).

11

McCormick, F. J. Surg. Oncol. 103, 464–467 (2011).

12

Gupta, S. et al. Cell 129, 957–968 (2007).

13

Doehn, U. et al. Mol. Cell 35, 511–522 (2009).

14

Mishra, P.J. et al. Oncogene 29, 2449–2456 (2010).

15

Drosten, M. et al. EMBO J. 29, 1091–1104 (2010).

16

Joneson, T., White, M.A., Wigler, M.H. & Bar-Sagi, D. Science 271, 810–812 (1996).

17

White, M.A. et al. Cell 80, 533–541 (1995).

18

Chappell, S.A., Edelman, G.M. & Mauro, V.P. Proc. Natl. Acad. Sci. USA 101, 9590–9594 (2004).

19

Yusufzai, T.M. & Felsenfeld, G. Proc. Natl. Acad. Sci. USA 101, 8620–8624 (2004).

20

Hochedlinger, K., Yamada, Y., Beard, C. & Jaenisch, R. Cell 121, 465–477 (2005).

21

Hameyer, D. et al. Physiol. Genomics 31, 32–41 (2007).

22

Suzuki, A. et al. Immunity 14, 523–534 (2001).

23

Vasioukhin, V., Degenstein, L., Wise, B. & Fuchs, E. Proc. Natl. Acad. Sci. USA 96, 8551–8556 (1999).
Acknowledgements
We thank J. Downward (London Research Institute) for Ras effector mutants, A. Berns (Netherlands Cancer Institute) for Rosa26CreERT2 mice and G. Felsenfeld (National Institute of Diabetes and Digestive and Kidney Diseases, USA) for chicken 2xHS4 insulator sequences. We thank M. Sibilia and E.F. Wagner for critical reading of the manuscript and M. Mair and D. Khan for technical assistance. This work was supported by the Ludwig Boltzmann Gesellschaft (LBG), the Austrian Science Fund (FWF) grant SFB F28 to M. Müller, R.M. and R.E., the FWF Doktoratskolleg-plus grant 'Inflammation and Immunity' to M. Müller and R.E., the CCC Vienna Research grant to E.C. and R.E. and the Austrian Federal Ministry of Science and Research GENAU grant 'Austromouse' to M. Müller, T.R., J.M.P., E.C. and R.E. J.M.P. is supported by the Institute of Molecular Biotechnology (IMBA) and an advanced European Research Council (ERC) grant.
Ethics declarations
Competing interests
The authors declare no competing financial interests.
Supplementary information