Abstract
We present a multiview selective-plane illumination microscope (MuVi-SPIM), comprising two detection and illumination objective lenses, that allows rapid in toto fluorescence imaging of biological specimens with subcellular resolution. The fixed geometrical arrangement of the imaging branches enables multiview data fusion in real time. The high speed of MuVi-SPIM allows faithful tracking of nuclei and cell shape changes, which we demonstrate through in toto imaging of the embryonic development of Drosophila melanogaster.
Relevant articles
Open Access articles citing this article.
Hannah J. Gustafson

,

Nikolas Claussen

…

Sebastian J. Streichan

Nature Communications Open Access 17 November 2022

Gustavo de Medeiros

,

Raphael Ortiz

…

Prisca Liberali

Nature Communications Open Access 18 August 2022

Frederic Strobl

,

Marc F. Schetelig

&

Ernst H. K. Stelzer

Scientific Data Open Access 15 June 2022
Access options
Subscribe to Journal
Get full journal access for 1 year
$99.00
only $8.25 per issue
All prices are NET prices.
VAT will be added later in the checkout.
Tax calculation will be finalised during checkout.
Buy article
Get time limited or full article access on ReadCube.
$32.00
All prices are NET prices.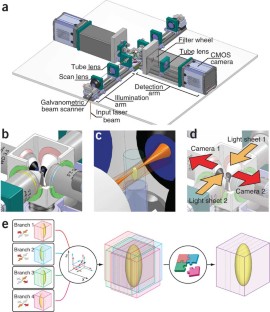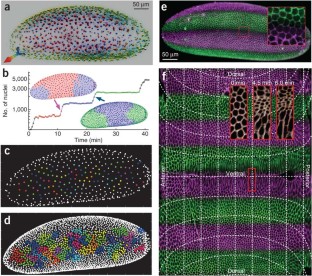 References
Wolpert, L. et al. Principles of Development 3rd edn (Oxford University Press, 2006).

Lander, A.D. Cell 144, 955–969 (2011).

Lecuit, T. Tissue Remodeling and Epithelial Morphogenesis (Current Topics in Developmental Biology vol. 89) (Academic Press, 2009).

Siedentopf, H. & Zsigmondy, R. Ann. Phys. 315, 1–39 (1902).

Voie, A.H., Burns, D.H. & Spelman, F.A. J. Microsc. 170, 229–236 (1993).

Huisken, J., Swoger, J., Del Bene, F., Wittbrodt, J. & Stelzer, E.H.K. Science 305, 1007–1009 (2004).

Dodt, H.-U. et al. Nat. Methods 4, 331–336 (2007).

Keller, P.J., Schmidt, A.D., Wittbrodt, J. & Stelzer, E.H.K. Science 322, 1065–1069 (2008).

Keller, P.J. et al. Nat. Methods 7, 637–642 (2010).

Truong, T.V., Supatto, W., Koos, D.S., Choi, J.M. & Fraser, S.E. Nat. Methods 8, 757–760 (2011).

Capoulade, J., Wachsmuth, M., Hufnagel, L. & Knop, M. Nat. Biotechnol. 29, 835–839 (2011).

Cella Zanacchi, F. et al. Nat. Methods 8, 1047–1049 (2011).

Swoger, J., Verveer, P., Greger, K., Huisken, J. & Stelzer, E.H.K. Opt. Express 15, 8029–8042 (2007).

Preibisch, S., Saalfeld, S., Schindelin, J. & Tomancak, P. Nat. Methods 7, 418–419 (2010).

Krzic, U. Multiple-view Microscopy with Light-Sheet Based Fluorescence Microscope. PhD thesis, Univ. Heidelberg (2009).

Huisken, J. & Stainier, D.Y.R. Opt. Lett. 32, 2608–2610 (2007).

Foe, V.E. & Alberts, B.M. J. Cell Sci. 61, 31–70 (1983).

Goshtasby, A. 2-D and 3-D Image Registration: for Medical, Remote Sensing, and Industrial Applications (Wiley, 2005).

Planchon, T.A. et al. Nat. Methods 8, 417–423 (2011).

Schuh, M., Lehner, C.F. & Heidmann, S. Curr. Biol. 17, 237–243 (2007).

Martin, A.C., Gelbart, M., Fernandez-Gonzalez, R., Kaschube, M. & Wieschaus, E.F. J. Cell Biol. 188, 735–749 (2010).

Grill, S. & Stelzer, E.H.K. J. Opt. Soc. Am. A Opt. Image Sci. Vis. 16, 2658–2665 (1999).

Quammen, C.W., Feng, D. & Taylor II, R.M. Performance of 3D deconvolution algorithms on multi-core and many-core architectures (Technical Report 09-001) (University of North Carolina at Chapel Hill Department of Computer Science, 2009).

Richardson, W.H. J. Opt. Soc. Am. 62, 55–59 (1972).

Gonzalez, R.C., Woods, R.E. & Eddins, S.L. Digital Image Processing Using MATLAB (Prentice Hall, 2003).

Meyer, F. Signal Process. 38, 113–125 (1994).

Raffel, M., Willert, C.E. & Kompenhans, J. Particle Image Velocimetry: A Practical Guide (Springer, 1998).
Acknowledgements
We thank the mechanical and electronics workshop of the European Molecular Biology Laboratory (EMBL) for customized hardware; D. Holzer, T. Schneidt and H. Gustafson for help with the flies and G. Heuvelman and M. Wachsmuth for discussions on optics. We thank S. DeRenzis and the Wieschaus laboratory for the Gap43-mCherry flies and E. Lemke for hardware support. We thank J. Ellenberg for his helpful comments on the manuscript and anonymous reviewers for their constructive comments. We acknowledge the advanced light microscopy facility of EMBL for its kind support. We are grateful for financial support from EMBL, the EMBL Interdisciplinary Postdocs Program (EIPOD) and the Center for Modelling and Simulation in the Biosciences (BIOMS).
Ethics declarations
Competing interests
The authors declare no competing financial interests.
Supplementary information
About this article
Cite this article
Krzic, U., Gunther, S., Saunders, T. et al. Multiview light-sheet microscope for rapid in toto imaging. Nat Methods 9, 730–733 (2012). https://doi.org/10.1038/nmeth.2064
Received:

Accepted:

Published:

Issue Date:

DOI: https://doi.org/10.1038/nmeth.2064