Abstract
Live imaging of large biological specimens is fundamentally limited by the short optical penetration depth of light microscopes. To maximize physical coverage, we developed the SiMView technology framework for high-speed in vivo imaging, which records multiple views of the specimen simultaneously. SiMView consists of a light-sheet microscope with four synchronized optical arms, real-time electronics for long-term sCMOS-based image acquisition at 175 million voxels per second, and computational modules for high-throughput image registration, segmentation, tracking and real-time management of the terabytes of multiview data recorded per specimen. We developed one-photon and multiphoton SiMView implementations and recorded cellular dynamics in entire Drosophila melanogaster embryos with 30-s temporal resolution throughout development. We furthermore performed high-resolution long-term imaging of the developing nervous system and followed neuroblast cell lineages in vivo. SiMView data sets provide quantitative morphological information even for fast global processes and enable accurate automated cell tracking in the entire early embryo.
Relevant articles
Open Access articles citing this article.
Nickolay Korabel

,

Giuliana D. Clemente

…

Thomas Andrew Waigh

Communications Physics Open Access 04 November 2022

Marie Darche

,

Anna Verschueren

…

Michel Paques

Communications Biology Open Access 27 October 2022

Yu Shi

,

Timothy A. Daugird

&

Wesley R. Legant

Nature Communications Open Access 08 August 2022
Access options
Subscribe to Journal
Get full journal access for 1 year
$99.00
only $8.25 per issue
All prices are NET prices.
VAT will be added later in the checkout.
Tax calculation will be finalised during checkout.
Buy article
Get time limited or full article access on ReadCube.
$32.00
All prices are NET prices.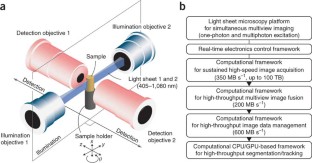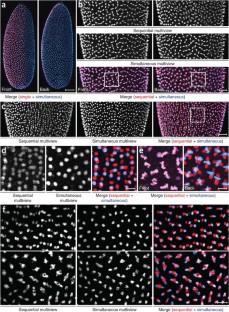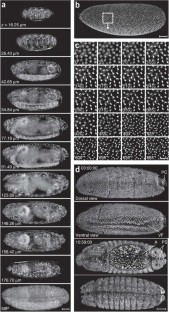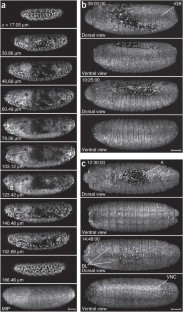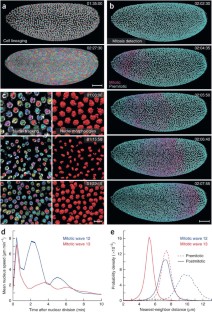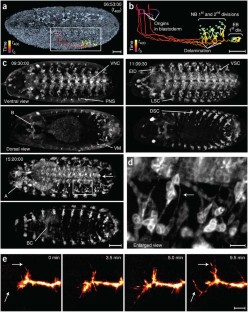 References
McMahon, A., Supatto, W., Fraser, S.E. & Stathopoulos, A. Dynamic analyses of Drosophila gastrulation provide insights into collective cell migration. Science 322, 1546–1550 (2008).

Fernandez, R. et al. Imaging plant growth in 4D: robust tissue reconstruction and lineaging at cell resolution. Nat. Methods 7, 547–553 (2010).

Keller, P.J. et al. Fast, high-contrast imaging of animal development with scanned light sheet–based structured-illumination microscopy. Nat. Methods 7, 637–642 (2010).

Keller, P.J., Schmidt, A.D., Wittbrodt, J. & Stelzer, E.H.K. Reconstruction of zebrafish early embryonic development by scanned light sheet microscopy. Science 322, 1065–1069 (2008).

Fowlkes, C.C. et al. A quantitative spatiotemporal atlas of gene expression in the Drosophila blastoderm. Cell 133, 364–374 (2008).

Long, F., Peng, H., Liu, X., Kim, S.K. & Myers, E. A 3D digital atlas of C. elegans and its application to single-cell analyses. Nat. Methods 6, 667–672 (2009).

Tomer, R., Denes, A.S., Tessmar-Raible, K. & Arendt, D. Profiling by image registration reveals common origin of annelid mushroom bodies and vertebrate pallium. Cell 142, 800–809 (2010).

Gehrig, J. et al. Automated high-throughput mapping of promoter-enhancer interactions in zebrafish embryos. Nat. Methods 6, 911–916 (2009).

Pardo-Martin, C. et al. High-throughput in vivo vertebrate screening. Nat. Methods 7, 634–636 (2010).

Held, M. et al. CellCognition: time-resolved phenotype annotation in high-throughput live cell imaging. Nat. Methods 7, 747–754 (2010).

Khairy, K. & Keller, P.J. Reconstructing embryonic development. Genesis 49, 488–513 (2011).

Tomer, R., Khairy, K. & Keller, P.J. Shedding light on the system: studying embryonic development with light sheet microscopy. Curr. Opin. Genet. Dev. 21, 558–565 (2011).

Huisken, J. & Stainier, D.Y. Selective plane illumination microscopy techniques in developmental biology. Development 136, 1963–1975 (2009).

Keller, P.J. & Stelzer, E.H. Quantitative in vivo imaging of entire embryos with Digital Scanned Laser Light Sheet Fluorescence Microscopy. Curr. Opin. Neurobiol. 18, 624–632 (2008).

Planchon, T.A. et al. Rapid three-dimensional isotropic imaging of living cells using Bessel beam plane illumination. Nat. Methods 8, 417–423 (2011).

Capoulade, J., Wachsmuth, M., Hufnagel, L. & Knop, M. Quantitative fluorescence imaging of protein diffusion and interaction in living cells. Nat. Biotechnol. 29, 835–839 (2011).

Ntziachristos, V. Going deeper than microscopy: the optical imaging frontier in biology. Nat. Methods 7, 603–614 (2010).

Palero, J., Santos, S.I., Artigas, D. & Loza-Alvarez, P. A simple scanless two-photon fluorescence microscope using selective plane illumination. Opt. Express 18, 8491–8498 (2010).

Truong, T.V., Supatto, W., Koos, D.S., Choi, J.M. & Fraser, S.E. Deep and fast live imaging with two-photon scanned light-sheet microscopy. Nat. Methods 8, 757–760 (2011).

Huisken, J., Swoger, J., Del Bene, F., Wittbrodt, J. & Stelzer, E.H.K. Optical sectioning deep inside live embryos by selective plane illumination microscopy. Science 305, 1007–1009 (2004).

Swoger, J., Verveer, P., Greger, K., Huisken, J. & Stelzer, E.H. Multi-view image fusion improves resolution in three-dimensional microscopy. Opt. Express 15, 8029–8042 (2007).

Preibisch, S., Saalfeld, S., Schindelin, J. & Tomancak, P. Software for bead-based registration of selective plane illumination microscopy data. Nat. Methods 7, 418–419 (2010).

Dodt, H.U. et al. Ultramicroscopy: three-dimensional visualization of neuronal networks in the whole mouse brain. Nat. Methods 4, 331–336 (2007).

Huisken, J. & Stainier, D.Y. Even fluorescence excitation by multidirectional selective plane illumination microscopy (mSPIM). Opt. Lett. 32, 2608–2610 (2007).

Xiong, G., Feng, C. & Ji, L. Dynamical Gaussian mixture model for tracking elliptical living objects. Pattern Recognit. Lett. 27, 838–842 (2006).

Xu, C. & Prince, J. Snakes, shapes, and gradient vector flow. IEEE Trans. Image Process 7, 359–369 (1998).

Pearson, B.J. & Doe, C.Q. Specification of temporal identity in the developing nervous system. Annu. Rev. Cell Dev. Biol. 20, 619–647 (2004).

Sánchez-Soriano, N., Tear, G., Whitington, P. & Prokop, A. Drosophila as a genetic and cellular model for studies on axonal growth. Neural Dev. 2, 9 (2007).

Silies, M., Yuva-Aydemir, Y., Franzdottir, S.R. & Klambt, C. The eye imaginal disc as a model to study the coordination of neuronal and glial development. Fly 4, 71–79 (2010).

Yu, H.H. et al. A complete developmental sequence of a Drosophila neuronal lineage as revealed by twin-spot MARCM. PLoS Biol. 8, e1000461 (2010).

Williams, D.W. & Truman, J.W. Mechanisms of dendritic elaboration of sensory neurons in Drosophila: insights from in vivo time lapse. J. Neurosci. 24, 1541–1550 (2004).

Murray, M.J., Merritt, D.J., Brand, A.H. & Whitington, P.M. In vivo dynamics of axon pathfinding in the Drosophilia CNS: a time-lapse study of an identified motorneuron. J. Neurobiol. 37, 607–621 (1998).

Hiromi, Y., Kuroiwa, A. & Gehring, W.J. Control elements of the Drosophila segmentation gene fushi tarazu. Cell 43, 603–613 (1985).

Pfeiffer, B.D., Truman, J.W. & Rubin, G.M. Using translational enhancers to increase transgene expression in Drosophila. Proc. Natl. Acad. Sci. USA 109, 6626–6631 (2012).

Arrenberg, A.B., Stainier, D.Y., Baier, H. & Huisken, J. Optogenetic control of cardiac function. Science 330, 971–974 (2010).

Peng, H., Ruan, Z.C., Long, F.H., Simpson, J.H. & Myers, E.W. V3D enables real-time 3D visualization and quantitative analysis of large-scale biological image data sets. Nat. Biotechnol. 28, 348–353 (2010).

Abramoff, M.D., Magalhaes, P.J. & Ram, S.J. Image processing with ImageJ. Biophot. Internat. 11, 36–42 (2004).

Li, G. et al. 3D cell nuclei segmentation based on gradient flow tracking. BMC Cell Biol. 8, 40 (2007).

Otsu, N. A threshold selection method from gray-level histograms. IEEE Trans. Syst. Man. Cybern. 9, 62–66 (1979).

Gelas, A. et al. Variational level-set with Gaussian shape model for cell segmentation. in 2009 16th IEEE International Conference on Image Processing 1089–1092 (IEEE, 2009).

Bishop, C.M. Pattern Recognition and Machine Learning (Springer, 2007).

Dempster, A.P., Laird, N.M. & Rubin, D.B. Maximum likelihood from incomplete data via the EM algorithm. J. R. Stat. Soc. [Ser B] 39, 1–38 (1977).

Kumar, N., Satoor, S. & Buck, I. Fast parallel expectation maximization for Gaussian mixture models on GPUs using CUDA. in 2009 11th IEEE International Conference on High Performance Computing and Communications 103–109 (IEEE, 2009).

Nickolls, J., Buck, I., Garland, M. & Skadron, K. Scalable parallel programming with CUDA. Queue 6, 40–53 (2008).

Wilson, E.B. Probable inference, the law of succession, and statistical inference. J. Am. Stat. Assoc. 22, 209–212 (1927).
Acknowledgements
We thank M. Coleman (Coleman Technologies) for custom microscope operating software; the Janelia Farm Research Campus and European Molecular Biology Laboratory workshops for custom mechanical parts; K. Branson for helpful discussions and valuable comments on the manuscript; G. Myers for helpful discussions and for supporting F.A.; B. Coop and B. Biddle for helpful advice on instrumentation; A. Denisin for testing SiMView live-imaging assays of the Drosophila central nervous system; J. Truman, D. Mellert, J. Simpson, M. Zlatic, T. Lee, B. Lemon, E. Betzig, N. Ji, T. Planchon and L. Gao for helpful discussions; and J. Simpson, B. Pfeiffer and G. Rubin (Janelia Farm Research Campus) for transgenic Drosophila stocks. This work was supported by the Howard Hughes Medical Institute.
Ethics declarations
Competing interests
The authors declare no competing financial interests.
Supplementary information
About this article
Cite this article
Tomer, R., Khairy, K., Amat, F. et al. Quantitative high-speed imaging of entire developing embryos with simultaneous multiview light-sheet microscopy. Nat Methods 9, 755–763 (2012). https://doi.org/10.1038/nmeth.2062
Received:

Accepted:

Published:

Issue Date:

DOI: https://doi.org/10.1038/nmeth.2062