Abstract
BioImageXD puts open-source computer science tools for three-dimensional visualization and analysis into the hands of all researchers, through a user-friendly graphical interface tuned to the needs of biologists. BioImageXD has no restrictive licenses or undisclosed algorithms and enables publication of precise, reproducible and modifiable workflows. It allows simple construction of processing pipelines and should enable biologists to perform challenging analyses of complex processes. We demonstrate its performance in a study of integrin clustering in response to selected inhibitors.
Relevant articles
Open Access articles citing this article.
Zhao Wang

,

Jan Lauko

…

Alan E. Rowan

Nature Communications Open Access 23 February 2023

Alexia Akalestou-Clocher

,

Vivian Kalamara

…

George A. Garinis

BMC Bioinformatics Open Access 21 October 2022

Jorgelina M. Calandria

,

Khanh V. Do

…

Nicolas G. Bazan

Cellular and Molecular Neurobiology Open Access 27 May 2022
Access options
Subscribe to this journal
Receive 12 print issues and online access
$259.00 per year
only $21.58 per issue
Rent or buy this article
Prices vary by article type
from$1.95
to$39.95
Prices may be subject to local taxes which are calculated during checkout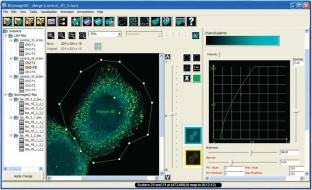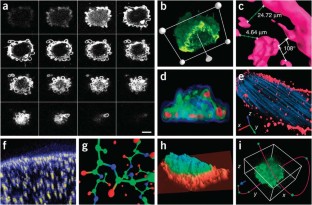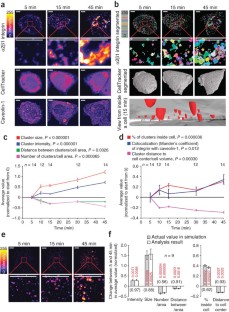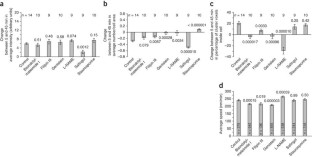 References
Walter, T. et al. Visualization of image data from cells to organisms. Nat. Methods 7, S26–S41 (2010).

Wilt, B.A. et al. Advances in light microscopy for neuroscience. Annu. Rev. Neurosci. 32, 435–506 (2009).

Peng, H. Bioimage informatics: a new area of engineering biology. Bioinformatics 24, 1827–1836 (2008).

Rueden, C.T. & Eliceiri, K.W. Visualization approaches for multidimensional biological image data. Biotechniques 43, 31–36 (2007).

Rossner, M. & Yamada, K.M. What's in a picture? The temptation of image manipulation. J. Cell Biol. 166, 11–15 (2004).

Anonymous. Microscopic marvels. Nature 459, 615 (2009).

Bolte, S. & Cordelières, F.P. A guided tour into subcellular colocalization analysis in light microscopy. J. Microsc. 224, 213–232 (2006).

French, A.P., Mills, S., Swarup, R., Bennett, M.J. & Pridmore, T.P. Colocalization of fluorescent markers in confocal microscope images of plant cells. Nat. Protoc. 3, 619–628 (2008).

Costes, S.V. et al. Automatic and quantitative measurement of protein-protein colocalization in live cells. Biophys. J. 86, 3993–4003 (2004).

van Steensel, B. et al. Partial colocalization of glucocorticoid and mineralocorticoid receptors in discrete compartments in nuclei of rat hippocampus neurons. J. Cell Sci. 109, 787–792 (1996).

Fay, F.S., Taneja, K.L., Shenoy, S., Lifshitz, L. & Singer, R.H. Quantitative digital analysis of diffuse and concentrated nuclear distributions of nascent transcripts, SC35 and poly(A). Exp. Cell Res. 231, 27–37 (1997).

O'Donoghue, S.I. et al. Visualizing biological data now and in the future. Nat. Methods 7, S2–S4 (2010).

Pepperkok, R. & Ellenberg, J. High-throughput fluorescence microscopy for systems biology. Nat. Rev. Mol. Cell Biol. 7, 690–696 (2006).

Neumann, B. et al. Phenotypic profiling of the human genome by time-lapse microscopy reveals cell division genes. Nature 464, 721–727 (2010).

Jaensch, S., Decker, M., Hyman, A.A. & Myers, E.W. Automated tracking and analysis of centrosomes in early Caenorhabditis elegans embryos. Bioinformatics 26, i13–i20 (2010).

Walsh, E.G. et al. High content analysis to determine cytotoxicity of the antimicrobial peptide, melittin and selected structural analogs. Peptides 32, 1764–1773 (2011).

Eliceiri, K.W. & Rueden, C. Tools for visualizing multidimensional images from living specimens. Photochem. Photobiol. 81, 1116–1122 (2005).

Schroeder, W., Martin, K. & Lorensen, B. The Visualization Toolkit. An object-oriented approach to 3D graphics (Kitware, Inc., 2006).

Yoo, T.S. et al. Engineering and algorithm design for an image processing API: a technical report on ITK—The Insight Toolkit. Proc. of Medicine Meets Virtual Reality. (ed. Westwood, J.) 586–592 (2002).

Linkert, M. et al. Metadata matters: access to image data in the real world. J. Cell Biol. 189, 777–782 (2010).

Joshi, A. et al. Unified framework for development, deployment and robust testing of neuroimaging algorithms. Neuroinformatics 9, 69–84 (2011).

Peng, H., Ruan, Z., Long, F., Simpson, J.K. & Myers, E.W. V3D enables real-time 3D visualization and quantitative analysis of large-scale biological image data sets. Nat. Biotechnol. 28, 348–353 (2010).

Rueden, C., Eliceiri, K.W. & White, J.G. VisBio: a computational tool for visualization of multidimensional biological image data. Traffic 5, 411–417 (2004).

Hynes, R.O. The extracellular matrix: not just pretty fibrils. Science 326, 1216–1219 (2009).

Kawaguchi, S., Bergelson, J.M., Finberg, R.W. & Hemler, M.E. Integrin alpha 2 cytoplasmic domain deletion effects: loss of adhesive activity parallels ligand-independent recruitment into focal adhesions. Mol. Biol. Cell 5, 977–988 (1994).

Meshel, A.S., Wei, Q., Adelstein, R.S. & Sheetz, M.P. Basic mechanism of three-dimensional collagen fibre transport by fibroblasts. Nat. Cell Biol. 7, 157–164 (2005).

Upla, P. et al. Clustering induces a lateral redistribution of alpha 2 beta 1 integrin from membrane rafts to caveolae and subsequent protein kinase C-dependent internalization. Mol. Biol. Cell 15, 625–636 (2004).

Karjalainen, M. et al. A Raft-derived, Pak1-regulated entry participates in alpha2beta1 integrin-dependent sorting to caveosomes. Mol. Biol. Cell 19, 2857–2869 (2008).

Cromey, D.W. Avoiding twisted pixels: ethical guidelines for the appropriate use and manipulation of scientific digital images. Sci. Eng. Ethics 16, 639–667 (2010).

Pearson, H. The good, the bad and the ugly. Nature 447, 138–140 (2007).

Gordon, A. et al. Single-cell quantification of molecules and rates using open-source microscope-based cytometry. Nat. Methods 4, 175–181 (2007).

Goldberg, I.G. et al. The Open Microscopy Environment (OME) data model and XML file: open tools for informatics and quantitative analysis in biological imaging. Genome Biol. 6, R47 (2005).

Tchantchaleishvili, V. & Schmitto, J.D. Preparing a scientific manuscript in Linux: Today's possibilities and limitations. BMC Res. Notes 4, 434 (2011).

de Chaumont, F. et al. Icy: an open bioimage informatics platform for extended reproducible research. Nat. Methods 9, 690–696 (2011).

Lamprecht, M.R., Sabatini, D.M. & Carpenter, A.E. CellProfiler: free, versatile software for automated biological image analysis. Biotechniques 42, 71–75 (2007).

Schindelin, J. et al. Fiji: an open-source platform for biological-image analysis. Nat. Methods 9, 676–682 (2012).

Nymalm, Y. et al. Jararhagin-derived RKKH peptides induce structural changes in alpha1I domain of human integrin alpha1beta1. J. Biol. Chem. 279, 7962–7970 (2004).
Acknowledgements
We acknowledge all our former programmers, scientists and collaborators for their contributions to the development of BioImageXD. This research was funded by the Academy of Finland (projects 127168 and 114727), the FinNano nanoscience research programme, the Finnish Funding Agency for Technology and Innovation, the Sigrid Juselius Foundation, the National Doctoral Programme in Informational and Structural Biology (ISB), and the European Union 7th framework program (MetaFight). We thank the staff and users of the core imaging facilities who provided feedback and test data: Turku BioImaging and the Cell Imaging Core of the Turku Centre for Biotechnology (University of Turku and Åbo Akademi University), Jyväskylä Imaging Facility (University of Jyväskylä), Light Microscopy Facility of the Max Planck Institute of Molecular Cell Biology and Genetics, Dresden, and BioTec Zentrum, and Medical Theoretical Centre (Technical University of Dresden).
Ethics declarations
Competing interests
The authors declare no competing financial interests.
Supplementary information
About this article
Cite this article
Kankaanpää, P., Paavolainen, L., Tiitta, S. et al. BioImageXD: an open, general-purpose and high-throughput image-processing platform. Nat Methods 9, 683–689 (2012). https://doi.org/10.1038/nmeth.2047
Published:

Issue Date:

DOI: https://doi.org/10.1038/nmeth.2047