Abstract
We introduce a nonintrusive method exploiting single-cell variability after cell division to validate protein localization. We found that Clp proteases, widely reported to form biologically relevant foci, were uniformly distributed in Escherichia coli cells, and that many commonly used fluorescent proteins caused severe mislocalization when fused to homo-oligomers. Retagging five other reportedly foci-forming proteins with the most monomeric fluorescent protein tested suggests that the foci were caused by the fluorescent tags.
Access options
Subscribe to Journal
Get full journal access for 1 year
$259.00
only $21.58 per issue
All prices are NET prices.
VAT will be added later in the checkout.
Rent or Buy article
Get time limited or full article access on ReadCube.
from$8.99
All prices are NET prices.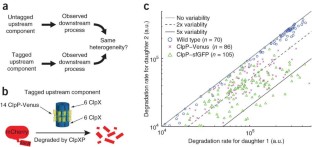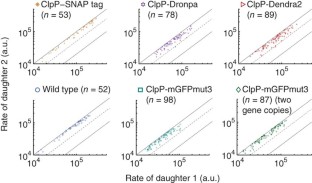 References
1

Rudner, D.Z. & Losick, R. Cold Spring Harb. Perspect. Biol. 2, a000307 (2010).

2

Shapiro, L., McAdams, H.H. & Losick, R. Science 326, 1225–1228 (2009).

3

Kitagawa, M. et al. DNA Res. 12, 291–299 (2005).

4

Taniguchi, Y. et al. Science 329, 533–538 (2010).

5

Werner, J.N. et al. Proc. Natl. Acad. Sci. USA 106, 7858–7863 (2009).

6

Kain, J., He, G.G. & Losick, R. J. Bacteriol. 190, 6749–6757 (2008).

7

Kirstein, J. et al. EMBO Mol. Med. 1, 37–49 (2009).

8

Simmons, L.A., Grossman, A.D. & Walker, G.C. J. Bacteriol. 190, 6758–6768 (2008).

9

Kirstein, J., Strahl, H., Moliere, N., Hamoen, L.W. & Turgay, K. Mol. Microbiol. 70, 682–694 (2008).

10

Dziedzic, R. et al. PLoS ONE 5, e11058 (2010).

11

McGrath, P.T., Iniesta, A.A., Ryan, K.R., Shapiro, L. & McAdams, H.H. Cell 124, 535–547 (2006).

12

Kirstein, J., Moliere, N., Dougan, D.A. & Turgay, K. Nat. Rev. Microbiol. 7, 589–599 (2009).

13

Farrell, C.M., Grossman, A.D. & Sauer, R.T. Mol. Microbiol. 57, 1750–1761 (2005).

14

Zacharias, D.A., Violin, J.D., Newton, A.C. & Tsien, R.Y. Science 296, 913–916 (2002).

15

Rosenfeld, N., Young, J.W., Alon, U., Swain, P.S. & Elowitz, M.B. Science 307, 1962–1965 (2005).

16

Levchenko, I., Seidel, M., Sauer, R.T. & Baker, T.A. Science 289, 2354–2356 (2000).

17

Juillerat, A. et al. Chem. Biol. 10, 313–317 (2003).

18

Klein, T. et al. Nat. Methods 8, 7–9 (2011).

19

Tokunaga, M., Imamoto, N. & Sakata-Sogawa, K. Nat. Methods 5, 159–161 (2008).
Acknowledgements
We thank D. Rudner, T. Mitchison and M. El Karoui for valuable comments on the manuscript, E. Toprak for help with instrumentation, M. Elowitz (Caltech) for image analysis tools, P. Malkus (Harvard Medical School) for pPM1, pPM14, pPM16 and pPM88, N. Lord for assistance with Tn7 integration, A. Hilfinger and D. Huh for discussions, members of the Harvard Medical School Nikon Imaging Center, and the developers of Micro-manager. This work was supported by US National Institutes of Health grants GM081563 and GM095784.
Ethics declarations
Competing interests
The authors declare no competing financial interests.
Supplementary information
About this article
Cite this article
Landgraf, D., Okumus, B., Chien, P. et al. Segregation of molecules at cell division reveals native protein localization. Nat Methods 9, 480–482 (2012). https://doi.org/10.1038/nmeth.1955
Received:

Accepted:

Published:

Issue Date: