Abstract
Data-intensive research depends on tools that manage multidimensional, heterogeneous datasets. We built OME Remote Objects (OMERO), a software platform that enables access to and use of a wide range of biological data. OMERO uses a server-based middleware application to provide a unified interface for images, matrices and tables. OMERO's design and flexibility have enabled its use for light-microscopy, high-content-screening, electron-microscopy and even non-image-genotype data. OMERO is open-source software, available at http://openmicroscopy.org/.
Access options
Subscribe to Journal
Get full journal access for 1 year
$59.00
only $4.92 per issue
All prices are NET prices.
VAT will be added later in the checkout.
Tax calculation will be finalised during checkout.
Rent or Buy article
Get time limited or full article access on ReadCube.
from$8.99
All prices are NET prices.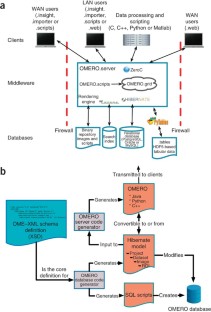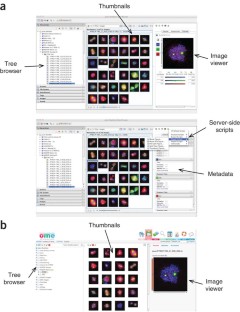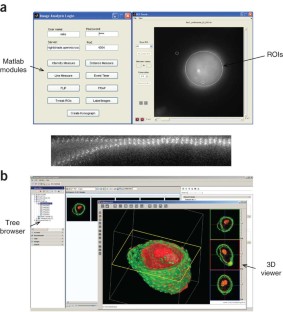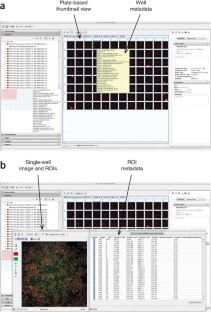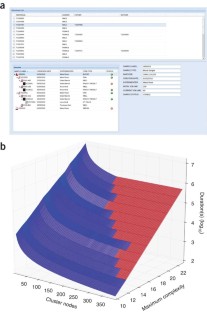 References
1

Linkert, M. et al. Metadata matters: access to image data in the real world. J. Cell Biol. 189, 777–782 (2010).

2

Swedlow, J.R. & Eliceiri, K.W. Open source bioimage informatics for cell biology. Trends Cell Biol. 19, 656–660 (2009).

3

Goldberg, I.G. et al. The open microscopy environment (OME) data model and XML file: open tools for informatics and quantitative analysis in biological imaging. Genome Biol. 6, R47 (2005).

4

Swedlow, J.R., Goldberg, I.G. & Eliceiri, K.W. Bioimage informatics for experimental biology. Annu. Rev. Biophys. 38, 327–346 (2009).

5

Dougherty, M.T. et al. Unifying biological image formats with HDF5. Commun. ACM 52, 42–47 (2009).

6

Gray, J. et al. Scientific Data Management in the Coming Decade (Microsoft Research, Inc., 2005).

7

Carpenter, A. et al. CellProfiler: image analysis software for identifying and quantifying cell phenotypes. Genome Biol. 7, R100 (2006).

8

Lee, K. et al. Visualizing plant development and gene expression in three dimensions using optical projection tomography. Plant Cell 18, 2145–2156 (2006).

9

Smith, B. et al. The OBO foundry: coordinated evolution of ontologies to support biomedical data integration. Nat. Biotechnol. 25, 1251–1255 (2007).

10

Kvilekval, K., Fedorov, D., Obara, B., Singh, A. & Manjunath, B.S. Bisque: a platform for bioimage analysis and management. Bioinformatics 26, 544–552 (2010).

11

Swedlow, J.R., Goldberg, I., Brauner, E. & Sorger, P.K. Informatics and quantitative analysis in biological imaging. Science 300, 100–102 (2003).

12

Sanna, S. et al. Variants within the immunoregulatory CBLB gene are associated with multiple sclerosis. Nat. Genet. 42, 495–497 (2010).

13

Browning, S.R. Missing data imputation and haplotype phase inference for genome-wide association studies. Hum. Genet. 124, 439–450 (2008).

14

Li, Y., Willer, C., Sanna, S. & Abecasis, G. Genotype imputation. Annu. Rev. Genomics Hum. Genet. 10, 387–406 (2009).

15

Hill, E. Announcing the JCB DataViewer, a browser-based application for viewing original image files. J. Cell Biol. 183, 969–970 (2008).

16

Lawson, C.L. et al. EMDataBank.org: unified data resource for CryoEM. Nucleic Acids Res. 39, D456–D464 (2011).

17

Abramoff, M.D., Magalhaes, P.J. & Ram, S.J. Image processing with ImageJ. Biophotonics International 11, 36–42 (2004).

18

Yoo, T.S. et al. Engineering and algorithm design for an image processing API: a technical report on ITK—the insight toolkit. in Proceedings of Medicine Meets Virtual Reality (ed., J. Westwood) 586–592 (IOS Press, Amsterdam, 2002).

19

Rosset, A., Spadola, L., Ratib, O. & Osiri, X. An open-source software for navigating in multidimensional DICOM images. J. Digit. Imaging 17, 205–216 (2004).

20

Conrad, C. et al. Micropilot: automation of fluorescence microscopy-based imaging for systems biology. Nat. Methods 8, 246–249 (2011).
Acknowledgements
We thank E. Hill for helpful comments on the manuscript. Work on OME, Bio-Formats and OMERO in J.R.S.'s laboratory is supported by the Wellcome Trust (085982 and 095931) and the Biotechnology and Biological Sciences Research Council (BBSRC) (BB/G022585 and BB/I000755). Work on OMERO Electron Microscopy Data Bank at the European Bioinformatics Institute is supported by the BBSRC (BB/G022577). Work on OMERO at the John Innes Center, Norwich is supported by Joint Information Systems Committee (REXDAT03).
Ethics declarations
Competing interests
C.A., J.-M.B., J.M., C.N., M.L. and J.R.S. are affiliated with Glencoe Software, Inc., an open-source US-based commercial company that contributes to OMERO.
Supplementary information
About this article
Cite this article
Allan, C., Burel, JM., Moore, J. et al. OMERO: flexible, model-driven data management for experimental biology. Nat Methods 9, 245–253 (2012). https://doi.org/10.1038/nmeth.1896