Abstract
Small animals such as nematodes and insects analyze airborne chemical cues to infer the direction of favorable and noxious locations. In these animals, the study of navigational behavior evoked by airborne cues has been limited by the difficulty of precisely controlling stimuli. We present a system that can be used to deliver gaseous stimuli in defined spatial and temporal patterns to freely moving small animals. We used this apparatus, in combination with machine-vision algorithms, to assess and quantify navigational decision making of Drosophila melanogaster larvae in response to ethyl acetate (a volatile attractant) and carbon dioxide (a gaseous repellant).
Relevant articles
Open Access articles citing this article.
Seth R. Odell

,

Nicholas Zito

…

Dennis Mathew

Scientific Reports Open Access 10 February 2023

Theresa J. Steele

,

Aaron J. Lanz

&

Katherine I. Nagel

Journal of Comparative Physiology A Open Access 20 January 2023

Seth R. Odell

,

David Clark

…

Dennis Mathew

Scientific Reports Open Access 21 September 2022
Access options
Subscribe to this journal
Receive 12 print issues and online access
$209.00 per year
only $17.42 per issue
Rent or buy this article
Get just this article for as long as you need it
$39.95
Prices may be subject to local taxes which are calculated during checkout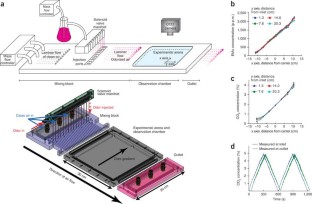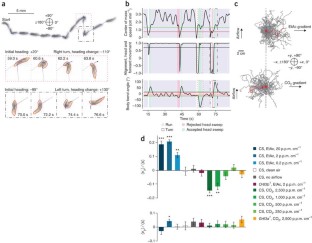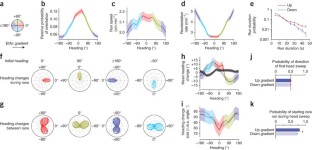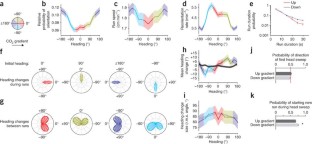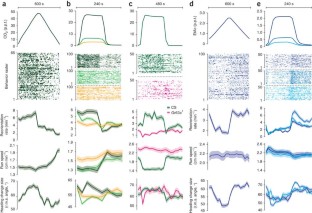 References
Brody, C.D. & Hopfield, J.J. Simple networks for spike-timing-based computation, with application to olfactory processing. Neuron 37, 843–852 (2003).

Cleland, T.A. & Linster, C. Computation in the olfactory system. Chem. Senses 30, 801–813 (2005).

Hopfield, J.J. Olfactory computation and object perception. Proc. Natl. Acad. Sci. USA 88, 6462–6466 (1991).

Chalasani, S.H. et al. Dissecting a circuit for olfactory behaviour in Caenorhabditis elegans. Nature 450, 63–70 (2007).

Masse, N.Y., Turner, G.C. & Jefferis, G.S. Olfactory information processing in Drosophila. Curr. Biol. 19, R700–R713 (2009).

Bargmann, C.I., Hartwieg, E. & Horvitz, H.R. Odorant-selective genes and neurons mediate olfaction in C. elegans. Cell 74, 515–527 (1993).

Kreher, S.A., Mathew, D., Kim, J. & Carlson, J.R. Translation of sensory input into behavioral output via an olfactory system. Neuron 59, 110–124 (2008).

Louis, M., Huber, T., Benton, R., Sakmar, T.P. & Vosshall, L.B. Bilateral olfactory sensory input enhances chemotaxis behavior. Nat. Neurosci. 11, 187–199 (2008).

Gomez-Marin, A., Stephens, G.J. & Louis, M. Active sampling and decision making in Drosophila chemotaxis. Nat. Commun. 2, 441 (2011).

Chronis, N., Zimmer, M. & Bargmann, C.I. Microfluidics for in vivo imaging of neuronal and behavioral activity in Caenorhabditis elegans. Nat. Methods 4, 727–731 (2007).

Lockery, S.R. et al. Artificial dirt: microfluidic substrates for nematode neurobiology and behavior. J. Neurophysiol. 99, 3136–3143 (2008).

Albrecht, D.R. & Bargmann, C.I. High-content behavioral analysis of Caenorhabditis elegans in precise spatiotemporal chemical environments. Nat. Methods 8, 599–605 (2011).

Jones, W.D., Cayirlioglu, P., Kadow, I.G. & Vosshall, L.B. Two chemosensory receptors together mediate carbon dioxide detection in Drosophila. Nature 445, 86–90 (2007).

Cayirlioglu, P. et al. Hybrid neurons in a microRNA mutant are putative evolutionary intermediates in insect CO2 sensory systems. Science 319, 1256–1260 (2008).

Luo, L. et al. Navigational decision making in Drosophila thermotaxis. J. Neurosci. 30, 4261–4272 (2010).

Larsson, M.C. et al. Or83b encodes a broadly expressed odorant receptor essential for Drosophila olfaction. Neuron 43, 703–714 (2004).

Vosshall, L.B. & Hansson, B.S. A unified nomenclature system for the insect olfactory coreceptor. Chem. Senses 36, 497–498. (2011).

Faucher, C., Forstreuter, M., Hilker, M. & de Bruyne, M. Behavioral responses of Drosophila to biogenic levels of carbon dioxide depend on life-stage, sex and olfactory context. J. Exp. Biol. 209, 2739–2748 (2006).

Kwon, J.Y., Dahanukar, A., Weiss, L.A. & Carlson, J.R. The molecular basis of CO2 reception in Drosophila. Proc. Natl. Acad. Sci. USA 104, 3574–3578 (2007).

Berg, H.C. & Brown, D.A. Chemotaxis in Escherichia coli analysed by three-dimensional tracking. Nature 239, 500–504 (1972).

Vosshall, L.B. & Stocker, R.F. Molecular architecture of smell and taste in Drosophila. Annu. Rev. Neurosci. 30, 505–533 (2007).

Baek, J.H., Cosman, P., Feng, Z., Silver, J. & Schafer, W.R. Using machine vision to analyze and classify Caenorhabditis elegans behavioral phenotypes quantitatively. J. Neurosci. Methods 118, 9–21 (2002).

Cronin, C.J., Feng, Z. & Schafer, W.R. Automated imaging of C. elegans behavior. Methods Mol. Biol. 351, 241–251 (2006).

Swierczek, N.A., Giles, A.C., Rankin, C.H. & Kerr, R.A. High-throughput behavioral analysis in C. elegans. Nat. Methods 8, 592–598 (2011).

Ramot, D., Johnson, B.E., Berry, T.L.J., Carnell, L. & Goodman, M.B. The Parallel Worm Tracker: a platform for measuring average speed and drug-induced paralysis in nematodes. PLoS ONE 3, e2208 (2008).
Acknowledgements
We thank E. Soucy and J. Greenwood for engineering advice and suggestions. This work was supported by a US National Institutes of Health (NIH) Pioneer award to A.D.T.S., NIH grants to J.R.C. and an NIH National Research Service award to E.A.K.
Ethics declarations
Competing interests
The authors declare no competing financial interests.
Supplementary information
About this article
Cite this article
Gershow, M., Berck, M., Mathew, D. et al. Controlling airborne cues to study small animal navigation. Nat Methods 9, 290–296 (2012). https://doi.org/10.1038/nmeth.1853
Received:

Accepted:

Published:

Issue Date:

DOI: https://doi.org/10.1038/nmeth.1853