Abstract
We present a single-molecule instrument that combines a time-shared ultrahigh-resolution dual optical trap interlaced with a confocal fluorescence microscope. In a demonstration experiment, we observed individual single fluorophore–labeled DNA oligonucleotides to bind and unbind complementary DNA suspended between two trapped beads. Simultaneous with the single-fluorophore detection, we clearly observed coincident angstrom-scale changes in tether extension. Fluorescence readout allowed us to determine the duplex melting rate as a function of force. The new instrument will enable the simultaneous measurement of angstrom-scale mechanical motion of individual DNA-binding proteins (for example, single-base-pair stepping of DNA translocases) along with the detection of properties of fluorescently labeled protein (for example, internal configuration).
Relevant articles
Open Access articles citing this article.
Zhiyuan Ruan

,

Shuni Li

…

Ting Xu

Nature Open Access 08 March 2023

Jayan Rammohan

,

Steven P. Lund

…

David Ross

Communications Biology Open Access 02 June 2021

Mario J. Avellaneda

,

Eline J. Koers

…

Sander J. Tans

Communications Chemistry Open Access 12 February 2020
Access options
Subscribe to this journal
Receive 12 print issues and online access
$259.00 per year
only $21.58 per issue
Rent or buy this article
Prices vary by article type
from$1.95
to$39.95
Prices may be subject to local taxes which are calculated during checkout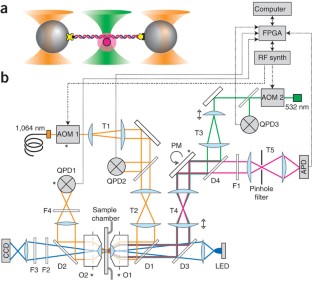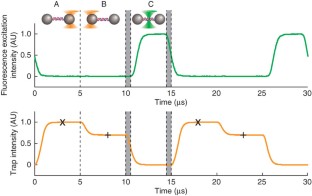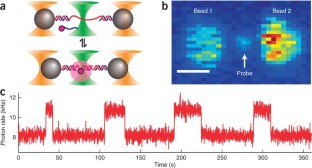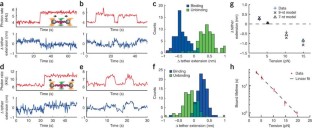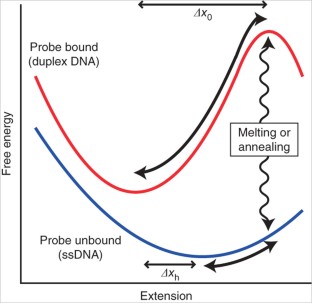 References
Bustamante, C., Bryant, Z. & Smith, S.B. Ten years of tension: single-molecule DNA mechanics. Nature 421, 423–427 (2003).

Peterman, E.J., Sosa, H. & Moerner, W.E. Single-molecule fluorescence spectroscopy and microscopy of biomolecular motors. Annu. Rev. Phys. Chem. 55, 79–96 (2004).

Myong, S., Stevens, B.C. & Ha, T. Bridging conformational dynamics and function using single-molecule spectroscopy. Structure 14, 633–643 (2006).

Greenleaf, W.J., Woodside, M.T. & Block, S.M. High-resolution, single-molecule measurements of biomolecular motion. Annu. Rev. Biophys. Biomol. Struct. 36, 171–190 (2007).

Moerner, W.E. New directions in single-molecule imaging and analysis. Proc. Natl. Acad. Sci. USA 104, 12596–12602 (2007).

Leake, M.C. et al. Stoichiometry and turnover in single, functioning membrane protein complexes. Nature 443, 355–358 (2006).

Ulbrich, M.H. & Isacoff, E.Y. Subunit counting in membrane-bound proteins. Nat. Methods 4, 319–321 (2007).

Yildiz, A. et al. Myosin v walks hand-over-hand: Single fluorophore imaging with 1.5-nm localization. Science 300, 2061–2065 (2003).

Ha, T. et al. Probing the interaction between two single molecules: fluorescence resonance energy transfer between a single donor and a single acceptor. Proc. Natl. Acad. Sci. USA 93, 6264–6268 (1996).

Roy, R., Hohng, S. & Ha, T. A practical guide to single-molecule fret. Nat. Methods 5, 507–516 (2008).

Myong, S., Rasnik, I., Joo, C., Lohman, T.M. & Ha, T. Repetitive shuttling of a motor protein on DNA. Nature 437, 1321–1325 (2005).

Abbondanzieri, E.A., Greenleaf, W.J., Shaevitz, J.W., Landick, R. & Block, S.M. Direct observation of base-pair stepping by RNA polymerase. Nature 438, 460–465 (2005).

Moffitt, J.R., Chemla, Y.R., Izhaky, D. & Bustamante, C. Differential detection of dual traps improves the spatial resolution of optical tweezers. Proc. Natl. Acad. Sci. USA 103, 9006–9011 (2006).

Carter, A.R., Seol, Y. & Perkins, T.T. Precision surface-coupled optical-trapping assay with one-basepair resolution. Biophys. J. 96, 2926–2934 (2009).

Chemla, Y.R. Revealing the base pair stepping dynamics of nucleic acid motor proteins with optical traps. Phys. Chem. Chem. Phys. 12, 3080–3095 (2010).

Shaevitz, J.W., Abbondanzieri, E.A., Landick, R. & Block, S.M. Backtracking by single rna polymerase molecules observed at near-base-pair resolution. Nature 426, 684–687 (2003).

Wen, J.-D. Following translation by single ribosomes one codon at a time. Nature 452, 598–603 (2008).

Moffitt, J.R. et al. Intersubunit coordination in a homomeric ring atpase. Nature 457, 446–450 (2009).

Perkins, T.T., Quake, S.R., Smith, D.E. & Chu, S. Relaxation of a single DNA molecule observed by optical microscopy. Science 264, 822–826 (1994).

Ishijima, A. et al. Simultaneous observation of individual atpase and mechanical events by a single myosin molecule during interaction with actin. Cell 92, 161–171 (1998).

Hohng, S. et al. Fluorescence-force spectroscopy maps two-dimensional reaction landscape of the holliday junction. Science 318, 279–283 (2007).

Lang, M.J., Fordyce, P.M., Engh, A.M., Neuman, K.C. & Block, S.M. Simultaneous, coincident optical trapping and single-molecule fluorescence. Nat. Methods 1, 133–139 (2004).

van Mameren, J. et al. Counting rad51 proteins disassembling from nucleoprotein filaments under tension. Nature 457, 745–748 (2009).

Tarsa, P.B. et al. Detecting force-induced molecular transitions with fluorescence resonant energy transfer. Angew. Chem. 46, 1999–2001 (2007).

van Dijk, M.A., Kapitein, L.C., Mameren, J., Schmidt, C.F. & Peterman, E.J. Combining optical trapping and single-molecule fluorescence spectroscopy: Enhanced photobleaching of fluorophores. J. Phys. Chem. B 108, 6479–6484 (2004).

Brau, R.R., Tarsa, P.B., Ferrer, J.M., Lee, P. & Lang, M.J. Interlaced optical force-fluorescence measurements for single molecule biophysics. Biophys. J. 91, 1069–1077 (2006).

Bustamante, C., Chemla, Y.R. & Moffitt,, J.R. High resolution dual trap optical tweezers with differential detection. in Single-Molecule Techniques: A Laboratory Manual (eds., Selvin, P. & Ha, T.J.) 297–324 (Cold Spring Harbor Laboratory Press, 2007).

Neuman, K.C. & Block, S.M. Optical trapping. Rev. Sci. Instrum. 75, 2787–2809 (2004).

Visscher, K., Brakenhoff, G.J. & Krol, J.J. Micromanipulation by multiple optical traps created by a single fast scanning trap integrated with the bilateral confocal scanning laser microscope. Cytometry 14, 105–114 (1993).

Bustamante, C., Chemla, Y.R., Forde, N.R. & Izhaky, D. Mechanical processes in biochemistry. Annu. Rev. Biochem. 73, 705–748 (2004).

Berg-Sorensen, K. & Flyvbjerg, H. Power spectrum analysis for optical tweezers. Rev. Sci. Instrum. 75, 594–612 (2004).

Landry, M.P., McCall, P.M., Qi, Z. & Chemla, Y.R. Characterization of photoactivated singlet oxygen damage in single-molecule optical trap experiments. Biophys. J. 97, 2128–2136 (2009).

Ha, T. Single-molecule fluorescence resonance energy transfer. Methods 25, 78–86 (2001).

Rasnik, I., McKinney, S.A. & Ha, T. Nonblinking and long-lasting single-molecule fluorescence imaging. Nat. Methods 3, 891–893 (2006).

Smith, S.B., Cui, Y. & Bustamante, C. Overstretching B-DNA: the elastic response of individual double-stranded and single-stranded DNA molecules. Science 271, 795–799 (1996).

Baumann, C.G., Smith, S.B., Bloomfield, V.A. & Bustamante, C. Ionic effects on the elasticity of single DNA molecules. Proc. Natl. Acad. Sci. USA 94, 6185–6190 (1997).
Acknowledgements
We thank all members of the Chemla, Ha and DeMarco laboratories for advice. The work was supported by the US National Science Foundation (PHY-082261, Center for the Physics of Living Cells), the US National Institutes of Health (R21 RR025341 A) and the Howard Hughes Medical Institute. Y.R.C. is supported by Burroughs-Wellcome Fund Career Awards at the Scientific Interface.
Ethics declarations
Competing interests
The authors declare no competing financial interests.
Supplementary information
About this article
Cite this article
Comstock, M., Ha, T. & Chemla, Y. Ultrahigh-resolution optical trap with single-fluorophore sensitivity. Nat Methods 8, 335–340 (2011). https://doi.org/10.1038/nmeth.1574
Received:

Accepted:

Published:

Issue Date:

DOI: https://doi.org/10.1038/nmeth.1574