Abstract
Targeted genomic enrichment followed by next-generation DNA sequencing has dramatically increased efficiency of mutation-discovery efforts. We describe a protocol for genomic enrichment of pooled barcoded samples in a single assay that increases experimental flexibility and efficiency. We screened 770 genes (1.4 megabases) in thirty N-ethyl-N-nitrosourea (ENU)-mutagenized rats and identified known variants at >96% sensitivity as well as new mutations at a false positive rate < 1 in 8 megabases.
This is a preview of subscription content
Access options
Subscribe to Journal
Get full journal access for 1 year
$119.00
only $9.92 per issue
All prices are NET prices.
VAT will be added later in the checkout.
Tax calculation will be finalised during checkout.
Rent or Buy article
Get time limited or full article access on ReadCube.
from$8.99
All prices are NET prices.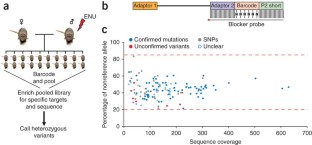 Accession codes
Accessions
Gene Expression Omnibus
References
1

Mamanova, L. et al. Nat. Methods 7, 111–118 (2010).

2

Henikoff, S., Till, B.J. & Comai, L. Plant Physiol. 135, 630–636 (2004).

3

Stemple, D.L. Nat. Rev. Genet. 5, 145–150 (2004).

4

van Boxtel, R. et al. Pharmacogenomics J. advance online publication, doi:10.1038/tpj.2010.44 (8 June 2010).

5

Moens, C.B., Donn, T.M., Wolf-Saxon, E.R. & Ma, T.P. Brief. Funct. Genomics Proteomics 7, 454–459 (2008).

6

Till, B.J., Burtner, C., Comai, L. & Henikoff, S. Nucleic Acids Res. 32, 2632–2641 (2004).

7

Mashimo, T. et al. Nat. Genet. 40, 514–515 (2008).

8

Gady, A.L. et al. Plant Methods 5, 13 (2009).

9

Cuppen, E. et al. Genome Res. 17, 649–658 (2007).

10

van Boxtel, R. et al. BMC Genomics 9, 460 (2008).

11

Mokry, M. et al. Nucleic Acids Res. 38, e116 (2010).

12

Hodges, E. et al. Nat. Protoc. 4, 960–974 (2009).

13

Okou, D.T. et al. Ann. Hum. Genet. 73, 502–513 (2009).

14

Hoischen, A. et al. Hum. Mutat. 31, 494–499 (2010).

15

Li, H., Ruan, J. & Durbin, R. Genome Res. 18, 1851–1858 (2008).
Acknowledgements
This work was supported by funds from the Cancer Genomics Centre, the award "Exploiting natural and induced genetic variation in the laboratory rat" to E.C. from the European Heads of Research Councils and European Science Foundation European Young Investigator Award scheme and the EU FP7 integrated project Euratrans.
Ethics declarations
Competing interests
The authors declare no competing financial interests.
Supplementary information
About this article
Cite this article
Nijman, I., Mokry, M., van Boxtel, R. et al. Mutation discovery by targeted genomic enrichment of multiplexed barcoded samples. Nat Methods 7, 913–915 (2010). https://doi.org/10.1038/nmeth.1516
Received:

Accepted:

Published:

Issue Date: