Abstract
We report ultrasensitive Ca2+ indicators, yellow cameleon-Nano (YC-Nano), developed by engineering the Ca2+-sensing domain of a genetically encoded Ca2+ indicator, YC2.60 or YC3.60. Their high Ca2+ affinities (Kd = 15–140 nM) and large signal change (1,450%) enabled detection of subtle Ca2+ transients associated with intercellular signaling dynamics and neuronal activity, even in 100,000-cell networks. These indicators will be useful for studying information processing in living multicellular networks.
Access options
Subscribe to Journal
Get full journal access for 1 year
$59.00
only $4.92 per issue
All prices are NET prices.
VAT will be added later in the checkout.
Tax calculation will be finalised during checkout.
Rent or Buy article
Get time limited or full article access on ReadCube.
from$8.99
All prices are NET prices.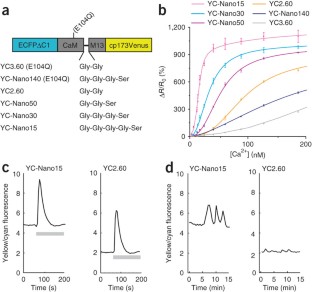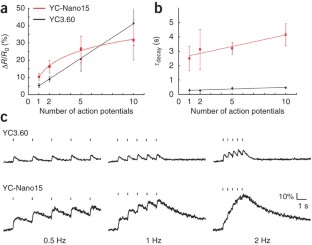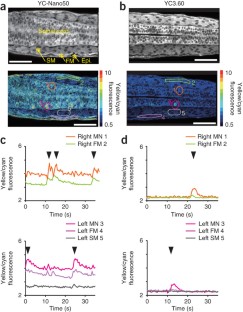 References
1

Paredes, R.M., Etzler, J.C., Watts, L.T., Zheng, W. & Lechleiter, J.D. Methods 46, 143–151 (2008).

2

Kotlikoff, M.I. J. Physiol. (Lond.) 578, 55–67 (2007).

3

Stosiek, C., Garaschuk, O., Holthoff, K. & Konnerth, A. Proc. Natl. Acad. Sci. USA 100, 7319–7324 (2003).

4

Wallace, D.J. et al. Nat. Methods 5, 797–804 (2008).

5

Mank, M. et al. Nat. Methods 5, 805–811 (2008).

6

Tian, L. et al. Nat. Methods 6, 875–881 (2009).

7

Abe, T., Maeda, Y. & Iijima, T. Differentiation 39, 90–96 (1988).

8

Zhang, W.H., Rengel, Z. & Kuo, J. Plant J. 15, 147–151 (1998).

9

Hendel, T. et al. J. Neurosci. 28, 7399–7411 (2008).

10

Yasuda, R. et al. Sci. STKE 2004, pl5 (2004).

11

Palmer, A.E. & Tsien, R.Y. Nat. Protoc. 1, 1057–1065 (2006).

12

Nagai, T., Yamada, S., Tominaga, T., Ichikawa, M. & Miyawaki, A. Proc. Natl. Acad. Sci. USA 101, 10554–10559 (2004).

13

Miyawaki, A. et al. Nature 388, 882–887 (1997).

14

Martin, S.R. et al. Biochemistry 35, 3508–3517 (1996).

15

Porumb, T., Yau, P., Harvey, T.S. & Ikura, M. Protein Eng. 7, 109–115 (1994).

16

Tsien, R.Y. & Pozzan, T. Methods Enzymol. 172, 230–262 (1989).

17

Bers, D.M. Am. J. Physiol. 242, C404–C408 (1982).

18

Matsu-ura, T. et al. J. Cell Biol. 173, 755–765 (2006).

19

Nagasaki, A., de Hostos, E.L. & Uyeda, T.Q.P. J. Cell Sci. 115, 2241–2251 (2001).

20

Mizuguchi, H. & Kay, M.A. Hum. Gene Ther. 9, 2577–2583 (1998).

21

Fukuda, H., Terashima, M., Koshikawa, M., Kanegae, Y. & Saito, I. Microbiol. Immunol. 50, 643–654 (2006).

22

Davie, J.T. et al. Nat. Protoc. 1, 1235–1247 (2006).

23

Westerfield, M. The zebrafish book. A guide for the laboratory use of zebrafish (Danio rerio). 4th edn. (Univ. of Oregon Press, Eugene, 2000).
Acknowledgements
We thank A. Nagasaki and Y. Kuramoto for instruction and assistance with the experiment using Dictyostelium cell, T. Kotani and S. Higashijima for assistance and instruction on fish embryo imaging, and T. Shimogori for instruction on in utero injection. This work was partly supported by a Grant-in-Aid for Young Scientists (A) of the Japan Society for the Promotion of Science and Scientific Research on Advanced Medical Technology of the Ministry of Labor, Health and Welfare of Japan to T.N. and a grant from Precursory Research for Embryonic Science and Technology of the Japan Science and Technology Agency to T.N. and K.H.
Ethics declarations
Competing interests
The authors declare no competing financial interests.
Supplementary information
About this article
Cite this article
Horikawa, K., Yamada, Y., Matsuda, T. et al. Spontaneous network activity visualized by ultrasensitive Ca2+ indicators, yellow Cameleon-Nano. Nat Methods 7, 729–732 (2010). https://doi.org/10.1038/nmeth.1488
Received:

Accepted:

Published:

Issue Date: