Abstract
We generated a system for in vivo visualization and analysis of mammalian mRNA transcriptional kinetics of single alleles in real time, using single-gene integrations. We obtained high-resolution transcription measurements of a single cyclin D1 allele under endogenous or viral promoter control, including quantification of temporal kinetics of transcriptional bursting, promoter firing, nascent mRNA numbers and transcription rates during the cell cycle, and in relation to DNA replication.
Your institute does not have access to this article
Relevant articles
Open Access articles citing this article.
Judith Montag

&

Theresia Kraft

Biophysical Reviews Open Access 13 July 2020

Theresia Kraft

&

Judith Montag

Pflügers Archiv - European Journal of Physiology Open Access 11 February 2019

Scientific Reports Open Access 18 May 2017
Access options
Subscribe to Journal
Get full journal access for 1 year
$119.00
only $9.92 per issue
All prices are NET prices.
VAT will be added later in the checkout.
Tax calculation will be finalised during checkout.
Buy article
Get time limited or full article access on ReadCube.
$32.00
All prices are NET prices.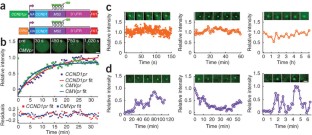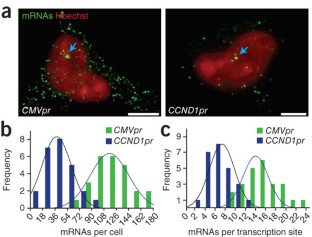 References
Hager, G.L., McNally, J.G. & Misteli, T. Mol. Cell 35, 741–753 (2009).

Darzacq, X., Singer, R.H. & Shav-Tal, Y. Curr. Opin. Cell Biol. 17, 332–339 (2005).

Chubb, J.R., Trcek, T., Shenoy, S.M. & Singer, R.H. Curr. Biol. 16, 1018–1025 (2006).

Golding, I., Paulsson, J., Zawilski, S.M. & Cox, E.C. Cell 123, 1025–1036 (2005).

Darzacq, X. et al. Nat. Struct. Mol. Biol. 14, 796–806 (2007).

Boireau, S. et al. J. Cell Biol. 179, 291–304 (2007).

Fusco, D. et al. Curr. Biol. 13, 161–167 (2003).

Shav-Tal, Y. et al. Science 304, 1797–1800 (2004).

Vargas, D.Y. et al. Proc. Natl. Acad. Sci. USA 102, 17008–17013 (2005).

Femino, A.M., Fay, F.S., Fogarty, K. & Singer, R.H. Science 280, 585–590 (1998).

Osheim, Y.N., Miller, O.L. Jr. & Beyer, A.L. Cell 43, 143–151 (1985).

Sporbert, A. et al. Mol. Cell 10, 1355–1365 (2002).

Azuara, V. et al. Nat. Cell Biol. 5, 668–674 (2003).

Mesner, L.D., Hamlin, J.L. & Dijkwel, P.A. Proc. Natl. Acad. Sci. USA 100, 3281–3286 (2003).

Guo, Y., Stacey, D.W. & Hitomi, M. Oncogene 21, 7545–7556 (2002).

Albanese, C. et al. J. Biol. Chem. 270, 23589–23597 (1995).

Chartrand, P., Bertrand, E., Singer, R.H. & Long, R.M. Methods Enzymol. 318, 493–506 (2000).

Bertrand, E. et al. Mol. Cell 2, 437–445 (1998).

Sprague, B.L., Pego, R.L., Stavreva, D.A. & McNally, J.G. Biophys. J. 86, 3473–3495 (2004).

Saxton, M.J. & Jacobson, K. Annu. Rev. Biophys. Biomol. Struct. 26, 373–399 (1997).

Bronstein, I. et al. Phys. Rev. Lett. 103, 018102 (2009).
Acknowledgements
We thank R. Pestell (Thomas Jefferson University) for the cyclin D1 promoter, C. Cardoso (Technische Universität Darmstadt) for RFP-PCNA and R. Drummer (Bar-Ilan University) for statistical analysis. This work was supported by grants to Y.S.-T. by the Israel Cancer Research Fund (Research Career Development Award), the Israel Ministry of Health, the Israel Cancer Association, the Alon Fellowship and the Jane Stern Lebell Family Fellowship of Bar-Ilan University; and to Y.S.-T. and Y.G. by the Israel Science Foundation Bikura grant. We thank the Israel Science Foundation for the fluorescence live-cell imaging microscopes.
Ethics declarations
Competing interests
The authors declare no competing financial interests.
Supplementary information
About this article
Cite this article
Yunger, S., Rosenfeld, L., Garini, Y. et al. Single-allele analysis of transcription kinetics in living mammalian cells. Nat Methods 7, 631–633 (2010). https://doi.org/10.1038/nmeth.1482
Received:

Accepted:

Published:

Issue Date:

DOI: https://doi.org/10.1038/nmeth.1482