Abstract
Tumor-initiating cells with stem cell properties are believed to sustain the growth of gliomas, but proposed markers such as CD133 cannot be used to identify these cells with sufficient specificity. We report an alternative isolation method purely based on phenotypic qualities of glioma-initiating cells (GICs), avoiding the use of molecular markers. We exploited intrinsic autofluorescence properties and a distinctive morphology to isolate a subpopulation of cells (FL1+) from human glioma or glioma cultures. FL1+ cells are capable of self-renewal in vitro, tumorigenesis in vivo and preferentially express stem cell genes. The FL1+ phenotype did not correlate with the expression of proposed GIC markers. Our data propose an alternative approach to investigate tumor-initiating potential in gliomas and to advance the development of new therapies and diagnostics.
Relevant articles
Open Access articles citing this article.
Heather Eggleston

,

Kimani Njoya

…

Michelle M. Riehle

Parasites & Vectors Open Access 13 December 2022

Michael Zorniak

,

Paul A. Clark

…

John S. Kuo

Scientific Reports Open Access 20 November 2017

Yanyan Li

,

Hangzhou Wang

…

Youxin Zhou

Molecular Cancer Open Access 02 April 2015
Access options
Subscribe to this journal
Receive 12 print issues and online access
$209.00 per year
only $17.42 per issue
Rent or buy this article
Get just this article for as long as you need it
$39.95
Prices may be subject to local taxes which are calculated during checkout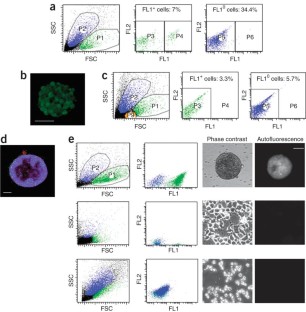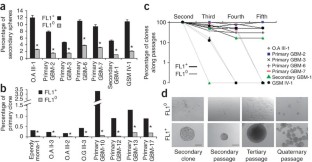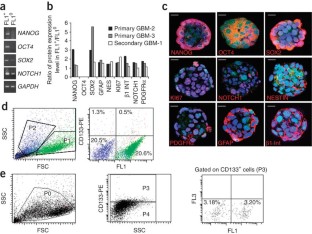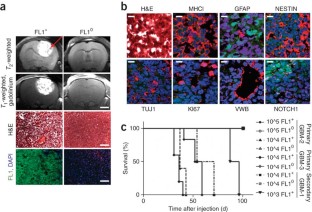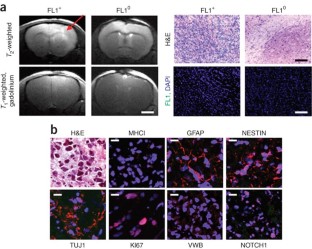 References
Wechsler-Reya, R. & Scott, M.P. The developmental biology of brain tumors. Annu. Rev. Neurosci. 24, 385–428 (2001).

Read, T.A., Hegedus, B., Wechsler-Reya, R. & Gutmann, D.H. The neurobiology of neurooncology. Ann. Neurol. 60, 3–11 (2006).

Sanai, N., Alvarez-Buylla, A. & Berger, M.S. Neural stem cells and the origin of gliomas. N. Engl. J. Med. 353, 811–822 (2005).

Galli, R. et al. Isolation and characterization of tumorigenic, stem-like neural precursors from human glioblastoma. Cancer Res. 64, 7011–7021 (2004).

Hemmati, H.D. et al. Cancerous stem cells can arise from pediatric brain tumors. Proc. Natl. Acad. Sci. USA 100, 15178–15183 (2003).

Singh, S.K. et al. Identification of a cancer stem cell in human brain tumors. Cancer Res. 63, 5821–5828 (2003).

Singh, S.K. et al. Identification of human brain tumour initiating cells. Nature 432, 396–401 (2004).

Clement, V., Dutoit, V., Marino, D., Dietrich, P.Y. & Radovanovic, I. Limits of CD133 as a marker of glioma self-renewing cells. Int. J. Cancer 125, 244–248 (2009).

Wang, J. et al. CD133 negative glioma cells form tumors in nude rats and give rise to CD133 positive cells. Int. J. Cancer 122, 761–768 (2008).

Beier, D. et al. CD133(+) and CD133(−) glioblastoma-derived cancer stem cells show differential growth characteristics and molecular profiles. Cancer Res. 67, 4010–4015 (2007).

Ogden, A.T. et al. Identification of A2B5+CD133− tumor-initiating cells in adult human gliomas. Neurosurgery 62, 505–514 (2008).

Hill, R.P. Identifying cancer stem cells in solid tumors: case not proven. Cancer Res. 66, 1891–1895 (2006).

Kern, S.E. & Shibata, D. The fuzzy math of solid tumor stem cells: a perspective. Cancer Res. 67, 8985–8988 (2007).

Yuan, X. et al. Isolation of cancer stem cells from adult glioblastoma multiforme. Oncogene 23, 9392–9400 (2004).

Piccirillo, S.G. et al. Bone morphogenetic proteins inhibit the tumorigenic potential of human brain tumour-initiating cells. Nature 444, 761–765 (2006).

Park, D.M. et al. N-CoR pathway targeting induces glioblastoma derived cancer stem cell differentiation. Cell Cycle 6, 467–470 (2007).

Reya, T., Morrison, S.J., Clarke, M.F. & Weissman, I.L. Stem cells, cancer, and cancer stem cells. Nature 414, 105–111 (2001).

Clement, V., Sanchez, P., de Tribolet, N., Radovanovic, I. & Ruiz, I.A.A. HEDGEHOG-GLI1 signaling regulates human glioma growth, cancer stem cell self-renewal, and tumorigenicity. Curr. Biol. 17, 165–172 (2007).

Gunther, H.S. et al. Glioblastoma-derived stem cell-enriched cultures form distinct subgroups according to molecular and phenotypic criteria. Oncogene 27, 2897–2909 (2008).

Phillips, H.S. et al. Molecular subclasses of high-grade glioma predict prognosis, delineate a pattern of disease progression, and resemble stages in neurogenesis. Cancer Cell 9, 157–173 (2006).

Kann, O., Schuchmann, S., Buchheim, K. & Heinemann, U. Coupling of neuronal activity and mitochondrial metabolism as revealed by NAD(P)H fluorescence signals in organotypic hippocampal slice cultures of the rat. Neuroscience 119, 87–100 (2003).

Schuchmann, S., Kovacs, R., Kann, O., Heinemann, U. & Buchheim, K. Monitoring NAD(P)H autofluorescence to assess mitochondrial metabolic functions in rat hippocampal-entorhinal cortex slices. Brain Res. Brain Res. Protoc. 7, 267–276 (2001).

Reyes, J.M. et al. Metabolic changes in mesenchymal stem cells in osteogenic medium measured by autofluorescence spectroscopy. Stem Cells 24, 1213–1217 (2006).

Buzzeo, M.P., Scott, E.W. & Cogle, C.R. The hunt for cancer-initiating cells: a history stemming from leukemia. Leukemia 21, 1619–1627 (2007).

Kaplan, R.N., Psaila, B. & Lyden, D. Niche-to-niche migration of bone-marrow-derived cells. Trends Mol. Med. 13, 72–81 (2007).

Campbell, L.L. & Polyak, K. Breast tumor heterogeneity: cancer stem cells or clonal evolution? Cell Cycle 6, 2332–2338 (2007).

Gilbertson, R.J. & Rich, J.N. Making a tumour's bed: glioblastoma stem cells and the vascular niche. Nat. Rev. Cancer 7, 733–736 (2007).

Doetsch, F., Caille, I., Lim, D.A., Garcia-Verdugo, J.M. & Alvarez-Buylla, A. Subventricular zone astrocytes are neural stem cells in the adult mammalian brain. Cell 97, 703–716 (1999).

Dontu, G., Al-Hajj, M., Abdallah, W.M., Clarke, M.F. & Wicha, M.S. Stem cells in normal breast development and breast cancer. Cell Prolif. 36 (Suppl. 1), 59–72 (2003).
Acknowledgements
This work was supported by the foundations "Anita et Werner Damm-Etienne" and "Ernest and Lucie Schmidheiny" and in part by the Centre d'Imagerie Biomedicale of the Ecole Polytechnique Fédérale de Lausanne, the University of Lausanne, the University of Geneva and by the Leenaards and Jeantet foundations, as well as by Marie Curie action of the European Union (MRTN-CT-2006-035801) and the Swiss National Science Foundation (3100AO-108266/1). We thank K. Burkhardt for providing access to tissue sample collection and S.G. Clarkson for critical input.
Ethics declarations
Competing interests
V.C. and I.R. are authors of a patent (PCT/IB2008/054872) related to the technology described in this article and filed by the University of Geneva and Geneva University Hospitals. V.C., I.R. and D.M. are founders and shareholders of Stemergie Biotechnology, Inc.
Supplementary information
Supplementary Figures 1–10 and Supplementary Tables 1–11 (PDF 2544 kb)
About this article
Cite this article
Clément, V., Marino, D., Cudalbu, C. et al. Retracted: Marker-independent identification of glioma-initiating cells. Nat Methods 7, 224–228 (2010). https://doi.org/10.1038/nmeth.1430
Received:

Accepted:

Published:

Issue Date:

DOI: https://doi.org/10.1038/nmeth.1430