Abstract
Using new chemically inducible dimerization probes, we generated a system to rapidly target proteins to individual intracellular organelles. Using this system, we activated Ras GTPase at distinct intracellular locations and induced tethering of membranes from two organelles, endoplasmic reticulum and mitochondria. Innovative techniques to rapidly perturb molecular activities and organelle-organelle communications at precise locations and timing will provide powerful strategies to dissect spatiotemporally complex biological processes.
Relevant articles
Open Access articles citing this article.
Satoshi Watanabe

,

Yuta Nihongaki

…

Takanari Inoue

Nature Communications Open Access 29 July 2022

Jr-Ming Yang

,

Sayak Bhattacharya

…

Chuan-Hsiang Huang

Nature Communications Open Access 07 November 2018

Allison Suarez

,

Tasuku Ueno

…

Takanari Inoue

Scientific Reports Open Access 06 May 2014
Access options
Subscribe to Journal
Get full journal access for 1 year
$99.00
only $8.25 per issue
All prices are NET prices.
VAT will be added later in the checkout.
Tax calculation will be finalised during checkout.
Buy article
Get time limited or full article access on ReadCube.
$32.00
All prices are NET prices.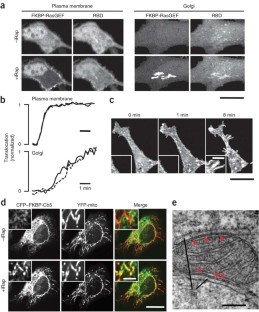 References
Schreiber, S., Kapoor, T.M. & Wess, G. Chemical Biology: From Small Molecules to Systems Biology and Drug Design (Wiley-VCH, 2007).

Inoue, T., Heo, W.D., Grimley, J.S., Wandless, T.J. & Meyer, T. Nat. Methods 2, 415–418 (2005).

Suh, B.C., Inoue, T., Meyer, T. & Hille, B. Science 314, 1454–1457 (2006).

Fili, N., Calleja, V., Woscholski, R., Parker, P.J. & Larijani, B. Proc. Natl. Acad. Sci. USA 103, 15473–15478 (2006).

Stankunas, K. et al. ChemBioChem 8, 1162–1169 (2007).

Stankunas, K. et al. Mol. Cell 12, 1615–1624 (2003).

Mor, A. & Philips, M.R. Annu. Rev. Immunol. 24, 771–800 (2006).

Marshall, C.J. Cell 80, 179–185 (1995).

Karpova, A.Y., Tervo, D.G., Gray, N.W. & Svoboda, K. Neuron 48, 727–735 (2005).

Soltys, B.J. & Gupta, R.S. Biochem. Cell Biol. 70, 1174–1186 (1992).

Pizzo, P. & Pozzan, T. Trends Cell Biol. 17, 511–517 (2007).

Hayashi, T., Rizzuto, R., Hajnoczky, G. & Su, T.P. Trends Cell Biol. 19, 81–88 (2009).

de Brito, O.M. & Scorrano, L. Nature 456, 605–610 (2008).

Csordas, G. et al. J. Cell Biol. 174, 915–921 (2006).

Varnai, P., Toth, B., Toth, D.J., Hunyady, L. & Balla, T. J. Biol. Chem. 282, 29678–29690 (2007).

Perkins, E.M. & McCaffery, J.M. Methods Mol. Biol. 372, 467–483 (2007).

Kobayashi, T. & Arakawa, Y. J. Cell Biol. 113, 235–244 (1991).
Acknowledgements
We thank B. Wattenberg (University of Louisville) for Cb5/MoA plasmids; N. Ishihara (Toyko Medical and Dental University) for Tom20 plasmid; C. Machamer (Johns Hopkins University) for Giantin plasmid; W.D. Heo (Korea Advanced Institute of Science and Technology) for RasGRF plasmid; F. Tsuruta (University of Tsukuba) for LAMP plasmid; M. Fivaz (Duke-National University of Singapore Graduate Medical School Singapore) YFP-RBD plasmid; and T. Wandless (Stanford University) for providing rapamycin analogs (iRap, synthetic ligand of FKBP, FK506M); F. Fernandez, M. Fivaz, M. Meffert, J. Zhang, V. Sample, D. Montell, M. Caterina, P. Devreotes, A. Ewald and D. Robinson for critical review of the manuscript; R. Pagano for helpful comments on PS assays; and Z. Wei, W. Wong, K. Venkatachalam and J. Cordon for a technical assistance with western blot analyses. Supported in part by US National Institutes of Health (MH084691 to T.I., NCRR1S10RR023454-01 to J.M.M.). T.K. and T.U. are recipients of a fellowship from Japanese Society for the Promotion of Science.
Ethics declarations
Competing interests
The authors declare no competing financial interests.
Supplementary information
About this article
Cite this article
Komatsu, T., Kukelyansky, I., McCaffery, J. et al. Organelle-specific, rapid induction of molecular activities and membrane tethering. Nat Methods 7, 206–208 (2010). https://doi.org/10.1038/nmeth.1428
Received:

Accepted:

Published:

Issue Date:

DOI: https://doi.org/10.1038/nmeth.1428