Abstract
To trace cell lineages in a developing vertebrate and to observe, in vivo, how behaviors of individual cells are affected by the genes they express, we created a zebrafish line containing a transgene called mosaic analysis in zebrafish (MAZe), built around a self-excising hsp70:Cre cassette. Heat shock triggers Cre recombinase–mediated recombination in a random subset of cells, bringing the transcriptional activator Gal4:VP16 under control of the EF1α promoter. Gal4-VP16 then activates expression of a fluorescent protein from an upstream activating sequence (UAS) promoter. Marked clones of cells expressing any desired gene product can be generated by crossing MAZe fish with other lines containing UAS-driven transgenes. The number of clones induced, and their time of origin, could be varied by adjusting heat-shock timing and duration. As an alternative to heat shock, we introduced Cre under a tissue-specific promoter in MAZe fish to generate clones in a designated tissue.
Relevant articles
Open Access articles citing this article.
Susan E. Brockerhoff

&

James M. Fadool

Cellular and Molecular Life Sciences Open Access 24 October 2010
Access options
Subscribe to Journal
Get full journal access for 1 year
$99.00
only $8.25 per issue
All prices are NET prices.
VAT will be added later in the checkout.
Tax calculation will be finalised during checkout.
Buy article
Get time limited or full article access on ReadCube.
$32.00
All prices are NET prices.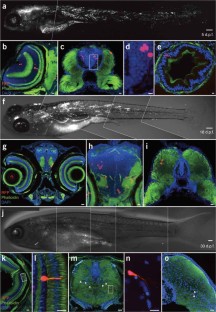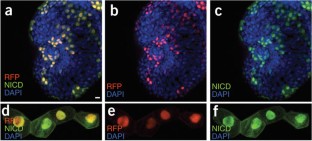 References
Stern, C. Somatic crossing over and segregation in Drosophila melanogaster . Genetics 21, 625–730 (1936).

Stern, C. Genetic mosaics, and other essays (Harvard University Press, Cambridge, Massachusetts, USA, 1968).

Le Douarin, N.M. & Kalcheim, C. The Neural Crest (Cambridge University Press, New York, 1999).

McLaren, A. Mammalian Chimaeras (Cambridge University Press, Cambridge, 1976).

Xu, T. & Rubin, G.M. Analysis of genetic mosaics in developing and adult Drosophila tissues. Development 117, 1223–1237 (1993).

Lee, T. & Luo, L. Mosaic analysis with a repressible cell marker (MARCM) for Drosophila neural development. Trends Neurosci. 24, 251–254 (2001).

Duffy, J.B. GAL4 system in Drosophila: a fly geneticist's Swiss army knife. Genesis 34, 1–15 (2002).

Branda, C.S. & Dymecki, S.M. Talking about a revolution: the impact of site-specific recombinases on genetic analyses in mice. Dev. Cell 6, 7–28 (2004).

Westerfield, M. The zebrafish book. A guide for the laboratory use of zebrafish (Danio rerio) (University of Oregon Press, Eugene, Oregon, USA, 2000).

Halloran, M.C. et al. Laser-induced gene expression in specific cells of transgenic zebrafish. Development 127, 1953–1960 (2000).

Hans, S. et al. Temporally-controlled site-specific recombination in zebrafish. PLoS One 4, e4640 (2009).

Halpern, M.E. et al. Gal4/UAS transgenic tools and their application to zebrafish. Zebrafish 5, 97–110 (2008).

Scheer, N. & Campos-Ortega, J.A. Use of the Gal4-UAS technique for targeted gene expression in the zebrafish. Mech. Dev. 80, 153–158 (1999).

Lewis, J. Notch signalling and the control of cell fate choices in vertebrates. Semin. Cell Dev. Biol. 9, 583–589 (1998).

Kim, C.H. et al. Zebrafish elav/HuC homologue as a very early neuronal marker. Neurosci. Lett. 216, 109–112 (1996).

Offield, M.F., Hirsch, N. & Grainger, R.M. The development of Xenopus tropicalis transgenic lines and their use in studying lens developmental timing in living embryos. Development 127, 1789–1797 (2000).

Dutton, J.R. et al. An evolutionarily conserved intronic region controls the spatiotemporal expression of the transcription factor Sox10. BMC Dev. Biol. 8, 105 (2008).

Hardy, M.E., Ross, L.V. & Chien, C.B. Focal gene misexpression in zebrafish embryos induced by local heat shock using a modified soldering iron. Dev. Dyn. 236, 3071–3076 (2007).

Urasaki, A., Morvan, G. & Kawakami, K. Functional dissection of the Tol2 transposable element identified the minimal cis-sequence and a highly repetitive sequence in the subterminal region essential for transposition. Genetics 174, 639–649 (2006).

Bunting, M. et al. Targeting genes for self-excision in the germ line. Genes Dev. 13, 1524–1528 (1999).

Grabher, C. & Wittbrodt, J. Efficient activation of gene expression using a heat-shock inducible Gal4/Vp16-UAS system in medaka. BMC Biotechnol. 4, 26 (2004).

Shaner, N.C. et al. Improved monomeric red, orange and yellow fluorescent proteins derived from Discosoma sp. red fluorescent protein. Nat. Biotechnol. 22, 1567–1572 (2004).

Okada, A. et al. Imaging cells in the developing nervous system with retrovirus expressing modified green fluorescent protein. Exp. Neurol. 156, 394–406 (1999).

Tawk, M. et al. A mirror-symmetric cell division that orch-estrates neuroepithelial morphogenesis. Nature 446, 797–800 (2007).

Kajita, M. et al. Interaction with surrounding normal epithelial cells influences signalling pathways and behaviour of Srctransformed cells. J. Cell Sci. 123, 171–180 (2010).

Grabher, C., Joly, J.S. & Wittbrodt, J. Highly efficient zebrafish transgenesis mediated by the meganuclease I-SceI. Methods Cell Biol. 77, 381–401 (2004).
Acknowledgements
We thank M. Tada (University College London) for the UAS:gfp transgenic line; R. Kelsh (University of Bath) for the Sox10:gfp transgenic line and the Sox10 promoter sequence; J. Clarke (Kings College London) for the Gap42-GFP plasmid; M. Capecchi (University of Utah School of Medicine) for the pACN plasmid; H. Gerhardt (London Research Institute, Cancer Research UK) for the Cre antibody; L. Zimmerman (National Institute for Medical Research, London) for the γ-crystallin promoter; P. Taylor and D. Martin for fish husbandry; J. Clarke, S. Wilson and D. Ish-Horowicz for comments on the manuscript; and Cancer Research UK for funding.
Ethics declarations
Competing interests
The authors declare no competing financial interests.
Supplementary information
About this article
Cite this article
Collins, R., Linker, C. & Lewis, J. MAZe: a tool for mosaic analysis of gene function in zebrafish. Nat Methods 7, 219–223 (2010). https://doi.org/10.1038/nmeth.1423
Received:

Accepted:

Published:

Issue Date:

DOI: https://doi.org/10.1038/nmeth.1423