Abstract
We built a digital nuclear atlas of the newly hatched, first larval stage (L1) of the wild-type hermaphrodite of Caenorhabditis elegans at single-cell resolution from confocal image stacks of 15 individual worms. The atlas quantifies the stereotypy of nuclear locations and provides other statistics on the spatial patterns of the 357 nuclei that could be faithfully segmented and annotated out of the 558 present at this developmental stage. We then developed an automated approach to assign cell names to each nucleus in a three-dimensional image of an L1 worm. We achieved 86% accuracy in identifying the 357 nuclei automatically. This computational method will allow high-throughput single-cell analyses of the post-embryonic worm, such as gene expression analysis, or ablation or stimulation of cells under computer control in a high-throughput functional screen.
Relevant articles
Open Access articles citing this article.
Yu Toyoshima

,

Stephen Wu

…

Yuichi Iino

BMC Biology Open Access 19 March 2020

Thomas Montenegro-Johnson

,

Soeren Strauss

…

George W. Bassel

Plant Methods Open Access 04 April 2019
Access options
Subscribe to Journal
Get full journal access for 1 year
$99.00
only $8.25 per issue
All prices are NET prices.
VAT will be added later in the checkout.
Tax calculation will be finalised during checkout.
Buy article
Get time limited or full article access on ReadCube.
$32.00
All prices are NET prices.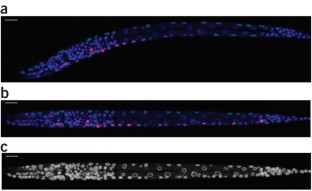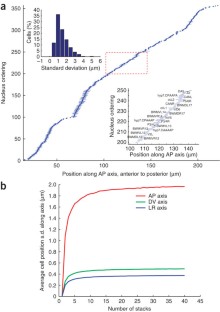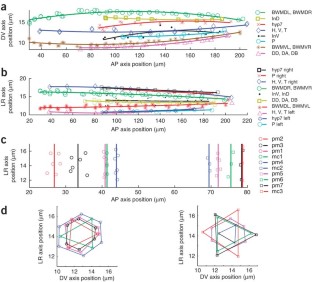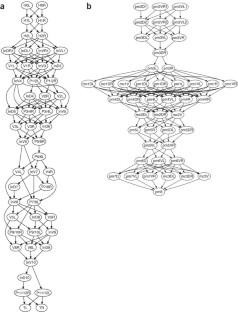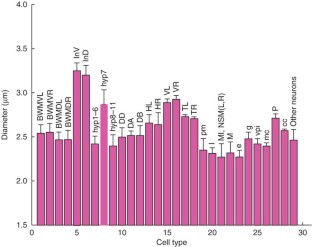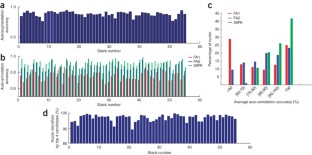 References
Riddle, D.L., Blumenthal, T., Meyer, B.J. & Priess, J.R. C. elegans II. (Cold Spring Harbor Laboratory Press, Cold Spring Harbor, New York, USA, 1997).

Sulston, J.E., Schierenberg, E., White, J.G. & Thomson, J.N. The embryonic cell lineage of the nematode Caenorhabditis elegans. Dev. Biol. 100, 64–119 (1983).

Sulston, J.E. & Horvitz, H.R. Post-embryonic cell lineages of the nematode, Caenorhabditis elegmans. Dev. Biol. 56, 110–156 (1977).

White, J.G., Southgate, E., Thomson, J.N. & Brenner, S. The structure of the nervous system of the nematode C. elegans. Philos. Trans. R. Soc. Lond. B Biol. Sci. 314, 1–340 (1986).

Chen, B.L., Hall, D.H. & Chklovskii, D.B. Wiring optimization can relate neuronal structure and function. Proc. Natl. Acad. Sci. USA 103, 4723–4728 (2006).

Stein, L.D. et al. The genome sequence of Caenorhabditis briggsae: a platform for comparative genomics. PLoS Biol. 1, E45 (2003).

Reece-Hoyes, J.S. et al. A compendium of Caenorhabditis elegans regulatory transcription factors: a resource for mapping transcription regulatory networks. Genome Biol. 6, R110 (2005).

Kim, S. et al. A gene expression map for C. elegans. Science 293, 2087–2092 (2001).

Wang, J. & Kim, S. Global analysis of dauer gene expression in Caenorhabditis elegans. Development 130, 1621–1634 (2003).

Hall, D.H. & Altun, Z.F. C. elegans atlas. (Cold Spring Harbor Laboratory Press, Cold Spring Harbor, New York, USA, 2007).

Bao, Z. et al. Automated cell lineage tracing in Caenorhabditis elegans. Proc. Natl. Acad. Sci. USA 103, 2707–2712 (2006).

Murray, J.I. et al. Automated analysis of embryonic gene expression with cellular resolution in C. elegans. Nat. Methods 5, 703–709 (2008).

Pearson, B.J. & Doe, C.Q. Regulation of neuroblast competence in Drosophila. Nature 425, 624–628 (2003).

Peng, H., Long, F., Liu, X., Kim, S. & Myers, E. Straightening Caenorhabditis elegans images. Bioinformatics 24, 234–242 (2008).

Vincent, L. & Soille, P. Watersheds in digital spaces: an efficient algorithm based on immersion simulations. IEEE Trans. Pattern Anal. Mach. Intell. 13, 583–598 (1991).

Beucher, S. & Meyer, F. The morphological approach to segmentation: the watershed transformation. in Mathematical Morphology in Image Processing (ed., Dougherty, E.R.) 433–482 (Marcel Dekker, New York, 1993).

Vapnik, V. The Nature of Statistical Learning Theory (Springer-Verlag, New York, 1995).

Peng, H., Long, F. & Ding, C. Feature selection based on mutual information: criteria of max-dependency, max-relevance, and min-redundancy. IEEE Trans. Pattern Anal. Mach. Intell. 27, 1226–1238 (2005).

Peng, H., Long, F. & Myers, G. VANO: a volume-object image annotation system. Bioinformatics 25, 695–697 (2009).

Fischler, M.A. & Bolles, R.C. Random sample consensus: a paradigm for model fitting with applications to image analysis and automated cartography. Commun. ACM 24, 381–395 (1981).

Cormen, T.H., Leiserson, C.E., Rivest, R.L. & Stein, C. Introduction to algorithms 2nd edn. (MIT Press and McGraw-Hill, Cambridge, Massachusetts, USA, 2001).

Long, F., Peng, H., Liu, X., Kim, S. & Myers, E. Automatic recognition of cells (ARC) for 3D images of C. elegans. Lect. Notes Comput. Sci. 4955, 128–139 (2008).
Acknowledgements
We thank A. Fire for providing reagents and advice. The work of X.L. and S.K.K. was funded by the Ellison Medical Foundation and the US National Institutes of Health. X.L. was also funded by the Larry L. Hillblom Foundation. The work of F.L., H.P. and E.M. was funded by Howard Hughes Medical Institute.
Supplementary information
About this article
Cite this article
Long, F., Peng, H., Liu, X. et al. A 3D digital atlas of C. elegans and its application to single-cell analyses. Nat Methods 6, 667–672 (2009). https://doi.org/10.1038/nmeth.1366
Received:

Accepted:

Published:

Issue Date:

DOI: https://doi.org/10.1038/nmeth.1366