Abstract
Next-generation sequencing technology is a powerful tool for transcriptome analysis. However, under certain conditions, only a small amount of material is available, which requires more sensitive techniques that can preferably be used at the single-cell level. Here we describe a single-cell digital gene expression profiling assay. Using our mRNA-Seq assay with only a single mouse blastomere, we detected the expression of 75% (5,270) more genes than microarray techniques and identified 1,753 previously unknown splice junctions called by at least 5 reads. Moreover, 8–19% of the genes with multiple known transcript isoforms expressed at least two isoforms in the same blastomere or oocyte, which unambiguously demonstrated the complexity of the transcript variants at whole-genome scale in individual cells. Finally, for Dicer1−/− and Ago2−/− (Eif2c2−/−) oocytes, we found that 1,696 and 1,553 genes, respectively, were abnormally upregulated compared to wild-type controls, with 619 genes in common.
Relevant articles
Open Access articles citing this article.
Kai Lin

,

Yanlei Yang

…

Qin Han

Stem Cell Research & Therapy Open Access 01 February 2023

Gordon Wiegleb

,

Susanne Reinhardt

…

Nico Posnien

Frontiers in Zoology Open Access 12 November 2022

Yan Zhou

,

Minjiao Peng

…

Niansheng Tang

BMC Genomics Open Access 12 July 2022
Access options
Subscribe to Journal
Get full journal access for 1 year
$99.00
only $8.25 per issue
All prices are NET prices.
VAT will be added later in the checkout.
Tax calculation will be finalised during checkout.
Buy article
Get time limited or full article access on ReadCube.
$32.00
All prices are NET prices.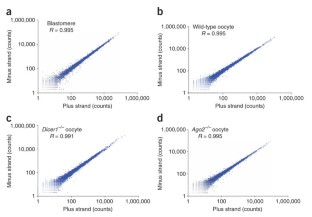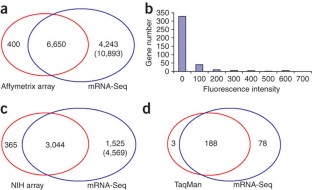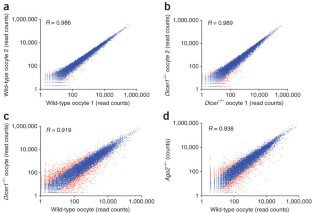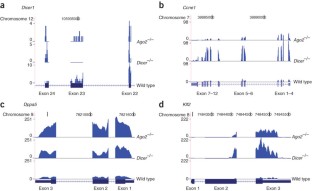 Accession codes
Accessions
Gene Expression Omnibus
References
Mardis, E.R. The impact of next-generation sequencing technology on genetics. Trends Genet. 24, 133–141 (2008).

Wold, B. & Myers, R.M. Sequence census methods for functional genomics. Nat. Methods 5, 19–21 (2008).

Schuster, S.C. Next-generation sequencing transforms today's biology. Nat. Methods 5, 16–18 (2008).

Cloonan, N. & Grimmond, S.M. Transcriptome content and dynamics at single-nucleotide resolution. Genome Biol. 9, 234 (2008).

Wang, Z., Gerstein, M. & Snyder, M. RNA-Seq: a revolutionary tool for transcriptomics. Nat. Rev. Genet. 10, 57–63 (2009).

Mortazavi, A., Williams, B.A., McCue, K., Schaeffer, L. & Wold, B. Mapping and quantifying mammalian transcriptomes by RNA-Seq. Nat. Methods 5, 621–628 (2008).

Cloonan, N. et al. Stem cell transcriptome profiling via massive-scale mRNA sequencing. Nat. Methods 5, 613–619 (2008).

Sultan, M. et al. A global view of gene activity and alternative splicing by deep sequencing of the human transcriptome. Science 321, 956–960 (2008).

Wang, E.T. et al. Alternative isoform regulation in human tissue transcriptomes. Nature 456, 470–476 (2008).

Marioni, J.C., Mason, C.E., Mane, S.M., Stephens, M. & Gilad, Y. RNA-seq: an assessment of technical reproducibility and comparison with gene expression arrays. Genome Res. 18, 1509–1517 (2008).

Pan, Q., Shai, O., Lee, L.J., Frey, B.J. & Blencowe, B.J. Deep surveying of alternative splicing complexity in the human transcriptome by high-throughput sequencing. Nat. Genet. 40, 1413–1415 (2008).

Li, H. et al. Determination of tag density required for digital transcriptome analysis: application to an androgen-sensitive prostate cancer model. Proc. Natl. Acad. Sci. USA 105, 20179–20184 (2008).

Saitou, M., Barton, S.C. & Surani, M.A. A molecular programme for the specification of germ cell fate in mice. Nature 418, 293–300 (2002).

Chambers, I. et al. Nanog safeguards pluripotency and mediates germline development. Nature 450, 1230–1234 (2007).

Toyooka, Y., Shimosato, D., Murakami, K., Takahashi, K. & Niwa, H. Identification and characterization of subpopulations in undifferentiated ES cell culture. Development 135, 909–918 (2008).

Kurimoto, K. et al. An improved single-cell cDNA amplification method for efficient high-density oligonucleotide microarray analysis. Nucleic Acids Res. 34, e42 (2006).

Kurimoto, K., Yabuta, Y., Ohinata, Y. & Saitou, M. Global single-cell cDNA amplification to provide a template for representative high-density oligonucleotide microarray analysis. Nat. Protoc. 2, 739–752 (2007).

Maekawa, M., Yamamoto, T., Kohno, M., Takeichi, M. & Nishida, E. Requirement for ERK MAP kinase in mouse preimplantation development. Development 134, 2751–2759 (2007).

Blake, W.J., Kærn, M., Cantor, C.R. & Collins, J.J. Noise in eukaryotic gene expression. Nature 422, 633–637 (2003).

Raser, J.M. & O'Shea, E.K. Noise in gene expression: origins, consequences, and control. Science 309, 2010–2013 (2005).

Hamatani, T., Carter, M.G., Sharov, A.A. & Ko, M.S. Dynamics of global gene expression changes during mouse preimplantation development. Dev. Cell 6, 117–131 (2004).

Tang, F. et al. Maternal microRNAs are essential for mouse zygotic development. Genes Dev. 21, 644–648 (2007).

Murchison, E.P. et al. Critical roles for Dicer in the female germline. Genes Dev. 21, 682–693 (2007).

O'Carroll, D. et al. A Slicer-independent role for Argonaute 2 in hematopoiesis and the microRNA pathway. Genes Dev. 21, 1999–2004 (2007).

de Vries, W.N. et al. Expression of Cre recombinase in mouse oocytes: A means to study maternal effect genes. Genesis 26, 110–112 (2000).

Tam, O.H. et al. Pseudogene-derived small interfering RNAs regulate gene expression in mouse oocytes. Nature 453, 534–538 (2008).

Rambhatla, L., Patel, B., Dhanasekaran, N. & Latham, K.E. Analysis of G protein alpha subunit mRNA abundance in preimplantation mouse embryos using a rapid, quantitative RT-PCR approach. Mol. Reprod. Dev. 41, 314–324 (1995).

Marzluff, W.F., Wagner, E.J. & Duronio, R.J. Metabolism and regulation of canonical histone mRNAs: life without a poly(A) tail. Nat. Rev. Genet. 9, 843–854 (2008).

Nagy, A., Gertsenstein, M., Vintersten, K. & Behringer, R. Recovery and in vitro culture of preimplantation stage embryos. in Manipulating the Mouse Embryo 3rd edn. 194–200 (Cold Spring Harbor Laboratory Press, Cold Spring Harbor, New York, 2003).

Gordon, D.M., Patashnik, O. & Kuperberg, G. New constructions for covering designs. J. Comb. Designs 3, 269–284 (1995).
Acknowledgements
We thank C. Lee for excellent technical help. The work was supported by grants from the Wellcome Trust to M.A.S.
Ethics declarations
Competing interests
C.B., Y.W., E.N., C.L., N.X., X.W., J.B., B.B.T., A.S., and K.L. are currently employees of Applied Biosystems.
Supplementary information
About this article
Cite this article
Tang, F., Barbacioru, C., Wang, Y. et al. mRNA-Seq whole-transcriptome analysis of a single cell. Nat Methods 6, 377–382 (2009). https://doi.org/10.1038/nmeth.1315
Received:

Accepted:

Published:

Issue Date:

DOI: https://doi.org/10.1038/nmeth.1315