Abstract
We developed retrograde, transsynaptic pseudorabies viruses (PRVs) with genetically encoded activity sensors that optically report the activity of connected neurons among spatially intermingled neurons in the brain. Next we engineered PRVs to express two differentially colored fluorescent proteins in a time-shifted manner to define a time period early after infection to investigate neural activity. Finally we used multiple-colored PRVs to differentiate and dissect the complex architecture of brain regions.
Access options
Subscribe to this journal
Receive 12 print issues and online access
$209.00 per year
only $17.42 per issue
Rent or buy this article
Get just this article for as long as you need it
$39.95
Prices may be subject to local taxes which are calculated during checkout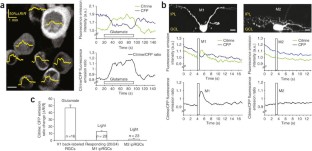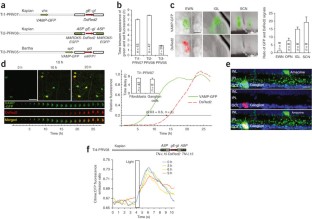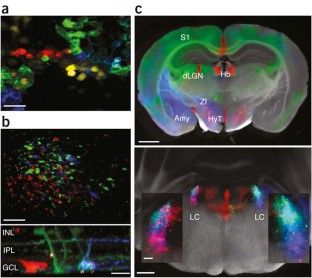 References
Wickersham, I.R. et al. Neuron 53, 639–647 (2007).

Smith, B.N. et al. Proc. Natl. Acad. Sci. USA 97, 9264–9269 (2000).

Jons, A. & Mettenleiter, T.C. J. Virol. Methods 66, 283–292 (1997).

Boldogkoi, Z., Erdelyi, F., Sik, A., Freund, T.F. & Fodor, I. Luminescence 14, 69–74 (1999).

Banfield, B.W., Kaufman, J.D., Randall, J.A. & Pickard, G.E. J. Virol. 77, 10106–10112 (2003).

Viney, T.J. et al. Curr. Biol. 17, 981–988 (2007).

Heim, N. & Griesbeck, O. J. Biol. Chem. 279, 14280–14286 (2004).

Bartha, A. Magyar Allatorvosok Lapja 16, 42–45 (1961).

Kaplan, A.S. & Vatter, A.E. Virology 7, 394–407 (1959).

Husak, P.J., Kuo, T. & Enquist, L.W. J. Virol. 74, 10975–10983 (2000).

Pickard, G.E. et al. J. Neurosci. 22, 2701–2710 (2002).

De Paola, V., Arber, S. & Caroni, P. Nat. Neurosci. 6, 491–500 (2003).

Heim, N. et al. Nat. Methods 4, 127–129 (2007).

Hattar, S. et al. J. Comp. Neurol. 497, 326–349 (2006).

Provencio, I., Rollag, M.D. & Castrucci, A.M. Nature 415, 493 (2002).

Baver, S.B., Pickard, G.E., Sollars, P.J. & Pickard, G.E. Eur. J. Neurosci. 27, 1763–1770 (2008).

Zemanick, M.C., Strick, P.L. & Dix, R.D. Proc. Natl. Acad. Sci. USA 88, 8048–8051 (1991).

Mank, M. et al. A genetically encoded calcium indicator for chronic in vivo two-photon imaging. Nat. Methods 5, 805–811 (2008).

Pomeranz, L.E., Reynolds, A.E. & Hengartner, C.J. Microbiol. Mol. Biol. Rev. 69, 462–500 (2005).
Acknowledgements
We thank S. Djaffer for technical assistance. The following researchers provided materials: I. Provencio (University of Virginia, Charlottesville), melanopsin antibody; D.W. Piston (University of Maryland School of Medicine, Baltimore), vector encoding mCerulean; P. Caroni (Friedrich Miescher Insitute, Basel), vector encoding MARCKS-GFP and pThy1-mEGFP vector; R.E. Campbell (University of Alberta, Edmonton), vector encoding mTFP1; R.Y. Tsien (University of California, San Diego), vectors encoding mRFP1 and mCherry; R.H. Scheller (Genentech), vector encoding VAMP-GFP; O. Griesbeck (Max Planck Institute of Neurobiology, Martinsried), vector encoding TN-L15. F. Rijli commented on the manuscript. This study was supported by Novartis Research Foundation funds, US Office of Naval Research Naval International Cooperative Opportunities in Science and Technology Program grant, Marie Curie Excellence grant and Human Frontiers Science Program Young Investigator grant to B.R.; Hungarian National Fund for Scientific Research and Human Frontiers Science Program Young Investigator grant to Z.B.; Swiss National Center of Competence in Research in Genetics fellowship to V.B.; and Human Frontiers Science Program fellowship to G.B.A.
Ethics declarations
Competing interests
K.B., Z.B. and B.R. are authors on a European patent application 08 152 609.7 that covers the work described in the manuscript.
Supplementary information
Supplementary Figures 1–3, Supplementary Tables 1–4, Supplementary Results, Supplementary Methods (PDF 1111 kb)
About this article
Cite this article
Boldogkői, Z., Balint, K., Awatramani, G. et al. Genetically timed, activity-sensor and rainbow transsynaptic viral tools. Nat Methods 6, 127–130 (2009). https://doi.org/10.1038/nmeth.1292
Received:

Accepted:

Published:

Issue Date:

DOI: https://doi.org/10.1038/nmeth.1292