Abstract
We report a technique to evaluate the same tumor microenvironment over multiple intravital imaging sessions in living mice. We optically marked individual tumor cells expressing photoswitchable proteins in an orthotopic mammary carcinoma and followed them for extended periods through a mammary imaging window. We found that two distinct microenvironments in the same orthotopic mammary tumor affected differently the invasion and intravasation of tumor cells.
Access options
Subscribe to Journal
Get full journal access for 1 year
$259.00
only $21.58 per issue
All prices are NET prices.
VAT will be added later in the checkout.
Rent or Buy article
Get time limited or full article access on ReadCube.
from$8.99
All prices are NET prices.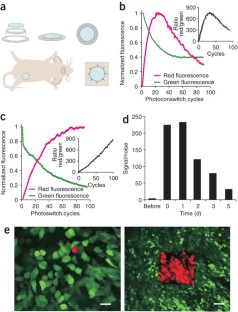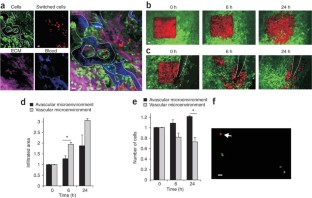 References
1

Condeelis, J. & Segall, J.E. Nat. Rev. Cancer 3, 921–930 (2003).

2

Gupta, G.P. & Massague, J. Cell 127, 679–695 (2006).

3

Sidani, M. et al. J. Mammary Gland Biol. Neoplasia 11, 151–163 (2006).

4

Lehr, H.A. et al. Am. J. Pathol. 143, 1055–1062 (1993).

5

Wyckoff, J.B. et al. Cancer Res. 67, 2649–2656 (2007).

6

Bins, A.D. et al. BMC Biotechnol. 7, 2 (2007).

7

Gurskaya, N.G. et al. Nat. Biotechnol. 24, 461–465 (2006).

8

Lukyanov, K.A., Chudakov, D.M., Lukyanov, S. & Verkhusha, V.V. Nat. Rev. Mol. Cell Biol. 6, 885–891 (2005).

9

Gray, N.W., Weimer, R.M., Bureau, I. & Svoboda, K. PLoS Biol. 4, e370 (2006).

10

Sato, T., Takahoko, M. & Okamoto, H. Genesis 44, 136–142 (2006).

11

Hatta, K., Tsujii, H. & Omura, T. Nat. Protoc. 1, 960–967 (2006).

12

Post, J.N., Lidke, K.A., Rieger, B. & Arndt-Jovin, D.J. FEBS Lett. 579, 325–330 (2005).

13

Chudakov, D.M., Lukyanov, S. & Lukyanov, K.A. Nat. Protocols 2, 2024–2032 (2007).

14

Condeelis, J. & Pollard, J.W. Cell 124, 263–266 (2006).

15

Lin, E.Y. et al. Am. J. Pathol. 163, 2113–2126 (2003).
Acknowledgements
This work was supported by US Department of Defense (BC061403 to D.K.), US National Institutes of Health (U54GM064346 to J.v.R.; CA100324 to J.C., J.E.S. and J.W.; U54CA126511 to J.C. and B.G.; and GM070358 and GM073913 to V.V.V.). We thank the staff of the Analytical Imaging Facility and D. Entenberg for help with microscopy, the immunohistochemistry facility for help with histology, M. Rottenkolber for help in fabrication of the imaging box, J. Pollard (Albert Einstein College of Medicine) for providing the F4/80 antibody, S. Garofalo for technical assistance, and members of the Condeelis, Segall, Cox and Verkhusha laboratories for discussions.
Supplementary information
About this article
Cite this article
Kedrin, D., Gligorijevic, B., Wyckoff, J. et al. Intravital imaging of metastatic behavior through a mammary imaging window. Nat Methods 5, 1019–1021 (2008). https://doi.org/10.1038/nmeth.1269
Received:

Accepted:

Published:

Issue Date: