Abstract
We describe an automated method to isolate mutant Caenorhabditis elegans that do not appropriately execute cellular differentiation programs. We used a fluorescence-activated sorting mechanism implemented in the COPAS Biosort machine to isolate mutants with subtle alterations in the cellular specificity of GFP expression. This methodology is considerably more efficient than comparable manual screens and enabled us to isolate mutants in which dopamine neurons do not differentiate appropriately.
This is a preview of subscription content
Access options
Subscribe to Journal
Get full journal access for 1 year
$119.00
only $9.92 per issue
All prices are NET prices.
VAT will be added later in the checkout.
Tax calculation will be finalised during checkout.
Buy article
Get time limited or full article access on ReadCube.
$32.00
All prices are NET prices.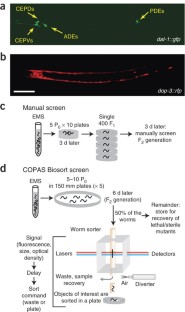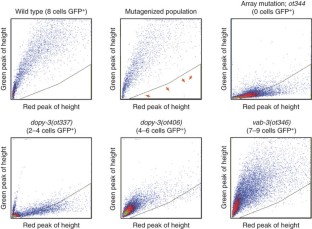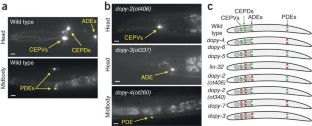 References
Brenner, S. Genetics 77, 71–94 (1974).

Jorgensen, E.M. & Mango, S.E. Nat. Rev. Genet. 3, 356–369 (2002).

Chalfie, M., Tu, Y., Euskirchen, G., Ward, W.W. & Prasher, D.C. Science 263, 802–805 (1994).

Pulak, R. Methods Mol. Biol. 351, 275–286 (2006).

Abeliovich, A. & Hammond, R. Dev. Biol. 304, 447–454 (2007).

Nass, R. et al. J. Neurochem. 94, 774–785 (2005).

Nass, R., Hall, D.H., Miller, D.M., III & Blakely, R.D. Proc. Natl. Acad. Sci. USA 99, 3264–3269 (2002).

Chase, D.L., Pepper, J.S. & Koelle, M.R. Nat. Neurosci. 7, 1096–1103 (2004).

Davis, M.W. et al. BMC Genomics 6, 118 (2005).

Zhao, C. & Emmons, S.W. Nature 373, 74–78 (1995).

Hack, M.A. et al. Nat. Neurosci. 8, 865–872 (2005).

Guenther, C. & Garriga, G. Development 122, 3509–3518 (1996).

Chung, K., Crane, M.M. & Lu, H. Nat. Methods 5, 637–643 (2008).

Boulin, T. & Bessereau, J.L. Nat. Protoc. 2, 1276–1287 (2007).

Sarin, S., Prabhu, S., O'Meara, M.M., Pe'er, I. & Hobert, O. Nat. Methods advance online publication 1 August 2008 (doi:10.1038/nmeth.1249).
Acknowledgements
We thank A. Kruyer, A. Pretorian, J. Recio and Q. Chen for technical assistance, S. Sarin for calculating the degree of saturation, V. Bertrand and F. Zhang for communicating unpublished results, and S. Mitani (Tokyo Women's Medical University School of Medicine) for providing lin-32 deletion alleles. This work was funded by the US National Institutes of Health (R01NS039996-05; R01NS050266-03), the Howard Hughes Medical Institute, an European Molecular Biology Organization long-term fellowship to M.D. and N.F., and a Marie Curie Outgoing International fellowship to N.F.
Supplementary information
Supplementary Figures 1–2, Supplementary Tables 1–6, Supplementary Methods (PDF 3378 kb)
About this article
Cite this article
Doitsidou, M., Flames, N., Lee, A. et al. Automated screening for mutants affecting dopaminergic-neuron specification in C. elegans. Nat Methods 5, 869–872 (2008). https://doi.org/10.1038/nmeth.1250
Received:

Accepted:

Published:

Issue Date:

DOI: https://doi.org/10.1038/nmeth.1250