Abstract
We introduce a method for sequencing peptides by mass spectrometry using a metalloendopeptidase that cleaves proteins at the amino side of lysine (Lys-N). When analyzed by electron transfer dissociation (ETD)–based mass spectrometric sequencing, Lys-N–digested peptides that contain a single lysine residue produce spectra dominated by c-type fragment ions, providing simple ladders for sequence determination. This method should be a valuable strategy for de novo sequencing and the analysis of post-translational modifications.
Relevant articles
Open Access articles citing this article.
Ross Chawner

,

Stephen W. Holman

…

Claire E. Eyers

Journal of the American Society for Mass Spectrometry Open Access 19 August 2014
Access options
Subscribe to Journal
Get full journal access for 1 year
$99.00
only $8.25 per issue
All prices are NET prices.
VAT will be added later in the checkout.
Tax calculation will be finalised during checkout.
Buy article
Get time limited or full article access on ReadCube.
$32.00
All prices are NET prices.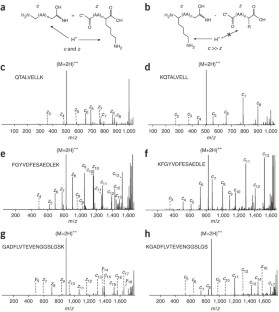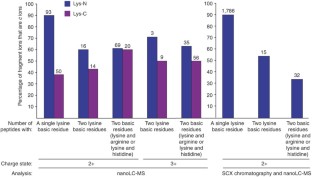 References
Aebersold, R. & Mann, M. Nature 422, 198–207 (2003).

Witze, E.S., Old, W.M., Resing, K.A. & Ahn, N.G. Nat. Methods 4, 798–806 (2007).

Standing, K.G. Curr. Opin. Struct. Biol. 13, 595–601 (2003).

Zubarev, R.A., Kelleher, N.L. & McLafferty, F.W. J. Am. Chem. Soc. 120, 3265–3266 (1998).

Syka, J.E.P., Coon, J.J., Schroeder, M.J., Shabanowitz, J. & Hunt, D.F. Proc. Natl. Acad. Sci. USA 101, 9528–9533 (2004).

Molina, H., Horn, D.M., Tang, N., Mathivanan, S. & Pandey, A. Proc. Natl. Acad. Sci. USA 104, 2199–2204 (2007).

Good, D.M., Wirtala, M., McAlister, G.C. & Coon, J.J. Mol. Cell. Proteomics 6, 1942–1951 (2007).

Swaney, D.L. et al. Anal. Chem. 79, 477–485 (2007).

Wysocki, V.H., Tsaprailis, G., Smith, L.L. & Breci, L.A. J. Mass Spectrom. 35, 1399–1406 (2000).

Han, H., Xia, Y. & McLuckey, S.A. J. Proteome Res. 6, 3062–3069 (2007).

Nonaka, T., Hashimoto, Y. & Takio, K. J. Biochem. 124, 157–162 (1998).

Rao, K.C.S., Palamalai, V., Dunlevy, J.R. & Miyagi, M. Mol. Cell. Proteomics 4, 1550–1557 (2005).

Peters, E.C., Horn, D.M., Tully, D.C. & Brock, A. Rapid Commun. Mass Spectrom. 15, 2387–2392 (2001).

Beausoleil, S.A. et al. Proc. Natl. Acad. Sci. USA 101, 12130–12135 (2004).
Acknowledgements
We thank A.F.M. Altelaar and B. van Breukelen for fruitful discussions and support. This work was supported by the Netherlands Proteomics Centre.
Supplementary information
Supplementary Figures 1–4, Supplementary Tables 1–3, Supplementary Methods (PDF 451 kb)
About this article
Cite this article
Taouatas, N., Drugan, M., Heck, A. et al. Straightforward ladder sequencing of peptides using a Lys-N metalloendopeptidase. Nat Methods 5, 405–407 (2008). https://doi.org/10.1038/nmeth.1204
Received:

Accepted:

Published:

Issue Date:

DOI: https://doi.org/10.1038/nmeth.1204