Abstract
Pulsed lasers are key elements in nonlinear bioimaging techniques such as two-photon fluorescence excitation (TPE) microscopy. Typically, however, only a percent or less of the laser power available can be delivered to the sample before photoinduced damage becomes excessive. Here we describe a passive pulse splitter that converts each laser pulse into a fixed number of sub-pulses of equal energy. We applied the splitter to TPE imaging of fixed mouse brain slices labeled with GFP and show that, in different power regimes, the splitter can be used either to increase the signal rate more than 100-fold or to reduce the rate of photobleaching by over fourfold. In living specimens, the gains were even greater: a ninefold reduction in photobleaching during in vivo imaging of Caenorhabditis elegans larvae, and a six- to 20-fold decrease in the rate of photodamage during calcium imaging of rat hippocampal brain slices.
Your institute does not have access to this article
Relevant articles
Open Access articles citing this article.
Michael J. Redlich

,

Brad Prall

…

Hyungsik Lim

Scientific Reports Open Access 12 April 2021

Ahmed Abu-Siniyeh

&

Walid Al-Zyoud

Laboratory Animal Research Open Access 22 April 2020

Nima Davoudzadeh

,

Guillaume Ducourthial

&

Bryan Q. Spring

Scientific Reports Open Access 12 March 2019
Access options
Subscribe to Journal
Get full journal access for 1 year
$119.00
only $9.92 per issue
All prices are NET prices.
VAT will be added later in the checkout.
Tax calculation will be finalised during checkout.
Buy article
Get time limited or full article access on ReadCube.
$32.00
All prices are NET prices.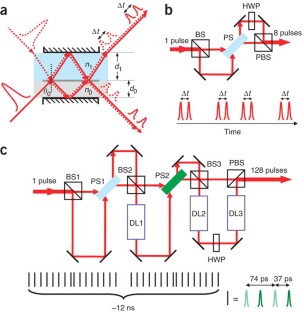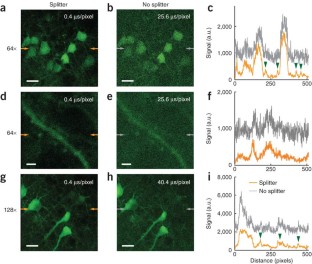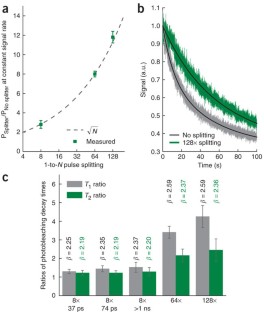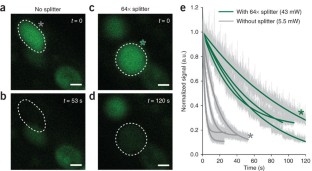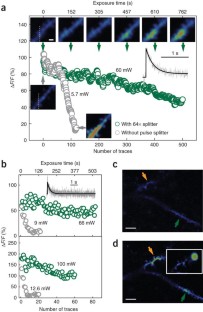 References
Chen, T.S. et al. High-order photobleaching of green fluorescent protein inside live cells in two-photon excitation microscopy. Biochem. Biophys. Res. Commun. 291, 1272–1275 (2002).

Patterson, G.H. & Piston, D.W. Photobleaching in two-photon excitation microscopy. Biophys. J. 78, 2159–2162 (2000).

Denk, W., Strickler, J.H. & Webb, W.W. Two-photon laser scanning fluorescence microscopy. Science 248, 73–76 (1990).

Hopt, A. & Neher, E. Highly nonlinear photodamage in two-photon fluorescence microscopy. Biophys. J. 80, 2029–2036 (2001).

Sizer, T., II Increase in laser repetition rate by spectral selection. IEEE J. Quantum Electron. 25, 97–103 (1989).

MacFarlane, D.L., Strozewski, K.J. & Tatum, J.A. Mode-locked laser pulse train repetition frequency multiplication: the optical rattler. Appl. Opt. 30, 1042–1047 (1991).

Narayan, V., Dowling, E.M. & MacFarlane, D.L. Design of multimirror structures for high-frequency bursts and codes of ultrashort pulses. IEEE J. Quantum Electron. 30, 1671–1679 (1994).

Guild, J.B., Xu, C. & Webb, W.W. Measurement of group delay dispersion of high numerical aperture objective lenses using two-photon excited fluorescence. Appl. Opt. 36, 397–401 (1997).

Squier, J. & Muller, M. High resolution nonlinear microscopy: A review of sources and methods for achieving optimal imaging. Rev. Sci. Instrum. 72, 2855–2867 (2001).

Volkmer, A. et al. One- and two-photon excited fluorescence lifetimes and anisotropy decays of green fluorescent proteins. Biophys. J. 78, 1589–1598 (2000).

Fire, A. et al. Potent and specific genetic interference by double-stranded RNA in Caenorhabditis elegans. Nature 391, 806–811 (1998).

Schonle, A. & Hell, S.W. Heating by absorption in the focus of an objective lens. Opt. Lett. 23, 325–327 (1998).

Koester, H.J. et al. Ca2+ fluorescence imaging with pico- and femtosecond two-photon excitation: signal and photodamage. Biophys. J. 77, 2226–2236 (1999).

Magee, J.C. Dendritic Ih normalizes temporal summation in hippocampal CA1 neurons. Nat. Neurosci. 2, 508–514 (1999).

Campagnola, P.J. et al. High-resolution nonlinear optical imaging of live cells by second harmonic generation. Biophys. J. 77, 3341–3349 (1999).

Florsheimer, M., Brillert, C. & Fuchs, H. Chemical imaging of interfaces by sum frequency microscopy. Langmuir 15, 5437–5439 (1999).

Ji, N. et al. Three-dimensional chiral imaging by sum-frequency generation. J. Am. Chem. Soc. 128, 3482–3483 (2006).

Zumbusch, A., Holtom, G.R. & Xie, X.S. Three-dimensional vibrational imaging by coherent anti-stokes raman scattering. Phys. Rev. Lett. 82, 4142 (1999).

Mertz, J., Xu, C. & Webb, W.W. Single-molecule detection by two-photon-excited fluorescence. Opt. Lett. 20, 2532–2534 (1995).

Chu, S.W., Liu, T.M. & Sun, C.K. Real-time second-harmonic-generation microscopy based on a 2-GHz repetition rate Ti:sapphire laser. Opt. Exp. 11, 933–938 (2003).

Bewersdorf, J., Pick, R. & Hell, S.W. Multifocal multiphoton microscopy. Opt. Lett. 23, 655–657 (1998).

Buist, A.H. et al. Real time two-photon absorption microscopy using multi point excitation. J. Microsc. (Oxf.) 192, 217–226 (1998).

Fittinghoff, D.N. & Squier, J.A. Time-decorrelated multifocal array for multiphoton microscopy and micromachining. Opt. Lett. 25, 1213–1215 (2000).

Fricke, M. & Nielsen, T. Two-dimensional imaging without scanning by multifocal multiphoton microscopy. Appl. Opt. 44, 2984–2988 (2005).

Sacconi, L. et al. Multiphoton multifocal microscopy exploiting a diffractive optical element. Opt. Lett. 28, 1918–1920 (2003).

Kim, K.H. et al. Multifocal multiphoton microscopy based on multianode photomultiplier tubes. Opt. Exp. 15, 11658–11678 (2007).
Acknowledgements
We thank our colleagues at Janelia Farm Research Campus, Howard Hughes Medical Institute, T. Sato and T.-Y. Mao for providing the GFP-labeled brain slice samples, V. Jayaraman and J. Seelig for sharing their Ti:sapphire laser, R. Kerr and H.-C. Peng for guidance with the C. elegans samples, and K. Svoboda for helpful suggestions.
Supplementary information
About this article
Cite this article
Ji, N., Magee, J. & Betzig, E. High-speed, low-photodamage nonlinear imaging using passive pulse splitters. Nat Methods 5, 197–202 (2008). https://doi.org/10.1038/nmeth.1175
Received:

Accepted:

Published:

Issue Date:

DOI: https://doi.org/10.1038/nmeth.1175