Abstract
Chiral crystals can be exploited for applications in enantioselective separation and catalysis. However, the study of chirality at the atomic level in a sub-micrometre-sized crystal is difficult due to the lack of adequate characterization methods. Herein, we present two efficient and practical methods of characterization that are based on electron crystallography. These methods are successfully applied to reveal the handedness of a chiral, zeolite nanocrystal. The handedness is identified through either a comparison of two high-resolution transmission electron microscope images, taken from the same nanocrystal but along different zone axes by tilting it around its screw axis, or the intensity asymmetry of a Bijvoet pair of reflections in a single precession electron-diffraction pattern. These two approaches provide new ways to determine the handedness of small, chiral crystals.
Access options
Subscribe to Journal
Get full journal access for 1 year
$99.00
only $8.25 per issue
All prices are NET prices.
VAT will be added later in the checkout.
Tax calculation will be finalised during checkout.
Rent or Buy article
Get time limited or full article access on ReadCube.
from$8.99
All prices are NET prices.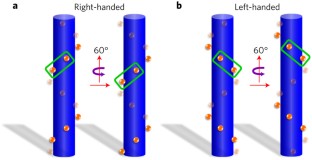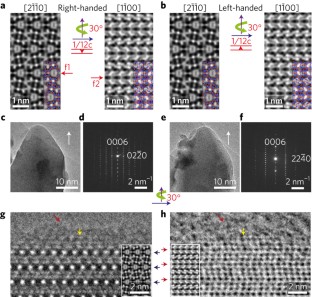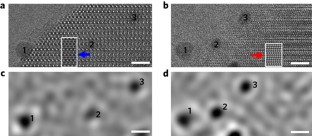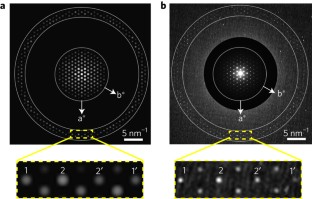 References
1

Yang, Y., Su, B., Yan, Q. & Ren, Q. Separation of naproxen enantiomers by supercritical/subcritical fluid chromatography. J. Pharm. Biomed. Anal. 39, 815–818 (2005).

2

Pasteur, L. Recherches sur les relations qui peuvent exister entre la forme crystalline, la composition chimique et le sens de la polarization rotatoire. Ann. Chim. Phys. 24, 442–459 (1848).

3

Bijvoet, J. M., Peerdeman, A. F. & Bommel, A. J. Determination of the absolute configuration of optically active compounds by means of X-rays. Nature 168, 271–272 (1951).

4

Hamilton, W. C. Significance tests on the crystallographic R factor. Acta Cryst. 18, 502–510 (1965).

5

Rogers, D. On the application of Hamiton's ratio test to the assignment of absolute configuration and an alternative test. Acta Cryst. A 37, 734–741 (1981).

6

Flack, H. D. On enantiomorph-polarity estimation. Acta Cryst. A 39, 876–881 (1983).

7

Escudero-Adan, E. C., Benet-Buchholz, J. & Ballester, P. The use of Mo Kα radiation in the assignment of the absolute configuration of light-atom molecules; the importance of high-resolution data. Acta Cryst. B 80, 660–668 (2014).

8

Scott, M. C. et al. Electron tomography at 2.4-ångström resolution. Nature 483, 444–447 (2012).

9

Goodman, P. & Secomb, T. W. Identification of enantiomorphously related space groups by electron diffraction. Acta Cryst. A 33, 126–133 (1977).

10

Goodman, P. & Johnson, A. W. S. Identification of enantiomorphically-related space groups by electron diffraction—a second method. Acta Cryst. A 33, 997–1001 (1977).

11

Tanaka, M., Takayoshi, H., Ishida, M. & Endoh, Y. Crystal chirality and helicity of the helical spin density wave in MnSi. I. convergent-beam electron diffraction. J. Phys. Soc. Japan 54, 2970–2974 (1985).

12

Spence, J. C. H., Zuo, J. M., O'Keeffe, M., Marthinsen, K. & Hoier, R. On the minimum number of beams needed to distinguish enantiomorphs in X-ray and electron diffraction. Acta Cryst. A 50, 647–650 (1994).

13

Saitoh, K., Tsuda, K., Terauchi, M. & Tanaka, M. Distinction between space groups having principle rotation and screw axes, which are combined with twofold rotation axes, using the coherent convergent-beam electron diffraction method. Acta Cryst. A 57, 219–230 (2001).

14

Inui, H., Fujii, A., Tanaka, K., Sakamoto, H. & Ishizuka, K. New electron diffraction method to identify the chirality of enantiomorphic crystals. Acta Cryst. B 59, 802–810 (2003).

15

Morikawa, D., Shibata, K., Kanazawa, N., Yu, X. Z. & Tokura, Y. Crystal chirality and skyrmion helicity in MnSi and (Fe, Co)Si as determined by transmission electron microscopy. Phys. Rev. B 88, 0244081–0240814 (2013).

16

Tokunaga, Y. et al. A new class of chiral materials hosting magnetic skyrmions beyond room temperature. Nat. Commun. 6, 7638–7644 (2015).

17

Cowley, J. M., Nikolaev, P., Thess, A. & Smalley, R. E. Electron nano-diffraction study of carbon single-walled nanotube ropes. Chem. Phys. Lett. 265, 379–384 (1997).

18

Qin, L. C., Ichihashi, T. & Iijima, S. On the measurement of helicity of carbon nanotubes. Ultramicroscopy 67, 181–189 (1997).

19

Bernaerts, D., Amelinckx, S., Van Tendeloo, G. & Van Landuyt, J. Electron microscopy of carbon nanotubes and related structures. J. Phys. Chem. Solids 58, 1807–1813 (1997).

20

Che, S. et al. Synthesis and characterization of chiral mesoporous silica. Nature 429, 281–284 (2004).

21

Ohsuna, T., Liu, Z., Che, S. & Terasaki, O. Characterization of chiral mesoporous materials by transmission electron microscopy. Small 1, 233–237 (2005).

22

Juchtmans, R., Béché, A., Abakumov, A., Batuk, M. & Verbeeck Using electron vortex beams to determine chirality of crystals in transmission electron microscopy. J. Phys. Rev. B 91, 094112 (2015).

23

Winkelmann, A. & Nolze, G. Chirality determination of quartz crystals using electron backscatter diffraction. Ultramicroscopy 149, 58–63 (2015).

24

Vincent, R. & Midgley, P. Double conical beam-rocking system for measurement of integrated electron diffraction intensities. Ultramicroscopy 53, 271–282 (1994).

25

Wan, K. T. & Davis, M. E. Design and synthesis of a heterogeneous asymmetric catalyst. Nature 370, 449–450 (1994).

26

Davis, M. E. New vistas in zeolite and molecular sieve catalysis. Acc. Chem. Res. 26, 111–115 (1993).

27

Yu, J. H. & Xu, R. R. Chiral zeolite materials: structure insight and synthetic challenges. J. Mater. Chem. 18, 4021–4030 (2008).

28

Terasaki, O. in Molecular Sieves-Science and Technology Vol. 2 (eds Karge, H. G. & Weitkamp, J.) 72–110 (Springer, 1999).

29

Terasaki, O. Fine structures of zeolites. J. Electron Microsc. 43, 337–346 (1994).

30

Zeolite Framework Types (IZA-SC, 2017); http://asia.iza-structure.org/IZA-SC/ftc_table.php

31

Rojas, A., Arteaga, O., Kahr, B. & Camblor, M. A. Synthesis, structure, and optical activity of HPM-1, a pure silica chiral zeolite. J. Am. Chem. Soc. 135, 11975–11984 (2013).

32

Schmidt, J. E., Deem, M. W. & Davis, M. E. Synthesis of a specified, silica molecular sieve by using computationally predicted organic structure-directing agents. Angew. Chem. Int. Ed. 53, 8372–8374 (2014).

33

Gemmi, M. & Oleynikov, P. Scanning reciprocal space for solving unknown structures: energy filtered diffraction tomography and rotation diffraction tomography methods. Z. Kristallogr. 228, 51–58 (2013).

34

Allen, L. J., McBride, W., O'Leary, N. L. & Oxley, M. P. Exit wave reconstruction at atomic resolution. Ultramicroscopy 100, 91–104 (2004).

35

Wan, W., Hovmöller, S. & Zou, X. Structure projection reconstruction from through-focus series of high-resolution transmission electron microscopy images. Ultramicroscopy 115, 50–60 (2012).

36

Oleynikov, P. eMap and eSlice: a software package for crystallographic computing. Cryst. Res. Technol. 46, 569–579 (2011).
Acknowledgements
The authors acknowledge M. A. Camblor (ICMM, Madrid, Spain) and M. E. Davis (CALTECH, USA) for providing them with the zeolite samples. The authors also thank K. Tsuda (Tohoku University, Japan) for CBED experiments and discussions, W. Wan (Stockholm University, Sweden) for help with the through-focus series of HRTEM images, I. Onishi for help on TEM experiments, S. Asahina for help on SEM experiments and T. Ohsuna (Nagoya University, Japan) for discussions. Support from VR (Y.M. & P.O.), JEOL Ltd (P.O.), Berzelii Centre EXSELENT on Porous Materials and 3DEM-Natur, Sweden, BK21 Plus, Korea (O.T.) and the Shanghaitech Startup Funding (Y.M.) is acknowledged.
Ethics declarations
Competing interests
The authors declare no competing financial interests.
Supplementary information
About this article
Cite this article
Ma, Y., Oleynikov, P. & Terasaki, O. Electron crystallography for determining the handedness of a chiral zeolite nanocrystal. Nature Mater 16, 755–759 (2017). https://doi.org/10.1038/nmat4890
Received:

Accepted:

Published:

Issue Date:
Further reading
Tim Gruene

,

Julian J. Holstein

,

Guido H. Clever

&

Bernhard Keppler

Nature Reviews Chemistry (2021)

Nature Reviews Materials (2021)

Nature Communications (2020)