A new report demonstrates an innovative approach to aligning crystallites of metal–organic frameworks such that thin films are created with oriented channels — potentially overcoming one of the major barriers to application of these highly topical materials.
Access options
Subscribe to Journal
Get full journal access for 1 year
$209.00
only $17.42 per issue
All prices are NET prices.
VAT will be added later in the checkout.
Rent or Buy article
Get time limited or full article access on ReadCube.
from$8.99
All prices are NET prices.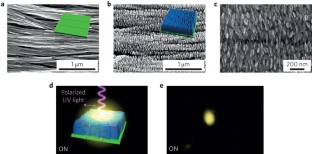 References
1

Yaghi, O. M. et al. Nature 423, 705–714 (2003).

2

Ma, S., Zhou, H.-C. Chem. Commun. 46, 44–53 (2010).

3

Bloch, W. M., Champness, N. R. & Doonan, C. J. Angew. Chem. Int. Ed. 54, 12860–12867 (2015).

4

Falcaro, P. et al. Nat. Mater. 16, 342–348 (2017).

5

Rodenas, T. et al. Nat. Mater. 14, 48–55 (2015).

6

Zacher, D., Shekhah, O., Wöll, C. & Fischer, R. A. Chem. Soc. Rev. 38, 1418–1429 (2009).

7

Li, S. et al. Adv. Mater. 24, 5954–5958 (2012).
About this article
Cite this article
Champness, N. Lining up metal–organic frameworks. Nature Mater 16, 283–284 (2017). https://doi.org/10.1038/nmat4859