Greater rigidity of conjugated polymer backbones increases their light-harvesting ability, making them better performers in solar-cell applications.
Access options
Subscribe to Journal
Get full journal access for 1 year
$199.00
only $16.58 per issue
All prices are NET prices.
VAT will be added later in the checkout.
Rent or Buy article
Get time limited or full article access on ReadCube.
from$8.99
All prices are NET prices.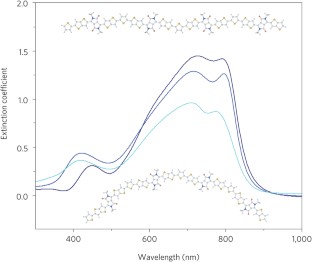 References
1

Thompson, B. C. & Fréchet, J. M. J. Angew. Chem. Int. Ed. 47, 58–77 (2007).

2

Dou, L., Liu, Y., Hong, Z., Li, G. & Yang, Y. Chem. Rev. 115, 12633–12665 (2015).

3

Duan, C., Huang, F. & Cao, Y. J. Mater. Chem. 22, 10416–10434 (2012).

4

Liu, C., Wang, K., Gong, X. & Heeger, A. J. Chem. Soc. Rev. http://doi.org/bhwr (2016).

5

Vezie, M. S. et al. Nature Mater. 15, 746–753 (2016).
About this article
Cite this article
Grey, J. Strong absorption in stiff polymers. Nature Mater 15, 705–706 (2016). https://doi.org/10.1038/nmat4666