Abstract
Photoinduced phase transformations1,2 occur when a laser pulse impacts a material, thereby transforming its electronic and/or structural orders, consequently affecting the functionalities3,4,5,6,7. The transient nature of photoinduced states has thus far severely limited the scope of applications. It is of paramount importance to explore whether structural feedback during the solid deformation has the capacity to amplify and stabilize photoinduced transformations. Contrary to coherent optical phonons, which have long been under scrutiny8,9,10, coherently propagating cell deformations over acoustic timescales11,12,13,14 have not been explored to a similar degree, particularly with respect to cooperative elastic interactions. Herein we demonstrate, experimentally and theoretically, a self-amplified responsiveness in a spin-crossover material15 during its delayed volume expansion. The cooperative response at the material scale prevails above a threshold excitation, significantly extending the lifetime of photoinduced states. Such elastically driven cooperativity triggered by a light pulse offers an efficient route towards the generation and stabilization of photoinduced phases in many volume-changing materials.
Relevant articles
Open Access articles citing this article.
Allan S. Johnson

,

Daniel Perez-Salinas

…

Simon E. Wall

Nature Physics Open Access 22 December 2022

Alix Volte

,

Celine Mariette

…

Maciej Lorenc

Communications Physics Open Access 29 June 2022

C. Mariette

,

M. Lorenc

…

M. Cammarata

Nature Communications Open Access 23 February 2021
Access options
Subscribe to this journal
Receive 12 print issues and online access
$259.00 per year
only $21.58 per issue
Rent or buy this article
Get just this article for as long as you need it
$39.95
Prices may be subject to local taxes which are calculated during checkout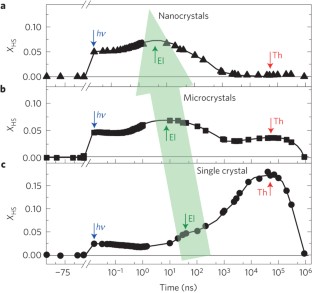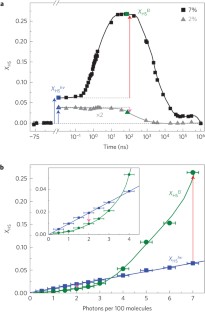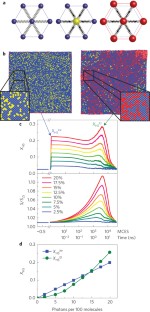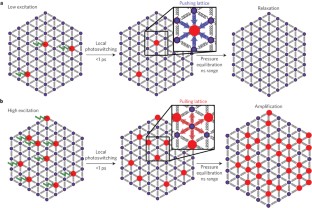 References
Nasu, K. Photoinduced Phase Transitions (World Scientific, 2004).

Cailleau, H. et al. Impacting materials by light and seeing their structural dynamics. Eur. Phys. J. 222, 1077–1092 (2013).

Ichikawa, H. et al. Transient photoinduced 'hidden' phase in a manganite. Nature Mater. 10, 101–105 (2011).

Gao, M. et al. Mapping molecular motions leading to charge delocalization with ultrabright electrons. Nature 496, 343–346 (2013).

Porer, M. et al. Non-thermal separation of electronic and structural orders in a persisting charge density wave. Nature Mater. 13, 857–861 (2014).

Beaud, P. et al. A time-dependent order parameter for ultrafast photoinduced phase transitions. Nature Mater. 13, 923–927 (2014).

Collet, E. et al. Laser-induced ferroelectric structural order in an organic charge-transfer crystal. Science 300, 612–615 (2003).

Sokolowski-Tinten, K. et al. Femtosecond X-ray measurement of coherent lattice vibrations near the Lindemann stability limit. Nature 422, 287–289 (2003).

Wall, S. et al. Ultrafast changes in lattice symmetry probed by coherent phonons. Nature Commun. 3, 721 (2012).

Cammarata, M. et al. Sequential activation of molecular breathing and bending during spin-crossover photoswitching revealed by femtosecond optical and X-ray absorption spectroscopy. Phys. Rev. Lett. 113, 227402 (2014).

Feurer, T., Vaughan, J. C. & Nelson, K. A. Spatiotemporal coherent control of lattice vibrational waves. Science 299, 374–377 (2003).

Lejman, M. et al. Giant ultrafast photo-induced shear strain in ferroelectric BiFeO3 . Nature Commun. 5, 4301 (2014).

Lorenc, M. et al. Cascading photoinduced, elastic, and thermal switching of spin states triggered by a femtosecond laser pulse in an Fe(III) molecular crystal. Phys. Rev. B 85, 054302 (2012).

Collet, E. et al. Ultrafast spin-state photoswitching in a crystal and slower consecutive processes investigated by femtosecond optical spectroscopy and picosecond X-ray diffraction. Phys. Chem. Chem. Phys. 14, 6192–6199 (2012).

Halcrow, M. (ed.) Spin-Crossover Materials (Wiley, 2013).

Willenbacher, N. & Spiering, H. The elastic interaction of high-spin and low-spin complex molecules in spin-crossover compounds. J. Phys. C 21, 1423–1439 (1988).

Bertoni, R., Lorenc, M., Tissot, A., Boillot, M.-L. & Collet, E. Femtosecond photoswitching dynamics and microsecond thermal conversion driven by laser heating in FeIII spin-crossover solids. Coord. Chem. Rev. 282–283, 66–76 (2015).

Zhang, W. et al. Tracking excited-state charge and spin dynamics in iron coordination complexes. Nature 509, 345–348 (2014).

Lorenc, M. et al. Successive dynamical steps of photoinduced switching of a molecular Fe(III) spin-crossover material by time-resolved x-ray diffraction. Phys. Rev. Lett. 103, 028301 (2009).

Tissot, A., Bertoni, R., Collet, E., Toupet, L. & Boillot, M.-L. The cooperative spin-state transition of an iron(III) compound [FeIII(3-MeO-SalEen)2]PF6: thermal- vs ultra-fast photo-switching. J. Mat. Chem. 35, 2333–2340 (2011).

Félix, G. et al. Lattice dynamics in spin-crossover nanoparticles through nuclear inelastic scattering. Phys. Rev. B 91, 024422 (2015).

Enachescu, C., Stoleriu, L., Stancu, A. & Hauser, A. Model for elastic relaxation phenomena in finite 2D hexagonal molecular lattices. Phys. Rev. Lett. 102, 257204 (2009).

Tissot, A., Enachescu, C. & Boillot, M.-L. Control of the thermal hysteresis of the prototypal spin-transition FeII(phen)2(NCS)2 compound via the microcrystallites environment: experiments and mechanoelastic model. J. Mater. Chem. 22, 20451–20457 (2012).

Stoleriu, L., Chakraborty, P., Hauser, A., Stancu, A. & Enachescu, C. Thermal hysteresis in spin-crossover compounds studied within the mechanoelastic model and its potential application to nanoparticles. Phys. Rev. B 84, 134102 (2011).

Varret, F. et al. The propagation of the thermal spin transition of [Fe(btr)2(NCS)2]H2O single crystals, observed by optical microscopy. New J. Chem. 35, 2333–2340 (2011).

Cobo, S. et al. Single-laser-shot-induced complete bidirectional spin transition at room temperature in single crystals of (FeII(pyrazine)(Pt(CN)4)). J. Am. Chem. Soc. 130, 9019–9024 (2008).

Hauser, A., Gütlich, P. & Spiering, H. High-spin → low-spin relaxation kinetics and cooperative effects in the [Fe(ptz)6(BF4)2[Zn1−xFex(ptz)6](BF4)2 (ptz = 1-Propyltetrazole) spin-crossover systems. Inorg. Chem. 25, 4245–4248 (1986).

Gütlich, P., Hauser, A. & Spiering, H. Thermal and optical switching of Iron (II) complexes. Angew. Chem. Int. Ed. 33, 2024–2054 (1994).

Kobatake, S., Takami, S., Muto, H., Ishikawa, T. & Irie, M. Rapid and reversible shape changes of molecular crystals on photoirradiation. Nature 446, 778–781 (2007).

Ohkoshi, S. et al. Synthesis of a metal oxide with a room-temperature photoreversible phase transition. Nature Chem. 2, 539–545 (2010).

Camjayi, A. et al. First-order insulator-to-metal Mott transition in the paramagnetic 3D System GaTa4Se8 . Phys. Rev. Lett. 113, 086404 (2014).

Veber, S. L. et al. High-field EPR reveals the strongly temperature-dependent exchange interaction in "breathing" crystals Cu(hfac)2LR. J. Am. Chem. Soc. 130, 2444–2445 (2008).

Okamoto, H. et al. Photoinduced phase transition in tetrathiafulvalene-p-chloranil observed in femtosecond reflection spectroscopy. Phys. Rev. B 70, 165202 (2004).

Okimoto, Y. et al. Ultrasonic propagation of a metallic domain in Pr0.5Ca0.5CoO3 undergoing a photoinduced insulator–metal transition. Phys. Rev. Lett. 103, 027402 (2009).
Acknowledgements
This work was supported by the Institut Universitaire de France, Rennes Métropole, Région Bretagne (CREATE 4146), ANR (ANR-13-BS04-0002) and Europe (FEDER). C.E. thanks CNCS-UEFISCDI Romania (grant number PN-II-RU-TE-2014-4-0987).
Ethics declarations
Competing interests
The authors declare no competing financial interests.
Supplementary information
About this article
Cite this article
Bertoni, R., Lorenc, M., Cailleau, H. et al. Elastically driven cooperative response of a molecular material impacted by a laser pulse. Nature Mater 15, 606–610 (2016). https://doi.org/10.1038/nmat4606
Received:

Accepted:

Published:

Issue Date:

DOI: https://doi.org/10.1038/nmat4606