Abstract
Revealing the mechanisms of electronic transport through metal–molecule interfaces is of central importance for a variety of molecule-based devices. A key method for understanding these mechanisms is based on the study of conductance versus molecule length in molecular junctions. However, previous works focused on transport governed either by coherent tunnelling or hopping, both at low conductance. Here, we study the upper limit of conductance across metal–molecule–metal interfaces. Using highly conducting single-molecule junctions based on oligoacenes with increasing length, we find that the conductance saturates at an upper limit where it is independent of molecule length. With the aid of two prototype systems, in which the molecules are contacted by either Ag or Pt electrodes, we find two different possible origins for conductance saturation. The results are explained by an intuitive model, backed by ab initio calculations. Our findings shed light on the mechanisms that constrain the conductance of metal–molecule interfaces at the high-transmission limit.
Access options
Subscribe to Journal
Get full journal access for 1 year
$209.00
only $17.42 per issue
All prices are NET prices.
VAT will be added later in the checkout.
Rent or Buy article
Get time limited or full article access on ReadCube.
from$8.99
All prices are NET prices.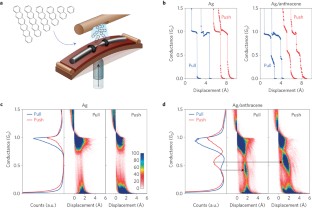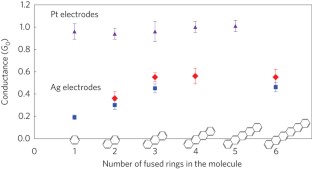 References
1

Ratner, M. A. Introducing molecular electronics. Mater. Today 5, 20–27 (February 2002).

2

Rocha, A. R. et al. Towards molecular spintronics. Nature Mater. 4, 335–339 (2005).

3

van der Molen, S. J. & Liljeroth, P. Charge transport through molecular switches. J. Phys. Condens. Matter 22, 133001 (2010).

4

Quek, S. Y., Choi, H. J., Louie, S. G. & Neaton, J. B. Length dependence of conductance in aromatic single-molecule junctions. Nano Lett. 9, 3949–3953 (2009).

5

Livshits, G. I. et al. Long-range charge transport in single G-quadruplex DNA molecules. Nature Nanotech. 9, 1040–1046 (2014).

6

Quinn, J. R., Foss, F. W., Venkataraman, L., Hybertsen, M. S. & Breslow, R. Single-molecule junction conductance through diaminoacenes. J. Am. Chem. Soc. 129, 6714–6715 (2007).

7

Kim, B., Choi, S. H., Zhu, X. Y. & Frisbie, C. D. Molecular tunnel junctions based on π-conjugated oligoacene thiols and dithiols between Ag, Au, and Pt contacts: effect of surface linking group and metal work function. J. Am. Chem. Soc. 133, 19864–19877 (2011).

8

Kim, T., Vázquez, H., Hybertsen, M. S. & Venkataraman, L. Conductance of molecular junctions formed with silver electrodes. Nano Lett. 13, 3358–3364 (2013).

9

Diez-Perez, I. et al. Controlling single-molecule conductance through lateral coupling of π orbitals. Nature Nanotech. 6, 226–231 (2011).

10

Kaliginedi, V. et al. Correlations between molecular structure and single-junction conductance: a case study with oligo (phenylene-ethynylene)-type wires. J. Am. Chem. Soc. 134, 5262–5275 (2012).

11

He, J. et al. Electronic decay constant of carotenoid polyenes from single-molecule measurements. J. Am. Chem. Soc. 127, 1384–1385 (2005).

12

Rascón-Ramos, H., Artés, J. M., Li, Y. & Hihath, J. Binding configurations and intramolecular strain in single-molecule devices. Nature Mater. 14, 517–522 (2015).

13

Cheng, Z. L. et al. In situ formation of highly conducting covalent Au-C contacts for single-molecule junctions. Nature Nanotech. 6, 353–357 (2011).

14

Ferrer, J. & García-Suárez, V. Tuning the conductance of molecular junctions: transparent versus tunneling regimes. Phys. Rev. B 80, 085426 (2009).

15

Venkataraman, L., Klare, J. E., Nuckolls, C., Hybertsen, M. S. & Steigerwald, M. L. Dependence of single-molecule junction conductance on molecular conformation. Nature 442, 904–907 (2006).

16

Watanabe, M. et al. The synthesis, crystal structure and charge-transport properties of hexacene. Nature Chem. 4, 574–578 (2012).

17

Korytár, R., Xenioti, D., Schmitteckert, P., Alouani, M. & Evers, F. Signature of the Dirac cone in the properties of linear oligoacenes. Nature Commun. 5, 5000 (2014).

18

Muller, C. J. Experimental observation of the transition from weak link to tunnel junction. Phys. C 191, 485–504 (1992).

19

Pauly, F. et al. Molecular dynamics study of the thermopower of Ag, Au, and Pt nanocontacts. Phys. Rev. B 84, 195420 (2011).

20

Limot, L., Kröger, J., Berndt, R., Garcia-Lekue, A. & Hofer, W. A. Atom transfer and single-adatom contacts. Phys. Rev. Lett. 94, 126102 (2005).

21

Untiedt, C. et al. Formation of a metallic contact: jump to contact revisited. Phys. Rev. Lett. 98, 206801 (2007).

22

Kamenetska, M. et al. Formation and evolution of single-molecule junctions. Phys. Rev. Lett. 102, 126803 (2009).

23

Murov, S. L., Carmichael, I. & Hug, G. L. Handbook of Photochemistry (CRC Press, 1993).

24

Moth-Poulsen, K. & Bjornholm, T. Molecular electronics with single molecules in solid-state devices. Nature Nanotech. 4, 551–556 (2009).

25

Datta, S. Quantum Transport: Atom to Transistor (Cambridge Univ. Press, 2005).

26

Perrin, M. L. et al. Large tunable image-charge effects in single-molecule junctions. Nature Nanotech. 8, 282–287 (2013).

27

Kim, Y., Pietsch, T., Erbe, A., Belzig, W. & Scheer, E. Benzenedithiol: a broad-range single-channel molecular conductor. Nano Lett. 11, 3734–3738 (2011).

28

Zotti, L. A. et al. Revealing the role of anchoring groups in the electrical conduction through single-molecule junctions. Small 6, 1529–1535 (2010).

29

Adak, O., Korytár, R., Joe, A. Y., Evers, F. & Venkataraman, L. Impact of electrode density of states on transport through pyridine-linked single molecule junctions. Nano Lett. 15, 3716–3722 (2015).

30

Smit, R. H. M., Untiedt, C. & van Ruitenbeek, J. M. The high-bias stability of monatomic chains. Nanotechnology 15, S472 (2004).

31

Huang, Z., Xu, B., Chen, Y., Ventra, M. Di & Tao, N. Measurement of current-induced local heating in a single molecule junction. Nano Lett. 6, 1240–1244 (2006).

32

Kiguchi, M. et al. Highly conductive molecular junctions based on direct binding of benzene to platinum electrodes. Phys. Rev. Lett. 101, 1–4 (2008).

33

Yelin, T. et al. Atomically wired molecular junctions: connecting a single organic molecule by chains of metal atoms. Nano Lett. 13, 1956–1961 (2013).

34

Krans, J. M. et al. One-atom point contacts. Phys. Rev. B 48, 14721–14724 (1993).

35

Nielsen, S. et al. Conductance of single-atom platinum contacts: voltage dependence of the conductance histogram. Phys. Rev. B 67, 3–6 (2003).

36

Ma, G. et al. Low-bias conductance of single benzene molecules contacted by direct Au–C and Pt–C bonds. Nanotechnology 21, 495202 (2010).

37

Perdew, J. P., Burke, K. & Ernzerhof, M. Generalized gradient approximation made simple. Phys. Rev. Lett. 77, 3865–3868 (1996).

38

Blum, V. et al. Ab initio molecular simulations with numeric atom-centered orbitals. Comput. Phys. Commun. 180, 2175–2196 (2009).

39

Arnold, A., Weigend, F. & Evers, F. Quantum chemistry calculations for molecules coupled to reservoirs: formalism, implementation, and application to benzenedithiol. J. Chem. Phys. 126, 174101 (2007).

40

Bagrets, A. Spin-polarized electron transport across metal–organic molecules: a density functional theory approach. J. Chem. Theory Comput. 9, 2801–2815 (2013).
Acknowledgements
T.Y. and O.T. thank L. Goffer, B. Pasmantirer and K. L. Narasimhan for their valuable help in developing the measurement set-ups and O. Yaffe for his assistance with molecule resources. O.T. thanks the H. Perlman family for their support and acknowledges funding by the Israel Science Foundation (Grant No. 1089/15), and the Minerva Foundation (Grant No. 711136). R.K. and F.E. gratefully acknowledge the Steinbuch Centre for Computing (SCC) for providing computing time on the computer HC3 at Karlsruhe Institute of Technology (KIT). Part of the computational work was performed on the bwUniCluster resources funded by the Ministry of Science, Research and Arts and the Universities of the State of Baden-Wuerttemberg, Germany, within the framework programme bwHPC.
Ethics declarations
Competing interests
The authors declare no competing financial interests.
Supplementary information
About this article
Cite this article
Yelin, T., Korytár, R., Sukenik, N. et al. Conductance saturation in a series of highly transmitting molecular junctions. Nature Mater 15, 444–449 (2016). https://doi.org/10.1038/nmat4552
Received:

Accepted:

Published:

Issue Date: