Abstract
Electronic interactions between metal nanoparticles and oxide supports control the functionality of nanomaterials, for example, the stability, the activity and the selectivity of catalysts1,2,3,4,5. Such interactions involve electron transfer across the metal/support interface. In this work we quantify this charge transfer on a well-defined platinum/ceria catalyst at particle sizes relevant for heterogeneous catalysis. Combining synchrotron-radiation photoelectron spectroscopy, scanning tunnelling microscopy and density functional calculations we show that the charge transfer per Pt atom is largest for Pt particles of around 50 atoms. Here, approximately one electron is transferred per ten Pt atoms from the nanoparticle to the support. For larger particles, the charge transfer reaches its intrinsic limit set by the support. For smaller particles, charge transfer is partially suppressed by nucleation at defects. These mechanistic and quantitative insights into charge transfer will help to make better use of particle size effects and electronic metal–support interactions in metal/oxide nanomaterials.
Your institute does not have access to this article
Relevant articles
Open Access articles citing this article.
Konstantin M. Neyman

&

Sergey M. Kozlov

NPG Asia Materials Open Access 15 July 2022

Lars Mohrhusen

&

Katharina Al-Shamery

Catalysis Letters Open Access 13 July 2022

Hongming Sun

,

Zhenhua Yan

…

Miao Du

Nature Communications Open Access 05 July 2022
Access options
Subscribe to Journal
Get full journal access for 1 year
$99.00
only $8.25 per issue
All prices are NET prices.
VAT will be added later in the checkout.
Tax calculation will be finalised during checkout.
Buy article
Get time limited or full article access on ReadCube.
$32.00
All prices are NET prices.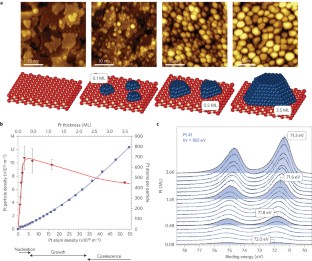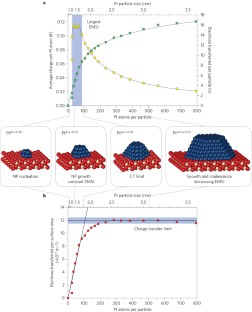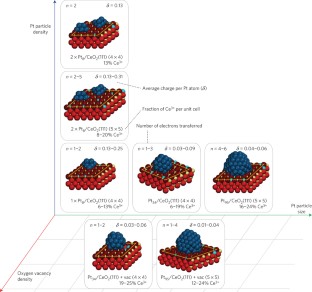 References
Graciani, J. et al. Highly active copper–ceria and copper–ceria–titania catalysts for methanol synthesis from CO2 . Science 345, 546–550 (2014).

Campbell, C. T. Catalyst–support interactions: Electronic perturbations. Nature Chem. 4, 597–598 (2012).

Campbell, C. T., Parker, S. C. & Starr, D. E. The effect of size-dependent nanoparticle energetics on catalyst sintering. Science 298, 811–814 (2002).

Bruix, A. et al. A new type of strong metal–support interaction and the production of H2 through the transformation of water on Pt/CeO2(111) and Pt/CeOx/TiO2(110) catalysts. J. Am. Chem. Soc. 134, 8968–8974 (2012).

Vayssilov, G. N. et al. Support nanostructure boosts oxygen transfer to catalytically active platinum nanoparticles. Nature Mater. 10, 310–315 (2011).

Ertl, G., Knözinger, H., Schüth, F. & Weitkamp, J. Handbook of Heterogeneous Catalysis 2nd edn (Wiley, 2008).

Bell, A. T. The impact of nanoscience on heterogeneous catalysis. Science 299, 1688–1691 (2003).

Chen, M. S. & Goodman, D. W. The structure of catalytically active gold on titania. Science 306, 252–255 (2004).

Bruix, A. et al. Maximum noble metal efficiency in catalytic materials: Atomically dispersed surface platinum. Angew. Chem. Int. Ed. 53, 10525–10530 (2014).

Trovarelli, A. & Fornasiero, P. Catalysis by Ceria and Related Materials (Imperial College Press, 2013).

Landman, U. et al. Factors in gold nanocatalysis: oxidation of CO in the non-scalable size regime. Top. Catal. 44, 145–158 (2007).

Hansen, P. L. et al. Atom-resolved imaging of dynamic shape changes in supported copper nanocrystals. Science 295, 2053–2055 (2002).

Fu, Q., Saltsburg, H. & Flytzani-Stephanopoulos, M. Active nonmetallic Au and Pt species on ceria-based water-gas shift catalysts. Science 301, 935–938 (2003).

Tauster, S. J., Fung, S. C., Baker, R. T. K. & Horsley, J. A. Strong interactions in supported-metal catalysts. Science 211, 1121–1125 (1981).

Dulub, O., Hebenstreit, W. & Diebold, U. Imaging cluster surfaces with atomic resolution: the strong metal–support interaction state of Pt supported on TiO2(110). Phys. Rev. Lett. 84, 3646–3649 (2000).

Pacchioni, G. Electronic interactions and charge transfers of metal atoms and clusters on oxide surfaces. Phys. Chem. Chem. Phys. 15, 1737–1757 (2013).

Sanchez, A. et al. When gold is not noble: nanoscale gold catalysts. J. Phys. Chem. A 103, 9573–9578 (1999).

Campbell, C. T. & Sellers, J. R. V. Anchored metal nanoparticles: effects of support and size on their energy, sintering resistance and reactivity. Faraday Discuss. 162, 9–30 (2013).

Luches, P. et al. Nature of Ag islands and nanoparticles on the CeO2(111) surface. J. Phys. Chem. C 116, 1122–1132 (2011).

Kong, D. et al. Growth, structure, and stability of Ag on CeO2(111): Synchrotron radiation photoemission studies. J. Phys. Chem. C 115, 6715–6725 (2011).

Freund, H. J., Nilius, N., Risse, T. & Schauermann, S. A fresh look at an old nano-technology: catalysis. Phys. Chem. Chem. Phys. 16, 8148–8167 (2014).

Campbell, C. T. Ultrathin metal films and particles on oxide surfaces: structural, electronic and chemisorptive properties. Surf. Sci. Rep. 27, 1–111 (1997).

Wertheim, G. K., DiCenzo, S. B. & Youngquist, S. E. Unit charge on supported gold clusters in photoemission final state. Phys. Rev. Lett. 51, 2310–2313 (1983).

Kaden, W. E. et al. Understanding surface core-level shifts using the Auger parameter: a study of Pd atoms adsorbed on ultrathin SiO2 films. Phys. Rev. B 89, 115436 (2014).

Grant, A. W. & Campbell, C. T. Cesium adsorption on TiO2(110). Phys. Rev. B 55, 1844–1851 (1997).

Nilius, N. et al. Electronic properties and charge state of gold monomers and chains adsorbed on alumina thin films on NiAl(110). Phys. Rev. B 81, 045422 (2010).

Dvořák, F. et al. Adjusting morphology and surface reduction of CeO2(111) thin films on Cu(111). J. Phys. Chem. C 115, 7496–7503 (2011).

Hu, S. et al. Ag nanoparticles on reducible CeO2(111) thin films: effect of thickness and stoichiometry of ceria. J. Phys. Chem. C 119, 3579–3588 (2015).

Matsumoto, M. et al. Resonant photoemission study of CeO2 . Phys. Rev. B 50, 11340–11346 (1994).

Pan, Y. et al. Titration of Ce3+ ions in the CeO2(111) surface by Au adatoms. Phys. Rev. Lett. 111, 206101 (2013).

Šutara, F. et al. Epitaxial growth of continuous CeO2(111) ultra-thin films on Cu(111). Thin Solid Films 516, 6120–6124 (2008).

Vari, G., Ovari, L., Kiss, J. & Konya, Z. LEIS and XPS investigation into the growth of cerium and cerium dioxide on Cu(111). Phys. Chem. Chem. Phys. 17, 5124–5132 (2015).

Kresse, G. & Furthmüller, J. Efficient iterative schemes for ab initio total-energy calculations using a plane-wave basis set. Phys. Rev. B 54, 11169–11186 (1996).

Kresse, G. & Hafner, J. Ab initio molecular dynamics for liquid metals. Phys. Rev. B 47, 558–561 (1993).

Perdew, J. P. et al. Atoms, molecules, solids, and surfaces: applications of the generalized gradient approximation for exchange and correlation. Phys. Rev. B 48, 4978 (1993); erratum 46, 6671 (1992).

Perdew, J. P. & Wang, Y. Accurate and simple analytic representation of the electron-gas correlation energy. Phys. Rev. B 45, 13244–13249 (1992).

Loschen, C., Carrasco, J., Neyman, K. M. & Illas, F. First-principles LDA+U and GGA+U study of cerium oxides: dependence on the effective U parameter. Phys. Rev. B 84, 199906 (2011); erratum 75, 035115 (2007).

Anisimov, V. I., Aryasetiawan, F. & Lichtenstein, A. I. First-principles calculations of the electronic structure and spectra of strongly correlated systems: The LDA+U method. J. Phys. Condens. Matter 9, 767–808 (1997).

Dudarev, S. L. et al. Electron-energy-loss spectra and the structural stability of nickel oxide: an LSDA+U study. Phys. Rev. B 57, 1505–1509 (1998).

Kresse, G. & Joubert, D. From ultrasoft pseudopotentials to the projector augmented-wave method. Phys. Rev. B 59, 1758–1775 (1999).
Acknowledgements
This work was financially supported by the European Community (FP7-NMP.2012.1.1-1 project ChipCAT, Reference No. 310191), by the 'Deutsche Forschungsgemeinschaft' (DFG) within the Excellence Cluster 'Engineering of Advanced Materials' in the framework of the Excellence Initiative, by Spanish MINECO (grant CTQ2012-34969), by the Generalitat de Catalunya (grants 2014SGR97 and XRQTC), and by the Czech Science Foundation (grant 15-06759S). The authors also acknowledge the CERIC-ERIC Consortium for access to experimental facilities and financial support and the COST Action CM1104 for additional support. Computer resources and assistance were provided by the Red Española de Supercomputación. S.M.K. is grateful to Spanish Ministerio de Educación for a pre-doctoral FPU Grant AP2009-3379. The authors thank A. Kaftan for his contribution to the numerical analysis procedure for XPS.
Ethics declarations
Competing interests
The authors declare no competing financial interests.
Supplementary information
About this article
Cite this article
Lykhach, Y., Kozlov, S., Skála, T. et al. Counting electrons on supported nanoparticles. Nature Mater 15, 284–288 (2016). https://doi.org/10.1038/nmat4500
Received:

Accepted:

Published:

Issue Date:

DOI: https://doi.org/10.1038/nmat4500