Abstract
The advent of graphene and related 2D materials1,2 has recently led to a new technology: heterostructures based on these atomically thin crystals3. The paradigm proved itself extremely versatile and led to rapid demonstration of tunnelling diodes with negative differential resistance4, tunnelling transistors5, photovoltaic devices6,7 and so on. Here, we take the complexity and functionality of such van der Waals heterostructures to the next level by introducing quantum wells (QWs) engineered with one atomic plane precision. We describe light-emitting diodes (LEDs) made by stacking metallic graphene, insulating hexagonal boron nitride and various semiconducting monolayers into complex but carefully designed sequences. Our first devices already exhibit an extrinsic quantum efficiency of nearly 10% and the emission can be tuned over a wide range of frequencies by appropriately choosing and combining 2D semiconductors (monolayers of transition metal dichalcogenides). By preparing the heterostructures on elastic and transparent substrates, we show that they can also provide the basis for flexible and semi-transparent electronics. The range of functionalities for the demonstrated heterostructures is expected to grow further on increasing the number of available 2D crystals and improving their electronic quality.
Access options
Subscribe to Journal
Get full journal access for 1 year
$99.00
only $8.25 per issue
All prices are NET prices.
VAT will be added later in the checkout.
Tax calculation will be finalised during checkout.
Rent or Buy article
Get time limited or full article access on ReadCube.
from$8.99
All prices are NET prices.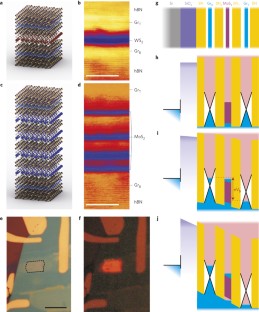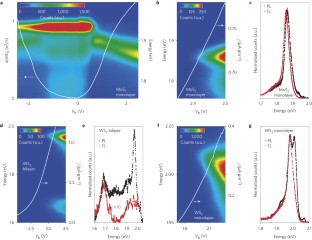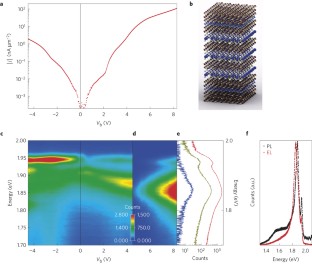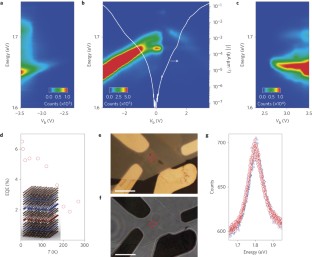 References
1

Novoselov, K. S. et al. Two-dimensional atomic crystals. Proc. Natl Acad. Sci. USA 102, 10451–10453 (2005).

2

Novoselov, K. S. et al. Electric field effect in atomically thin carbon films. Science 306, 666–669 (2004).

3

Geim, A. K. & Grigorieva, I. V. Van der Waals heterostructures. Nature 499, 419–425 (2013).

4

Britnell, L. et al. Resonant tunnelling and negative differential conductance in graphene transistors. Nature Commun. 4, 1794 (2013).

5

Britnell, L. et al. Field-effect tunneling transistor based on vertical graphene heterostructures. Science 335, 947–950 (2012).

6

Britnell, L. et al. Strong light–matter interactions in heterostructures of atomically thin films. Science 340, 1311–1314 (2013).

7

Yu, W. J. et al. Highly efficient gate-tunable photocurrent generation in vertical heterostructures of layered materials. Nature Nanotech. 8, 952–958 (2013).

8

Novoselov, K. S. Nobel lecture: Graphene: Materials in the flatland. Rev. Mod. Phys. 83, 837–849 (2011).

9

Yao, Y., Hoffman, A. J. & Gmachl, C. F. Mid-infrared quantum cascade lasers. Nature Photon. 6, 432–439 (2012).

10

Wang, Q. H., Kalantar-Zadeh, K., Kis, A., Coleman, J. N. & Strano, M. S. Electronics and optoelectronics of two-dimensional transition metal dichalcogenides. Nature Nanotech. 7, 699–712 (2012).

11

Mak, K. F., Lee, C., Hone, J., Shan, J. & Heinz, T. F. Atomically thin MoS2: A new direct-gap semiconductor. Phys. Rev. Lett. 105, 136805 (2010).

12

Mak, K. F. et al. Tightly bound trions in monolayer MoS2 . Nature Mater. 12, 207–211 (2013).

13

Xiao, D., Liu, G-B., Feng, W., Xu, X. & Yao, W. Coupled spin and valley physics in monolayers of MoS2 and other group-VI dichalcogenides. Phys. Rev. Lett. 108, 196802 (2012).

14

Ross, J. S. et al. Electrical control of neutral and charged excitons in a monolayer semiconductor. Nature Commun. 4, 1474 (2013).

15

Ross, J. S. et al. Electrically tunable excitonic light-emitting diodes based on monolayer WSe2 p–n junctions. Nature Nanotech. 9, 268–272 (2014).

16

Sundaram, R. S. et al. Electroluminescence in single layer MoS2 . Nano Lett. 13, 1416–1421 (2013).

17

Pospischil, A., Furchi, M. M. & Mueller, T. Solar-energy conversion and light emission in an atomic monolayer p–n diode. Nature Nanotech. 9, 257–261 (2014).

18

Baugher, B. W. H., Churchill, H. O. H., Yang, Y. & Jarillo-Herrero, P. Optoelectronic devices based on electrically tunable p–n diodes in a monolayer dichalcogenide. Nature Nanotech. 9, 262–267 (2014).

19

Rivera, P. et al. Observation of long-lived interlayer excitons in monolayer MoSe2–WSe2 heterostructures. Preprint at http://arXiv.org/abs/1403.4985 (2014)

20

Wang, L. et al. One-dimensional electrical contact to a two-dimensional material. Science 342, 614–617 (2013).

21

Haigh, S. J. et al. Cross-sectional imaging of individual layers and buried interfaces of graphene-based heterostructures and superlattices. Nature Mater. 11, 764–767 (2012).

22

Tongay, S. et al. Defects activated photoluminescence in two-dimensional semiconductors: Interplay between bound, charged, and free excitons. Sci. Rep. 3, 2657 (2013).

23

Sercombe, D. et al. Optical investigation of the natural electron doping in thin MoS2 films deposited on dielectric substrates. Sci. Rep. 3, 3489 (2013).

24

Kang, J., Tongay, S., Zhou, J., Li, J. B. & Wu, J. Q. Band offsets and heterostructures of two-dimensional semiconductors. Appl. Phys. Lett. 102, 012111 (2013).

25

Sachs, B. et al. Doping mechanisms in graphene-MoS2 hybrids. Appl. Phys. Lett. 103, 251607 (2013).

26

Lee, G. H. et al. Electron tunneling through atomically flat and ultrathin hexagonal boron nitride. Appl. Phys. Lett. 99, 243114 (2011).

27

Britnell, L. et al. Electron tunneling through ultrathin boron nitride crystalline barriers. Nano Lett. 12, 1707–1710 (2012).

28

Gutierrez, H. R. et al. Extraordinary room-temperature photoluminescence in triangular WS2 monolayers. Nano Lett. 13, 3447–3454 (2013).

29

Reineke, S. et al. White organic light-emitting diodes with fluorescent tube efficiency. Nature 459, 234–238 (2009).

30

Lee, C. H. et al. Atomically thin p–n junctions with van der Waals heterointerfaces. Nature Nanotech. 9, 676–681 (2014).
Acknowledgements
This work was supported by The Royal Society, Royal Academy of Engineering, US Army, European Science Foundation (ESF) under the EUROCORES Programme EuroGRAPHENE (GOSPEL), European Research Council, EC-FET European Graphene Flagship, Engineering and Physical Sciences Research Council (UK), the Leverhulme Trust (UK), US Office of Naval Research, US Defence Threat Reduction Agency, US Air Force Office of Scientific Research, FP7 ITN S3NANO, SEP-Mexico and CONACYT.
Ethics declarations
Competing interests
The authors declare no competing financial interests.
Supplementary information
About this article
Cite this article
Withers, F., Del Pozo-Zamudio, O., Mishchenko, A. et al. Light-emitting diodes by band-structure engineering in van der Waals heterostructures. Nature Mater 14, 301–306 (2015). https://doi.org/10.1038/nmat4205
Received:

Accepted:

Published:

Issue Date: